Tom Arnold Still Says Next Cameron Film To Star Schwarzenegger And Tom Arnold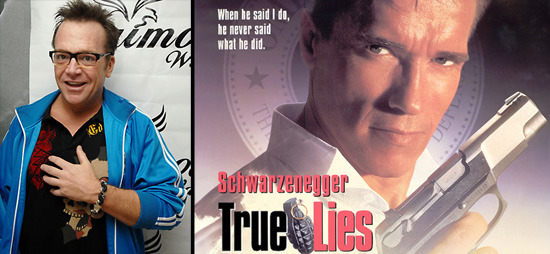 The New York Times has a big profile piece on Tom Arnold in which he's defended by no less than Judd Apatow, but the piece is getting attention for a little quote from Arnold that appears right at the end. Talking about a movie that the NYT admits has no plot or script, the actor says: "All I know is Jim Cameron's making it and Arnold [Schwarzenegger] and I are going to be in it, and it starts shooting in 14 months, the day after Arnold stops being governor of California. It's not going to be called True Lies II, but it might as well be. I can live with that." That's certainly a good way to get some attention.
This isn't the first time Tom Arnold has said this. Back in January he made almost exactly the same statement to StarPulse. ("If all goes as planned, the day Arnold (Schwarzenegger) leaves office we will again team with Jim Cameron and do a comedy. Jim says it might not be called "True Lies II," but it will be fun.") A sequel had been planned in the early part of this decade, with Eliza Dushku talking up her own involvement years ago, but was derailed by the September 11 attack in New York. Now, with Cameron fully on the Avatar train, talking sequels and spin-off projects, going back to True Lies, or a film quite a bit like it, seems like an improbable move.
The best part about all this is that the entire thrust of the New York Times piece is that Tom Arnold is a bit crazy and will say just about anything that comes to his mind. Take the point of the thing literally, then, and view his Cameron quote as entertainment and not news. At least for the time being.