Steven Spielberg To Direct Harvey Next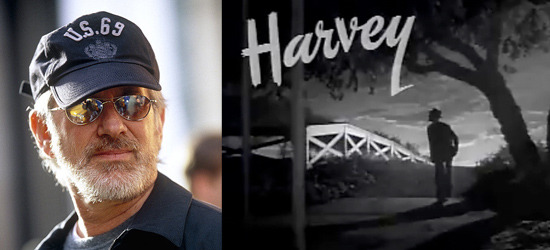 Steven Spielberg has decided on his next film project — a contemporary adaptation of Mary Chase's play Harvey for 20th Century Fox and Dreamworks.
The play first premiered on Broadway in 1944, and tells the story of an amiable eccentric, Elwood and his six foot three and one half inch tall rabbit imaginary friend Harvey, which causes problems for his family and friends. The play won the Pulitzer Prize in 1944, and was performed 1,775 times between 1944 and 1949. The play was adapted for television a couple times, and once for the screen in 1950, with James Stewart in the lead role alongside Fred Gwynne, Richard Mulligan and Madeline Kahn.
Spielberg released the following statement in a press release:
"I am very happy to be working again with my friend Tom Rothman who shepherded us through 'Minority Report,' and with Elizabeth and Carla, who I'm looking forward to collaborating with," said Spielberg. "DreamWorks has experienced a creative and profitable relationship with Twentieth Century Fox in the past, and I look forward to renewing that time together."
Novelist turned first-time screenwriter Jonathan Tropper (The Book of Joe, Everything Changes, How to Talk to a Widower) has written the new adaptation. No actors have been officially cast, but pre-production will begin immediately, with Speilberg, Dreamworks, and Fox hoping to begin shooting very early 2010.
I've haven't seen the stage production or the 1950 film (I know... It is on my never-ending netflix que), but the basic plot seems like a unusual choice for someone like Spielberg. I'm not sure I care to watch someone, such as Tom Hanks, talking cutesy to an imaginary rabbit. I'm also surprised to see Spielberg teaming with Fox, a company that has gotten a reputation in past years to not be artist friendly. Of course, I don't expect Rothman will interfere much in Spielberg's plans. I have included the movie trailer for the 1950 film below: