Spielberg Will Produce, Not Direct Matt Helm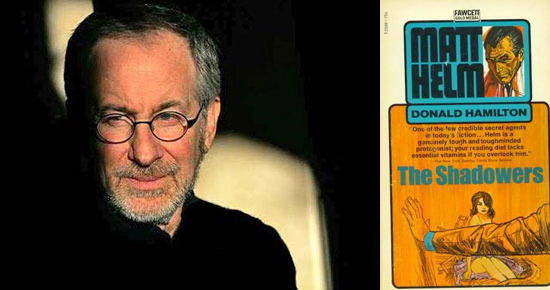 Over the past 12 hours a little speculation has emerged about the next directorial effort by Steven Spielberg. A report in Variety suggested he could be taking the reigns of Matt Helm. But there were issues with relationships between studios, as Matt Helm, based on Donald Hamilton's 1960s counter-agent who starred in a series of 27 books, was developed by Dreamworks and orphaned at Paramount when the studios split last year. The idea of Spielberg taking on a modern version of the character was interesting, but now it seems he'll only produce. What happened there?
Basically, there's all sorts of wrangling to be done between Paramount and the pair of Dreamworks and Reliance, the new Dreamworks financing partner. As the BFDealMemo blog on Variety says, "Spielberg will only take his next directing assignment on a picture that can be co-financed with Reliance/DreamWorks money, and where Disney is either the domestic or international distributor." Matt Helm is all Paramount, and the suggestion is that the studio doesn't want to pay out on the sort of deal that Spielberg would traditionally broker, even if the film has franchise potential. The final decision, made last night, is that Spielberg will produce instead of direct, and Paramount will take the project to other directors.
I've thought this for about a year now, but what a world where Steven Spielberg can't get any old movie going immediately. Perhaps there's just more transparency now, and Spielberg has always been subject to the same business deals and financial whims as other filmmakers. But recently it seems like he's had so many non-starter deals on top of facing reluctant financing for Tintin. I want to see the guy bounce back.
Spielberg's interest in the project seems to have been intensified by the new draft by Paul Attanasio. This wouldn't be the first version of the character to hit the screen. Dean Martin starred in four movies loosely based on the books (The Silencers, Murderer's Row, The Ambushers and The Wrecking Crew) and those movies heavily influences the Austin Powers films. A TV show also used the character. But Attanasio's script doesn't have the comic bent of those projects.
At least this way we won't see Shia LaBeouf playing Matt Helm.