A Serious Man Movie Trailer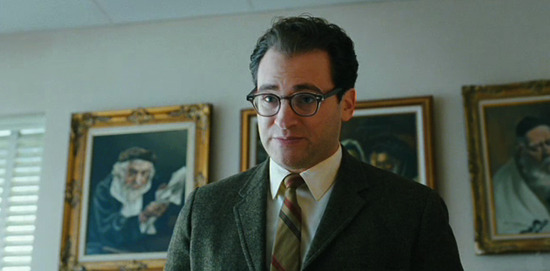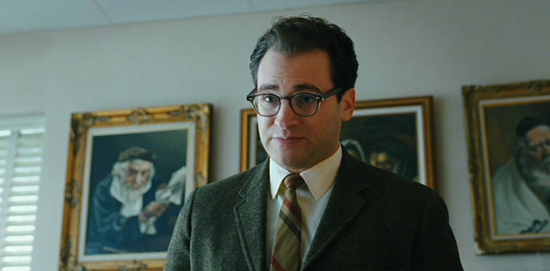 This is one ballsy trailer, but then, A Serious Man might be a ballsy movie. The latest Joel and Ethan Coen film features few big recognizable names and is about a physics professor in a midwestern Jewish community in 1967. And this trailer! Scored to the beat of a man's head being slammed against a wall, and built around a series of repeated images and statements, you'll get almost no indication of plot from this clip. Instead you'll feel only encroaching malaise. Seriously, is this a Radiohead video or an ad for a Coen Brothers film?
Apple has the trailer, and the synopsis (which I've edited slightly) that follows in a moment. And after Burn After Reading (which also was heralded by a couple of wonderful trailers) I'm almost afraid to see this movie. That film was a spiral into paranoia and deep black comedy. Audiences didn't know what to make of it. Now I wonder if this new effort might make Burn After Reading feel light by comparison. Is anyone in the mainstream going to connect with this movie? I don't care, and as long as Focus Features doesn't either, I'll just be happy we have the thing at all.
A Serious Man is the story of an ordinary man's search for clarity in a universe where Jefferson Airplane is on the radio and "F-Troop" is on TV. It is 1967, and Larry Gopnik (Michael Stuhlbarg), a physics professor at a quiet Midwestern university, has just been informed by his wife Judith (Sari Lennick) that she is leaving him. She has fallen in love with one of his more pompous colleagues, Sy Ableman (Fred Melamed), who seems to her a more substantial person than the feckless Larry. While his wife and Sy Ableman blithely make new domestic arrangements, and his brother becomes more and more of a burden, an anonymous hostile letter-writer is trying to sabotage Larry's chances for tenure at the university. Struggling for equilibrium, Larry seeks advice from three different rabbis. Can anyone help him cope with his afflictions and become a righteous person – a mensch – a serious man?