Does Michael Myers Speak For The First Time In Halloween 2? Rob Zombie Denied. Today Confirms?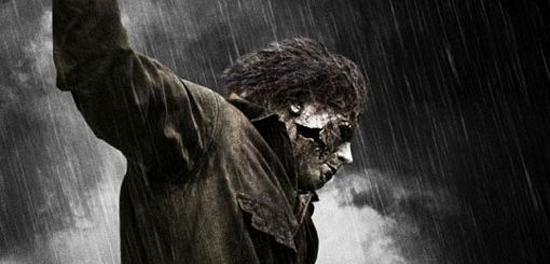 While on the set of Halloween 2 earlier this year, an acquaintance and I witnessed a night scene in which a helicopter hovered above Michael Myers.  We witnessed this scene again and again and again. On the first few takes, we laughed at the bizarre noise (and at the sheer giddy thrill of hangin' in Haddonfield) being yelled by the towering actor Tyler Mane as Myers in said scene—I won't reveal further details at this time. However, after about the fifth take, and against the whirring of a 'copter and an excruciating windchill, it seemed like Michael Myers was in fact emitting a single, fully-constructed word. Shock, horror. Dear Zombie detractors, no, it was not a curse word delivered with backwoods panache. Nor was it "Boo!"—the virgin utterance once prescribed to Myers and later scrapped altogether in Zombie's first remake. But hearing Myers, a silent horror icon a la Jason, speak for the first time was simply off-putting. "Caveman" jokes were exchanged next to heat lamps.
We immediately went around and checked in with several people involved on the production. We were told that Myers was simply emitting a grunt. At that hour and temperature, the explanation seemed fair enough. And if it was a word? It was merely a performance-enhancer to later be edited out. Well, about an hour ago, Rob Zombie posted the following on Twitter: "Off to meet Tyler for some Michael Myers ADR. Sleeping some day would be great." As STYD has pointed out, ADR means additional dialogue recording. (Note: STYD's editor, Ryan Rotten, was on the set as well.) So, what's the deal?
In my exclusive chat with Zombie, he shot the rumor down so quickly, and with such a huge, non-maniacal laugh, that I didn't even feel the need to include the question and answer in the two-part interview. His reply: "[laughs] Yeah, people say all sorts of things like that. Does [Michael Myers] talk? No." But the rumors still haven't ceased in the weeks since and at this point? I think I was lied to...by a Zombie!