Release Dates: Nightmare On Elm St Push Explained, Wolfman Bumped To 2010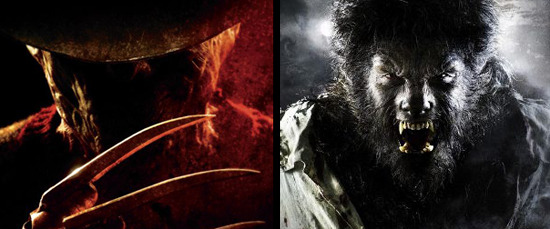 Shock Till You Drop has reported that two prominent horror films are experiencing their own dread: release date changes. First, just before Comic Con we learned that Warner Bros. has pushed back the A Nightmare on Elm Street remake by two weeks. Instead of opening on April 16, 2010 it will now show up on April 30.
The shift, according to Andrew Form's comments to STYD, has to do with the fact that there was no competition on April 30. Granted, one week later Freddy Krueger will have to face off against Iron Man 2, but if the box office pattern for Friday the 13th is repeated here (massive opening weekend followed by massive dropoff) that won't be a killer. And Nightmare could potentially reap benefits similar to those earned by The Mummy in '99 if sold-out Iron Man 2 screenings lead people into the new Nightmare.
Meanwhile, is Universal expressing a vote of no confidence in the new Wolfman by pushing it back?
STYD reports that instead of the planned November 6 opening for The Wolfman, Universal is now dropping the film in the equivalent of a cinematic graveyard: February 12, 2010. Some of the traditional February stigma was washed away this year when Coraline and Friday the 13th both did well, but just look at this year's Feb lineup especially with regard to big studio releases. It's basically a haven for garbage. Did The Wolfman get pushed back to the new date because it needs more work, after reshoots and some rumored new effects work was done not too long ago, or is the film just a mess? I hope it's not the latter. Even with the directorial switcharoo (Mark Romanek left and was replaced by Joe Johnston one month before shooting) I'm holding out hope that Benecio del Toro and makeup by Rick Baker are enough to make the film worth a look.