Toy Story 1 & 2 3D Rerelease Movie Trailer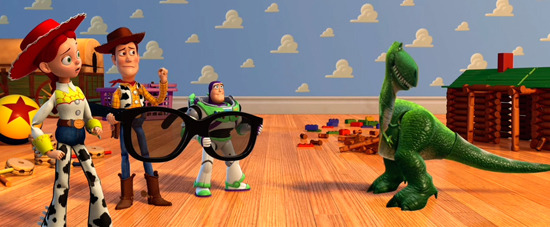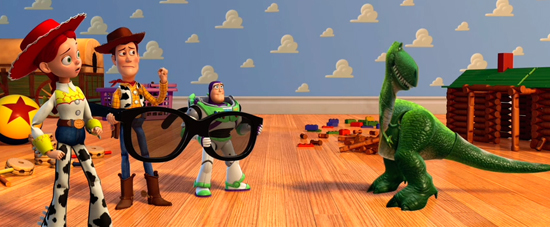 I didn't see the Disney 3D panel at Comic Con, where the footage from Pixar's re-release of Toy Story 1 and 2 in 3D was shown for the first time. But the theatrical trailer for the October release is now online at Yahoo (not in 3D, obviously) and you can see that it captures the spirit of the films very well. Basically, we see the core cast of the films gather together to marvel at the fact that they're all in 3D. Except for Rex, who turns out to still be rendered in only two dimensions. It's cute and fun, and probably looks great in actual 3D.
I'm still waiting for Pixar to be the studio that convinces me that 3D is really a viable, good thing. (Avatar Day might do that, too; the 3D presentation of that footage at Comic Con wasn't especially impressive.) Pixar has newly rendered both Toy Story and Toy Story 2 in 3D from the original render information, and will release the double feature to theatres for two weeks. It's essentially an extended and very fan-friendly promotion for Toy Story 3, which will be released on June 18, 2010.
Meanwhile, I've been hearing some very good things about Toy Story 3. I'd been less than interested in the movie for a while, but after a few things I heard over the weekend I'm a lot more ready to see the picture. Previously I'd been one of the grumpy guys that wanted Pixar to keep pushing forward with new stories and characters, but if this new sequel is as good as I'm being told it is...yeah, OK, I'll be right there ready for it. And then Pixar can go and do all-new stuff. Yeah, I'll probably still want to pass on Cars 2.