Sucker Punch Logo And Character Art Revealed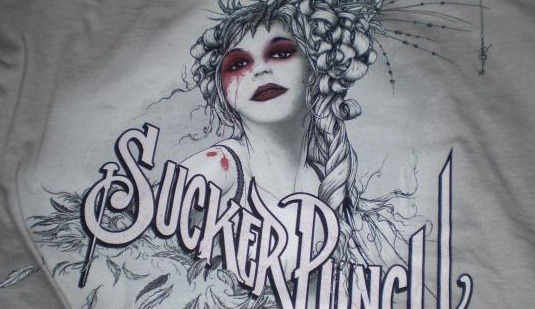 Lucky visitors to the Watchmen panel at the San Diego Comic-Con this past weekend were given one of those infamous con-only goodies that money simply can't buy. In this case, the bounty up for grabs came in the shape of Sucker Punch t-shirts. News of the shirts broke at Deadline Hollywood Daily, where one of the Finkettes ran the image excerpted at the head of this post.
It seems reasonable to assume that the young girl pictured is Baby Doll, the protagonist of Zack Snyder's film, set to be played by Emily Browning. What you can't quite make out in that snap of the shirt, however, is what all that junk on the top of her head is. Thankfully, there's a nice, clear wrinkle-free reproduction of the artwork coming up after this break.
The image was created by Alex Pardee, who posted it in full on his blog. He's not sure if the shirt will ever be commercially available but he does confirm that this is the first artwork relating to the film to see any kind of public release.
Up there on the top of the girl's head I can see the following items:
A castle. A samurai sword with a key dangling on a thread from its hilt. An hourglass. A biplane – possibly with the shark-teeth motif. A clawed hand. A machine gun. Something in some kind of gas mask. Plant life.
What do you see? And also, note the 'cherry' splash on her shoulder.
A little revision of the previous Sucker Punch stories at /Film will help you understand just why she's got those things all stacked up on her bonce. I suspect the key and the hourglass are two of the five items Baby Doll is searching for.
This art work seems to suggest, if only gently, that the film takes place in the fantasies of Baby Doll, perhaps inferring that the other female characters are only figments of her imagination, facets of her personality. Maybe that's a bit of a push, but I certainly wouldn't be surprised.
I'm feeling quite strong ties between this film and Grant Morrison's work on Crazy Jane in the Doom Patrol comic books. The Return to Oz links are also apparent, as well as a most heavy scent of I Never Promised You a Rose Garden. Filtered through Snyder, however, I'm sure we'll end up with something quite particularly... Snyderesque. And I don't just mean that people will hit each other in slow motion.
Incidentally, I'm part way through reading a fairly recent revision of the Guardians of Ga'Hoole screenplay, the fantasy Owl-feud film that Snyder is directing now, ahead of Sucker Punch's production. I don't want to get ahead of myself, but it certainly seems to make a nice pair with the promised NIMH do-over. Perhaps a Watership Down remake will come hopping over the hill any moment now?