This Week In DVD & Blu-Ray: Fast & Furious, Battlestar Galactica, Dollhouse, And More
This Week in DVD & Blu-ray is a column that compiles all the latest info regarding new DVD and Blu-ray releases, sales, and exclusive deals from stores including Target, Best Buy and Fry's.
Please don't take the commentary on the movies and TV shows too seriously, as they're meant not to be reviews but rather previews that include the general thoughts and ramblings of a twice-committed DVD addict. The categories represent solely the author's intentions towards the films at hand, and are in no way meant to be a reflection on what he thinks other people should rent or buy. So if he ends up putting a movie you like in the "Skip it" section without having seen it, please keep in mind that the time you could spend leaving a spiteful but ultimately futile comment could instead be used for more pleasant things in life. Like buying DVDs.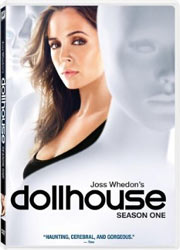 DOLLHOUSE (SEASON 1)
Initially, my expectations for this show were minimal. Based on the episodic nature of the underwhelming pilot episode, the most I was hoping for was an exercise in genre-bending, utilizing the alternating personality imprints of Eliza Dushku's character as a way to switch from action to drama to romance on a weekly basis. ...That didn't really happen. For the most part, the show sticks firmly to its sci-fi/action/thriller genre roots. What we got instead though, is something much more rewarding. As the show progresses and the story begins to unfold, it's evident that Joss Whedon was finally allowed to tap into the potential of the premise. In many ways, the show becomes a study of the human condition, exploring the possibilities and limitations of the mind and what it is that defines who we are. The weak link, sadly, is Eliza Dushku, who isn't even convincing as one character, let alone several. She holds back what's otherwise a deeply compelling sci-fi series.
Blu-ray? Yes.
Notable Extras: DVD & Blu-ray – Commentary by Joss Whedon on 3 episodes, the never-before-seen standalone episode "Epitaph One", the original unaired pilot "Echo," deleted scenes, and making-of featurettes ("Making Dollhouse", "Coming Back Home", "Finding Echo", "Designing the Perfect Dollhouse", "A Private Engagement").

BATTLESTAR GALACTICA (SEASON 4.5)
Well, I've officially run out of excuses. The last season of Battlestar Galactica has been released on DVD, so any defense I may have had against putting off watching the show because (*deep breath*) I didn't want to get sucked into devoting another hour of my life each week while simultaneously waiting with restless anticipation for each successive episode (*exhale*) has now become void. All that's left to do is... watch the damn show. I have to say though, it's hard to muster up much enthusiasm about it when all I keep hearing is people ranting about how the show's ending is a complete cop-out that, in many cases, legitimately ruined the rest of the series for them. Is this a standpoint any of you guys support? Or do you think people are being way too harsh on the show's finale?
Blu-ray? Yes.
Notable Extras: DVD & Blu-ray – Commentaries by Ronald D. Moore, David Eick, and Edward James Olmos, Ronald D. Moore's Podcast Commentaries, David Eick's Video Blogs, deleted scenes, and featurettes ("Evolution of a Cue", "The Journey Ends: The Arrival", "So Say We All", "Manifesto Destiny", "Battle-Style Galactica", "Martyr To A Cause", "The Sins of The Forgiven", "Battlestar Revelations").
EXCLUSIVE DEAL:
What? DVD set ($39.99) with exclusive packaging, Battlestar Galactica dog tags and limited edition book.
Where? Best Buy.
Also available: Battlestar Galactica: The Complete Series, on DVD [Amazon – $171.99] and Blu-ray [Amazon – $209.99].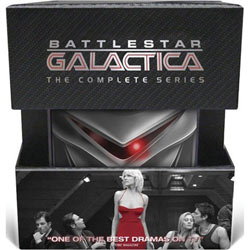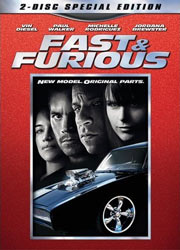 FAST & FURIOUS
(Available as single-disc and 2-Disc Special Edition)
I find it depressing that this film's biggest selling point was the return of the series' original cast. Do people honestly care that much about Vin Diesel and Paul Walker? Considering the way Diesel's career has been going lately, starring in another Fast and the Furious seems more like an act of desperation and defeat than a chance to return to his roots. As for Paul Walker, he's never had much of a career to begin with, and for good reason (I'm still waiting for him to fulfill any of the potential he demonstrated in Running Scared). And if, like me, the casting doesn't impress you, the movie leaves you with nothing else to keep you involved. The film is a poorly paced jumble of melodrama, lame characters, and weak CGI-filled action scenes. What's to enjoy?
Blu-ray? Yes.
Notable Extras: DVD – The single-disc includes a commentary with director Justin Lin and a gag reel. The 2-disc releases includes that, along with featurettes ("Under The Hood: Muscle Cars & Imports", "High Octane Action: The Stunts", "Shooting the Big Rig Heist", "Driving School With Vin Diesel"), an original short film "Los Bandoleros", and a digital copy. Blu-ray – Includes everything on the 2-disc, plus a virtual car garage.
*Does not include 2-Disc Edition, which costs $22.99 at each of the listed stores (including Amazon).
EXCLUSIVE DEAL:
What? Exclusive Blu-ray and 2-Disc, includes: Back Under the Hood (a showcase of cars used in the film), Mapping Fast & Furious (storyboard and pre-production), backstage footage and cast interviews.
Where? Best Buy.
EXCLUSIVE DEAL:
What? Deluxe edition includes exclusive CD soundtrack.
Where? Target.
EXCLUSIVE DEAL:
What? Free $10 Target GiftCard when you buy Fast & Furious on Blu-ray ($25.99) along with any other Fast and the Furious installment on Blu-ray ($22.99).
Where? Target.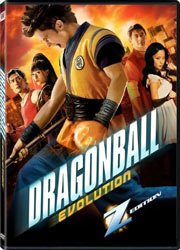 DRAGONBALL EVOLUTION
It was curious to see the progression of this film from its initial announcement to its theatrical release. I remember when it was first posted on the site that a Dragonball movie was in the works, a lot of people immediately had a vested interest in it. But as time went on and each subsequent image/video clip/trailer found its way to the web, people just stopped giving a shit. By the time the film hit theaters, not even little kids cared to see it. Yes, that's correct: even kids could tell that this was a bad movie. So why don't we all just do the noble thing here and continue to pretend that this movie doesn't exist?
Blu-ray? Yes.
Notable Extras: DVD – 8 deleted scenes, featurettes ("Goku's Workout: Stunt Work", "Fox Movie Channel Presents: Making a Scene", "Fox Movie channel Presents Life After Film School with Justin Chatwin"), and a gag reel. Blu-ray – Includes everything on the DVD version, plus a digital copy of the film and an exclusive scavenger hunt game.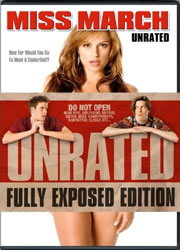 MISS MARCH
As much as I'd like to believe this film is some sort of elaborate joke that Trevor Moore and Zach Cregger (from the sketch comedy troupe The Whitest Kids U'Know) were playing on audiences, any chance of that being a reality was crushed upon actually viewing the film. This movie really tries to be funny, and more often than not, it fails. As much as I am normally willing to defend stupid, over-the-top sketch-style comedies, I still expect to laugh. Miss March may have got a few chuckles out of me during its more subversive moments, but I spent the rest of the time feeling mostly embarrassed that one of my favorite sketch comedy team's first foray into cinema would yield such generic, unfunny results.
Blu-ray?
Notable Extras: DVD – Includes both theatrical and unrated versions of the film, plus viral videos, Timmy's Audition, Darren's Audition, and a Down & Dirty Music With Horsedick featurette. Blu-ray – Includes everything on the DVD version, plus a Sound Design mock-featurette, Sam's Audition, a Lesbians' Audition, and an uncensored version of the Down & Dirty With Horsedick featurette.
Other noteworthy DVD (and Blu-ray) releases this week...
Green Lantern: First Flight [DVD / Blu-ray] – Torchwood: Children of Earth [DVD / Blu-ray] – Doctor Who: Planet of the Dead [DVD / Blu-ray] – Bad Lieutenant (Special Edition) – Big Man Japan – Combat Shock (2-Disc Uncut 25th Anniversary Edition) – Life On Mars (Series 1) – Knight Rider (Season 1)
Other noteworthy Blu-ray-specific releases this week...
This Is Spinal Tap – 12 Monkeys – The Fast and the Furious – 2 Fast 2 Furious – The Fast and the Furious: Tokyo Drift – A River Runs Through It

NOTE: Some deals may be in-store only.

Exclusive: Green Lantern: First Flight with exclusive bonus disc.

Exclusive: Green Lantern: First Flight with on-pack Green Lantern figurine. Blu-ray and 2-Disc DVD version only.
Exclusive: Buy any 2 of the first three Fast and the Furious movies on Blu-ray ($24.99) for $35.
$14.99 – Blu-ray sale: The Curious Case of Benjamin Button (Criterion Edition), Revolutionary Road, The Wrestler, Taken, Slumdog Millionaire, and more...