Comic-Con Interview: 2012 Director Roland Emmerich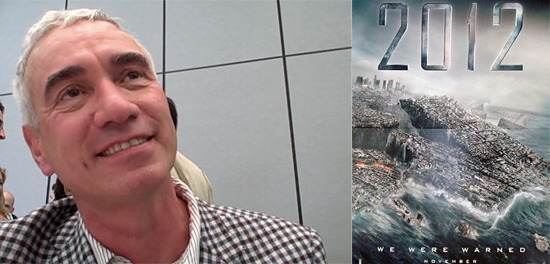 Director Roland Emmerich has forgotten more about destruction than you or I will ever know. With films like Godzilla, Independence Day, and The Day After Tomorrow, he's proven he has a knack for spectacular visuals and thrilling destruction sequences. His new film, 2012, might be the logical culmination of his career up until this point, a disaster movie that attempts to depict the end of all things through a variety of natural disasters.
I had the opportunity to speak with Emmerich at San Diego Comic-Con 2009. We chatted about the characters in his films (past and present), his use of miniatures vs. CGI, and how he came up with the staging for some of his disasters. I also asked him whether or not he had seen this parody video from our friends at io9, which re-cut the 2012 trailer to look like a 70s exploitation film. Hit the jump to find out the answer and to see the full interview.
[Please note that this interview was not conducted under the best of circumstances. The room we were in was extremely noisy, thus necessitating the camera be placed uncomfortably close to Emmerich].
[flv:http://media2.slashfilm.com/slashfilm/trailers/RolandEmmerichInterview.flv 400 300]