Comic-Con: Reactions To Premiere Of Boondock Saints 2: All Saints Day Trailer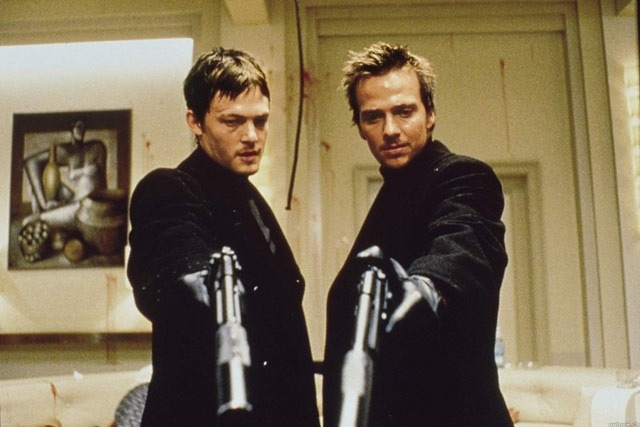 I learned something today at the San Diego Comic-Con: The only fans here more supportive of a property than Twilight fans are Boondock Saints fans. I attended the panel, which was populated by some of the biggest Boondock Saints fans in the world, to see a world-premiere of the trailer and learn a little bit about the new film. I couldn't hear a lot of the stuff going on in the trailer because of all the deafening and constant cheering, but hit the jump to hear my reactions to the trailer parts I WAS able to make out:
A COPYCAT KILLER IS IMITATING THE BOONDOCK SAINTS! GUNS! JULIE BENZ IS HOT! SLOW MOTION! MORE GUNS! SLOW MOTION! PEOPLE SHOOTING THINGS! ONE-LINERS! LOTS OF GUNS! PEOPLE GETTING SHOT! MORE ONE-LINERS! SLOW MOTION! CLIFTON COLLINS JR.! MORE GUNS! EXPLOSIONS! BILLY CONNOLLY HAS LOTS OF GUNS IN HIS JACKET AGAIN! AGAIN WITH THE ONE-LINERS! PETER FONDA, FOR SOME REASON! DID I MENTION THERE WERE GUNS IN THIS MOVIE? SLOW MOTION!
But don't take my word for it. I interviewed a couple of fans after the panel. Here's what they had to say:
Other tidbits from the panel:
In terms of characters: Willem Dafoe will not return for the sequel, but Rocco and Gerard Parkes will be back as their respective characters.
Asked, "Do you get to use your f***ing rope in the second one," one of the Saints said "There's a lot of f***ing rope."
Troy Duffy was asked about the chances for a third film. his response?  "Why don't we all just watch this f***ing one first?" but implied that he had more ideas for a third film, should the opportunity come.
The new film will feature flashbacks to Il Duce from the 1970s, explaining his backstory as a killer.