Comic-Con: Solomon Kane Footage Debuts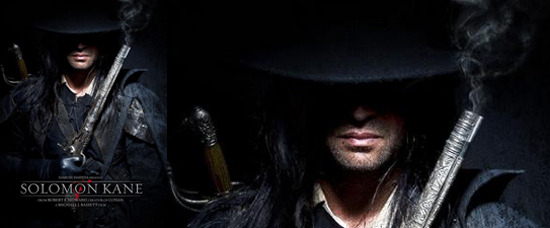 The characters of Robert E Howard have taken a surprisingly long time to get to the screen. Only Conan has really made a splash, and even that character hasn't had the continual screen presence you might expect. But the independent production Solomon Kane, directed by Michael J Bassett and starring James Purefoy as Kane, could help bring Howard back to theatres. Bassett and Purefoy, along with producer Samuel Hadida, brought Kane to Hall H, where they showed off an exclusive trailer and three long clips from the film.
Solomon Kane is something unusual: a 16th century puritan hero who (in the film) once renounced violence but is brought back to the sword in order to protect a family. James Purefoy's Kane is dour and violent, but not without humor. One clip we saw showed him traveling with the family he's protecting, mock dueling with the young son. But soon they come upon a burnt-out village, where we soon learn a witch burning had gone very wrong.
Two other clips were more oriented towards violence. There's a lot of swordplay in this film, and according to Purefoy and Bassett they went to great lengths to get it right. That involved training (with swordmaster Richard Ryan) but less conventional research like stringing up a pig carcass dressed in leather to see how slashes and stabs really affect a body.
It's difficult to say how the rest of the cast will work out, but there are some great names: Pete Postlethwaite, Max von Sydow, Alice Krige and Mackenzie Crook are all on hand. But the film looks heavy and brutal; there are some impressive creature designs and a bad guy with a stretched-skin mask who evidently performs the film's climactic sword fight while set entirely on fire.
The idea is to use this first film to set up a trilogy. Next up would be Kane's adventures in Africa, and a third film could conceivably bring Kane back to America, where he'd face Native American magic.