Comic-Con: 24 Season 8 Q&A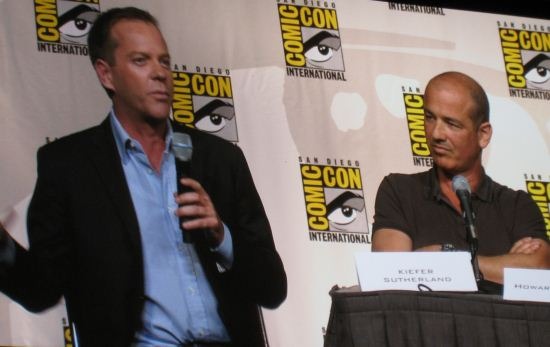 I don't think I'll ever be able to think of Katee Sackhoff as anyone but Starbuck, so it was very strange seeing her as a data analyst in 24. She was joined by exec. producer Howard Gordon, Kiefer Sutherland, Anil Kapoor, Freddie Prinz Jr., and Mary Lynn Rajskub for the 24 panel yesterday, where they spent quite a bit of time talking up the story elements of the upcoming eighth season.
Freddie Prinz Jr.'s character, Cole Ortiz, arrives and talks to his wife, Dana Walsh, played by Sackhoff. We also see Chloe in the very unusual situation of not being the best data analyst in the office. They explained that Chloe is just returning to CTU after spending more time off with her baby, and she isn't as familiar with the new systems. Dana now seems to be the top dog analyst. It seems like they're just reversing the dynamic Chloe had with Janeane Garafolo's character last season.
As is usually the case with Q&As, the topics went all over the place, so I'm just going to run down the most interesting bits:
Gordon mentioned that they focused on bringing Jack back to a place where living mattered in season 7, and that character arc will continue into season 8.
He also mentioned that season 8 will be the most direct continuation from the previous season that the series has ever had.
The season starts with Jack actually happy and content with Kim and her daughter. They're all really glad they fixed the Kim relationship last season.
Sackhoff was very coy about her character. She says that she doesn't know how she'll get used to playing a desk-stricken character, but she hinted that there was more to her than we see initially. She apparently mentioned to the producers early on after she was hired: "At some point I need a gun. Preferably two."
Someone asked if we'll ever see Donald Sutherland in the show, and Kiefer mentioned it almost happened in season 6 (with his father?), but scheduling conflicts with Dirty Sexy Money prevented it from happening. Since they look so much alike, they couldn't really bring him on in any other capacity.
Someone (possibly Kiefer) mentioned that this season will bring the series back to a level of reality that we haven't seen since season 1.
That last comment really got me excited because I truly loved 24 last season. The plot made sense, the twists actually felt surprising at times, and most importantly, the characters were focused on very heavily. If they continue this trend into the next season, I believe we're in for quite a treat