Comic-Con: Legion Footage Debuts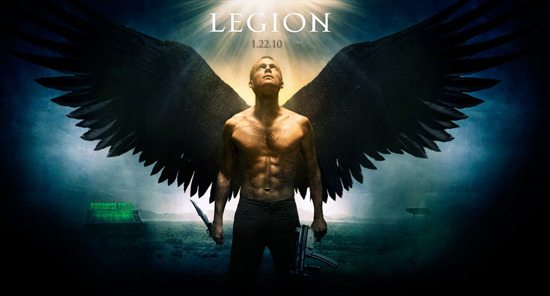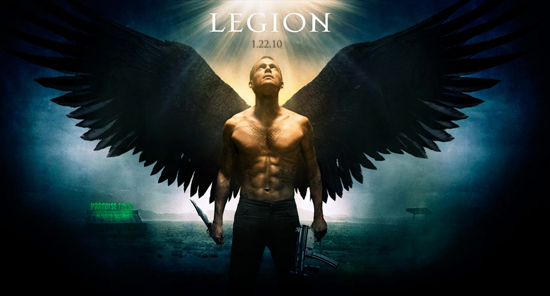 Director Scott Stewart describes his film Legion as "angels with machine guns." Having seen the footage premiered today by Sony in Hall H, I'd say that's a pretty damn good way to sum it up. We haven't known much about the film, which stars Paul Bettany, Tyrese Gibson, Doug Jones, Kevin Durand, Adrianne Palicki, Charles S. Dutton and Dennis Quaid. That's a hell of a cast, and the early art we've seen is certainly suggestive. Seeing the footage, I've been thinking of some combination of the Christopher Walken Prophecy and a film like Project Terror. More on the footage and the film after the break.
We first see the Ice Cream Man, played by Doug Jones. He pulls his truck to a stop in the middle of nowhere and promptly sprouts long, freaky arms and legs; he's described as a harbinger of doom. Eventually a story is sketched in: there's some conflict brewing between Heaven and earth, and Paul Bettany's angel Michael ditches Heaven to fight for mankind. So we see him cutting off his wings and dropping shackles (what Stewart referred to as halo collars, a kind of heavenly LoJack) before joining a band of humans holed up in a diner as they confront an unsettlingly demonic legion of angels and (possibly) other creatures.
The basic idea is "what if mankind is in a place, morally, that would bring about another flood; if so, angels might take action." As it appears, that action could be wiping out humans. But there is hope, in the form of an unborn baby, carried by Charlie (Palicki). She's at the center of the drama and action at the diner, and Michael is trying to defend her from the angel Gabriel (Kevin Durand). And Dennis Quaid fits in as the owner (maybe?) of the diner; at one point in the footage we saw him apparently crucified upside-down.
This is an action movie; it looks like a real B-picture with a mostly A-list cast. Granted, it's Screen Gems, and they've managed to mess up a lot of good concepts, but from what we've seen today I'm more interested in the fun that might wait in Legion than I have in anything else from the outfit in quite a while.