Comic-Con: Christmas Carol Footage And Reactions; Zemeckis On Motion Capture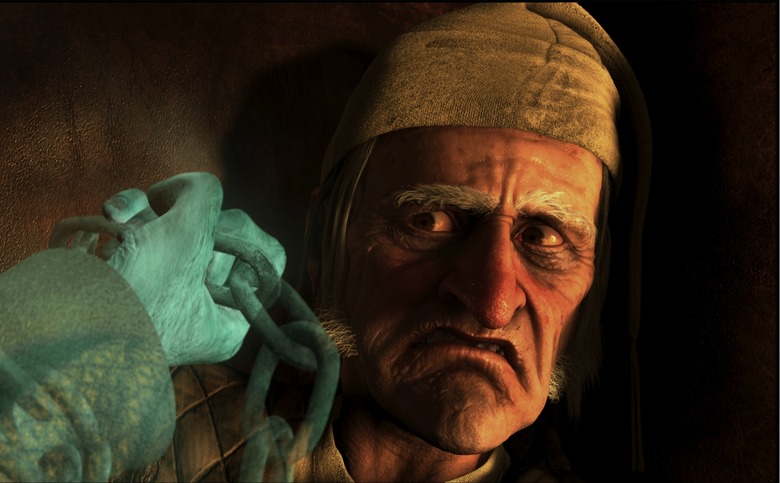 In Hall H this morning at the 2009 San Diego Comic Con, Robert Zemeckis took to the stage to discuss his latest film, A Christmas Carol, and to show some footage. Hit the jump for some of his reflections on animation, as well as a description and reactions to the footage.
One of the most interesting moments in the panel came when panel moderator Patton Oswalt asked Zemeckis about how people have accused his characters of having "dead eyes" and of living in the "Uncanny Valley." Zemeckis remarked that the Uncanny Valley was a term created for robots, and that film is different. Film is inherently a medium whereby directors use different visual tools to create a story, and that while 3D animation and motion capture are not for every film, they can be useful storytelling tools.
Later on, during the Q&A, an audience member asked how he was specifically able to capture the movements of the characters' eyes. Zemeckis said that they've learned how to read the movement of the retina perfectly, with actors wearing 4 hd video cameras, capturing 60 frames a second, detailing every pore and wrinkle.
Zemeckis also unveiled some footage from the film. The footage opens on the corpse of Scrooge's associate, Marley. We see close-ups of Scrooge in a basement, as people are about to close the casket on Marley. Scrooge signs Marley's death certificate, then removes two coins covering Marley's eyes before leaving for his house.
The next scene has Scrooge relaxing on his chair by the fireplace. After an interminable silence, the bells above Scrooge's door begin to ring. The ghost of Marley bursts in, throwing his chains ahead of him to herald his appearance. Marley and Scrooge exchange their classic scene dialogue which is, from my recollection, fairly faithful to the book, where Marley tells Scrooge he'll soon be visited by three ghosts. At some point during the conversation, Marley's jaw breaks, and he's forced to use his hand to move his mouth. Afterwards, Marley flies out the window, taking his chains with him, and we see some quick clips of Scrooge with all the different ghosts before the footage ends.
After the footage, Oswalt remarked, "Dear god, that was terrifying," to which Zemeckis rejoined, "It's a ghost story." Indeed, Zemeckis seems to have kept really faithful to the source material, and the result is something moody, atmospheric, and deliberately paced. While Jim Carrey is playing multiple roles in the film, don't expect some slapstick, kid-friendly fare. Instead, his Ebenezer Scrooge is extremely mannered, and his speech, meticulous.
As for the CGI, Zemeckis has come along ways since the days of Polar Express, and the characters are a significant step forward from previous films like Final Fantasy: The Spirits Within or even Beowulf. The most remarkable thing to me is the level of detail in Scrooge's face. You see every single wrinkle, every crag, and the skin tones are beautiful. However, I think a lot of your experience with the CG may depend on personal preference, so your mileage may vary.