Poster Arrives For Fantastic 'Violence As Art' Flick Bronson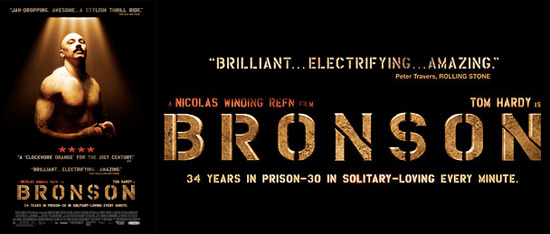 Sundance was the premiere of a handful of movies that I'll probably spend the rest of the year pushing on people, even if I didn't see some of them until the Independent Film Festival Boston. One of the best was Bronson, directed by Nicolas Winding Refn and starring a wickedly dedicated Tom Hardy. The movie fictionalizes the life of notorious British prisoner Charlie Bronson, born Michael Gordon Peterson. Now Vulture has debuted the rather Wrestler-like poster, and because I want everyone to see this movie I'm giving the image a big shout-out.
Refn's film is a bizarre and almost hallucinatory character study of a man who found his ultimate personal expression through violence. It doesn't glorify the anti-social behavior of the self-styled Bronson, but does attempt to come to terms with a personality that is defined by impulses most of us tend to repress and control. To do that, Refn and Hardy go to some extremes; there are odd but incredibly well-acted sequences where Bronson addresses a theatre full of well to do people, explaining his life and acting out parts of it in a weird one-man show.
Though the film is based on the life and writing of the real Bronson, the points where it goes deep into the man's fictional psyche are the most impressive. There's an amazing fight scene that follows a private interaction between Bronson and his prison art instructor, and a loony bin escape that will forever redefine what you picture when the Pet Shop Boys song 'Its a Sin' hits the radio. It's a remarkably visual film that doesn't sacrifice character for style. See it!
The (slightly NSFW) trailer and a couple of scenes are below. Refn's next movie, Valhalla Rising (starring his Pusher series alum Mads Mikkelsen as a version of Odin) will premiere at the Toronto International Film Festival in September.