Jennifer's Body And Romero's Survival Of The Dead Premiere During Toronto's Midnight Madness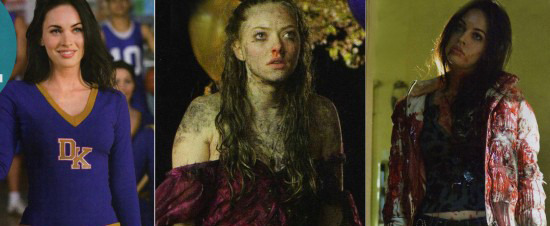 Well, now we know the title of George Romero's formerly untitled new zombie film. The Toronto International Film Festival announced its Midnight Madness program today, and that film, now called Survival of the Dead, is on the list. So is Jennifer's Body, which is a pretty big coup for the program. See the whole list and read some thoughts after the break.
Midnight Madness is among my favorite aspects of TIFF. The festival has parallel schedules for press/industry and public screenings, but the MM films are ones I always make an effort to catch during the actual midnight public screenings, because it is a hell of a lot of fun to sit in a massive theatre full of exicted genre fans. That makes the next morning difficult, but it's always worth the effort.
Seeing Jennifer's Body on the schedule is a big deal; that's a film that could easily have slipped into one of the other programs at the fest, especially given how well Diablo Cody and Juno did at TIFF a couple years ago. But Cody is a genre fan, and if you make the (likely to be sold out) midnight screening I can virtually assure that the following Q&A will be seriously entertaining.
Here's the full lineup. Note that Solomon Kane isn't actually the World Premiere, since it will be shown this weekend at Comic Con. And yeah, I'm a little less than excited about Romero going back to the zombie survival well one more time. But you never know...
Jennifer's Body
Karyn Kusama, USA
World Premiere
Jennifer's Body tells the story of small-town high-school student Jennifer (Megan Fox) who is possessed by a hungry demon and transitions from being "high school evil"—gorgeous (and doesn't she know it), stuck up and ultra-attitudinal—to the real deal: evil/evil. The glittering beauty becomes a pale and sickly creature jonesing for a meaty snack, and guys who never stood a chance with the heartless babe take on new lustre in the light of her insatiable appetite. Meanwhile, Jennifer's best friend, Needy (Amanda Seyfried), long relegated to living in Jennifer's shadow, must step-up to protect the town's young men, including her nerdy boyfriend Chip (Johnny Simmons). Written and executive produced by Oscar(R)-winner Diablo Cody (Juno).
A Town Called Panic
Stephane Aubier and Vincent Patar, Belgium/Luxembourg/France
North American Premiere
An outlandish animation style captures the absurd wit and surreal adventures of plastic toys Cowboy, Indian and Horse.
Bitch Slap
Rick Jacobson, USA
World Premiere
In this campy action comedy from the creators of Xena and Hercules, three hot-blooded women try to uncover some booty in the desert using feminine charms, fists and machine guns.
Daybreakers
Michael Spierig and Peter Spierig, Australia/USA
World Premiere
Ethan Hawke, Willem Dafoe and Sam Neill star in this sci-fi horror about a future populated by vampires where humans are the minority.
George A. Romero's Survival of the Dead
George A. Romero, Canada
World Premiere
Master director George A. Romero returns to his world of the undead, this time pitting two feuding clans in the middle of the fallout of a zombie epidemic.
The Loved Ones
Sean Byrne, Australia
International Premiere
A troubled teen's prom dreams are shattered by a series of painful events that take place under the mirrored disco ball, involving syringes, nails, power drills and a secret admirer in this wild mash-up of Pretty in Pink and Misery.
Ong Bak 2: The Beginning
Tony Jaa, Thailand
Canadian Premiere
Martial-arts superstar Tony Jaa stars in and directs this epic tale of revenge set hundreds of years in the past. Featuring a huge cast and hordes of elephants, this prequel takes Jaa's skills to the next level, showcasing him as a master of a wide range of martial-arts styles – while proving him to be a promising director as well.
[REC] 2
Jaume Balaguero, Paco Plaza, Spain
North American Premiere
In the follow-up to the acclaimed [REC], a SWAT team enters the old apartment to control an epidemic with terrifying results.
Solomon Kane
Michael J. Bassett, United Kingdom
World Premiere
From Robert E. Howard, the legendary creator of Conan, comes this tale of a savage mercenary in sixteeth-century Century England who owes the devil his soul and seeks to redeem himself by fighting evil.
Symbol
Hitoshi Matsumoto, Japan
International Premiere
Japanese comedy superstar Hitoshi Matsumoto (DAINIPPONJIN) stars in and directs this absurd and outlandish comedy about a man trying to escape a unique dilemma.