This Week In DVD & Blu-Ray: Watchmen, Coraline, Pushing Daisies, And More
We may receive a commission on purchases made from links.
This Week in DVD & Blu-ray is a column that compiles all the latest info regarding new DVD and Blu-ray releases, sales, and exclusive deals from stores including Target, Best Buy and Fry's.
Please don't take the commentary on the movies and TV shows too seriously, as they're meant not to be reviews but rather previews that include the general thoughts and ramblings of a twice-committed DVD addict. The categories represent solely the author's intentions towards the films at hand, and are in no way meant to be a reflection on what he thinks other people should rent or buy. So if he ends up putting a movie you like in the "Skip it" section without having seen it, please keep in mind that the time you could spend leaving a spiteful but ultimately futile comment could instead be used for more pleasant things in life. Like buying DVDs.

WATCHMEN(Available as single-disc Theatrical Cut and 2-Disc Director's Cut)
For the longest time the Watchmen graphic novel was said to be "unfilmable". Obviously, that's a nonsensical notion. If we've learned anything from the Super Mario Bros. movie, it's that any property can be adapted into a film, regardless of story (or lack thereof). The real question is whether or not it can be done well. And in the case of Watchmen, director Zack Synder found himself in a lose-lose situation. The problem with adapting any comic or novel for the big screen is that, more often than not, what worked in its original medium just doesn't translate that well to film. Thus, the only solution is to make concessions by changing various aspects of the source material. In many instances, this process has yielded positive results (V for Vendetta, the latest Harry Potter films), regardless of what the frothing hostility of certain fanboys might suggest. Watchmen though, would only suffer from these types of changes. To significantly alter the source material would be to defeat the purpose of adapting it at all. Zack Snyder was clearly aware of this, and decided (with one notable exception) to remain as faithful to Alan Moore's classic graphic novel as possible. While I strongly believe Snyder made the right choice, there's no denying that the resulting film suffers from all the expected flaws that come with going down this route. The pacing is all over the place, certain twists and turns don't carry the same weight as they do in the graphic novel, and uninitiated viewers may find themselves at a total loss as to what in the hell they're watching. Simply put: As a movie meant to stand on its own, Watchmen is a failure. It succeeds, however, as a fascinating experiment and companion piece for those who have already read and loved the graphic novel. Likely not what the studio was hoping for, admittedly, but for people like me, it's just about the best Watchmen film we could've asked for... even if, frankly, it probably shouldn't have been made in the first place.
Blu-ray? Yes.Notable Extras: DVD – Single-disc includes the theatrical cut of the film. 2-Disc includes the director's cut with 25 minutes of additional footage, a "The Phenomenon: The Comic that Changed Comics" featurette, 30 minutes of Video Journals, a My Chemical Romance Desolation Row music video, and a digital copy of the theatrical version. Blu-ray – Includes all of the 2-Disc DVD extras, along with 2 additional featurettes ("Real Super Heroes, Real Vigilantes", "Mechanics: Technologies of a Fantastic World"), 30 minutes of Watchmen Focus Points, and a Warner Bros. Maximum Movie Mode.
BEST DVD PRICE*
Target
Best Buy
Fry's
$15.99
$14.99
$16.77
Amazon – $14.99
*Does not include 2-Disc Edition, which costs $22.99 at Target and Best Buy, $17.77 at Fry's (plus $5 gift card – see below), and $16.49 at Amazon.
BEST BLU-RAY PRICE
Target
Best Buy
Fry's
$25.99
$24.99
$20.77
Amazon – $20.49
EXCLUSIVE DEAL:What? Exclusive Nite Owl Ship packaging on Blu-ray ($74.99).Where? Amazon.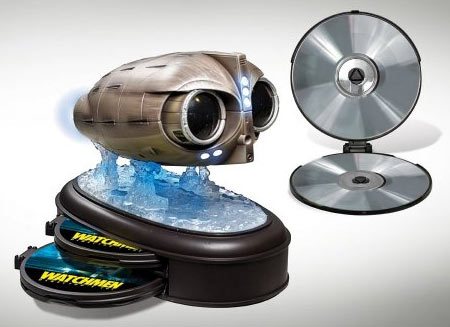 EXCLUSIVE DEAL:What? Collectible packaging: Two-Disc Special Edition with Rorschach ($29.99), or Blu-Ray Edition with Dr. Manhattan ($34.99).Where? Best Buy.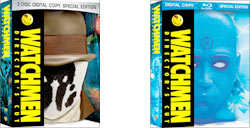 EXCLUSIVE DEAL:What? Get Watchmen: Tales of the Black Freighter or Watchmen: Motion Comic for only $5 when you buy any version of Watchmen.Where? Best Buy.EXCLUSIVE DEAL:What? Two-Disc Special Edition DVD ($17.77) comes with $5 gift card. Single-disc & Blu-ray do not apply.Where? Fry's.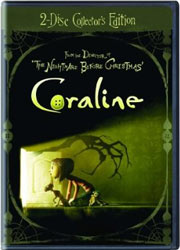 CORALINE(Available as single-disc and 2-Disc Collector's Edition)
In a way, Coraline helps to settle a long gestating dispute over the true creative force behind The Nightmare Before Christmas. While Henry Selick may have directed the film, people often credit Tim Burton (who produced and wrote the original story) as the sole artistic voice behind it. 10 years later though, magic failed to strike twice with the Tim Burton-directed The Corpse Bride, a visually spectacular but forgettable and emotionally disconnected affair. Add another 4 years into the mix, and we see the arrival of Henry Selick's Coraline (based on Neil Gaiman's novella of the same name). Where Burton failed, Selick did not. Coraline is every bit as compelling and imaginative as Nightmare, but with a noticeably darker edge. Instead of pandering to children, Selick trusts in his young audience, in some ways harkening back to a time in the '80s when kid's films were, well, kind of twisted. And as far as stop-motion cinema goes, it marks the rare occasion where the storytelling is just as strong as the visuals. For me, Coraline ranks right up there with the best of Pixar.
Blu-ray? Yes.Notable Extras: Each edition will include 2-D and 3-D versions of the film, along with four pairs of 3-D glasses. DVD – Single-disc includes a commentary with director Henry Selick and composer Bruno Coulais. 2-Disc includes that, as well as deleted scenes, featurettes ("The Making of Coraline", "Voicing the Characters"), and a digital copy of the film. Blu-ray – Includes everything on the 2-Disc, as well as an additional featurette ("Creepy Coraline").
BEST DVD PRICE*
Target
Best Buy
Fry's
$15.99
Amazon – $15.99
*Does not include 2-Disc Edition, which costs $22.99 at each of the listed stores (and $19.99 at Amazon).
BEST BLU-RAY PRICE
Target
Best Buy
Fry's
$25.99
$20.77
Amazon – $25.99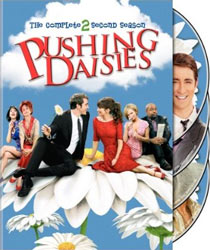 PUSHING DAISIES (SEASON 2)
As much as it hurts me to say it, I'm not especially dismayed that Pushing Daisies got cancelled. This isn't to say it's not a good show. On the contrary, it's by far one of the most unique and wonderful TV shows I've ever had the privilege of viewing. But truth be told, the series always had this sort of charming simplicity that never warranted many seasons. As such, I'm glad the show was able to end at the top of its game, while its combination of visually vibrant fantastical elements with darkly comedic murder mysteries still felt fresh. My only disappointment: that the final sequence of the season finale was undoubtedly a desperate attempt to resolve any open-ended plot developments and conclude the story in a span of 60-seconds. This brings to mind a recent Twitter post I wrote: "In a perfect world, all canceled shows would be allowed a final movie-length episode to wrap up loose ends." With the death of Pushing Daisies, this sentiment feels particularly relevant.
Blu-ray? Yes.Notable Extras: DVD & Blu-ray – 4 featurettes ("The Master Pie Maker: Inside the Mind of Creator Bryan Fuller", "From Oven to Table: Crafting a Script Idea into Reality", "Secret Sweet Ingredients: Spotlight on Composer Jim Dooley's Work", "Add a Little Magic: Executing Some Giant-Sized Visual Effects").
BEST DVD PRICE
Target
Best Buy
Fry's
N/A
$26.99
N/A
Amazon – $21.49
BEST BLU-RAY PRICE
Target
Best Buy
Fry's
N/A
$36.99
N/A
Amazon – $34.99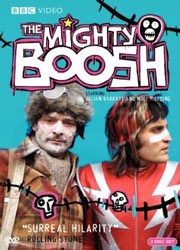 THE MIGHTY BOOSH (SEASON 1)(Also available: Season 2, Season 3)
"Come with us now on a journey through time and space... To the world of the Mighty Boosh!" If you haven't yet been exposed to the bizarre awesomeness of the British comedy series The Mighty Boosh, here's your chance. Written by and starring the increasingly likable Julian Barratt and Noel Fielding, the show follows the duo's outlandish adventures in a world untethered by rules or the pesky boundaries of reality. Despite the insanity that surrounds them, they rarely seem fazed whenever they find themselves forced to deal with crazy ice demons and all sorts of other mythical and/or supernatural beings, largely because they're oftentimes too busy chatting about insignificant (but oh-so-hilarious) nonsense. Also, they break into song every now and then. Just go with it. Trust me.
Blu-ray? No.Notable Extras: Season 1 includes four commentaries, two featurettes ("Inside the Zooniverse", "The History of Boosh"), Boosh music, and outtakes. Season 2 includes commentary on all episodes, the original Mighty Boosh pilot episode, Boosh publicity featurette, Making Series 2 documentary, outtakes, deleted scenes, a short film ("Sweet"), and Boosh music. Season 3 includes three commentaries, Making Series 3 documentary, Boosh publicity featurette, deleted scenes, Mint Royale promo (music video starring Noel Fielding, directed by Edgar Wright), Boosh music, and outtakes.
BEST DVD PRICE
Target
Best Buy
Fry's
$19.99
$24.99
N/A
Amazon – $19.99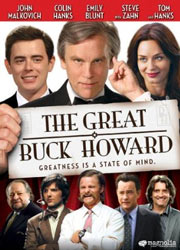 THE GREAT BUCK HOWARD
Based on the trailer, this indie efforts looks pleasant enough, but also fairly bland and insubstantial. The reviews pretty much confirm as much. The real reason to watch this, it seems, is John Malkovich. Any energy the film itself may lack, it looks as though he'll more than make up for with his charming, enthusiastic performance.
Blu-ray? Yes.Notable Extras: DVD & Blu-ray – A commentary with director Sean McGinly and actor Colin Hanks, deleted scenes, outtakes, a making of featurette, and a "HDNet: Look at The Great Buck Howard" featurette.
BEST DVD PRICE
Target
Best Buy
Fry's
N/A
$15.99
$19.99
Amazon – $15.99
BEST BLU-RAY PRICE
Target
Best Buy
Fry's
N/A
$24.99
Amazon – $23.49
Other noteworthy DVD (and Blu-ray) releases this week...Robot Chicken: Star Wars – Episode II – Prison Break: The Final Break – Psych (Season 3) – Monk (Season 7) – Stargate SG-1: Children of the Gods – Echelon Conspiracy – This American Life (Season 2)Other noteworthy Blu-ray-specific releases this week...300 (The Complete Experience) – Midnight Express

NOTE: Some deals may be in-store only.

$9.99 – Blu-ray sale: Reservoir Dogs, Punisher: War Zone, Total Recall$11.99 – Blu-ray sale: The Corpse Bride, Beetlejuice, Blow, 16 Blocks$19.99 – Dexter (Season 1), The Tudors (Season 1)$24.99 – 24 (Season 7), House (Season 1 – 4)$29.99 – Lost (Season 4)