Cool Stuff: Alex Cox's Book X Films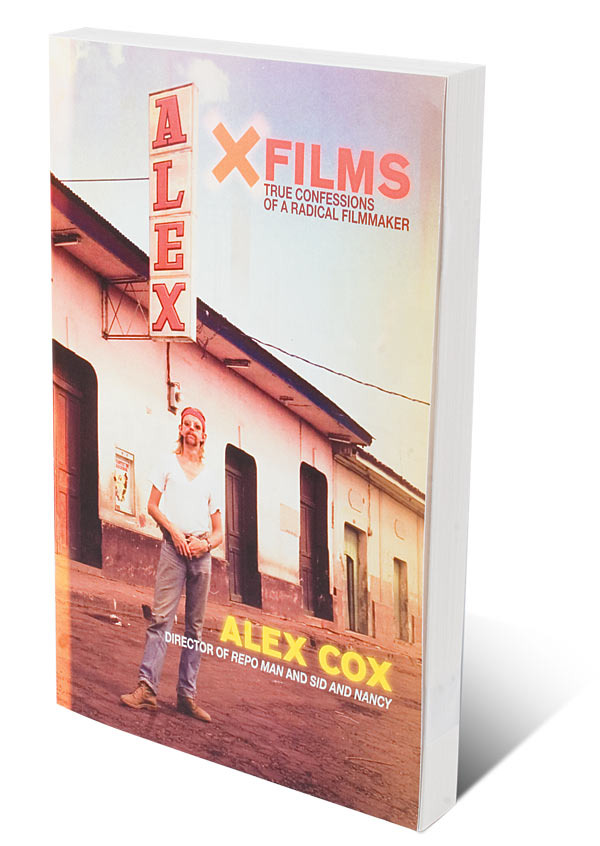 If you are a young person who aspires to fire into the world of independent filmmaking, it's fair to say that Alex Cox's X Films is requisite reading alongside Robert Rodriguez's Rebel Without a Crew. While Cox offers no tales herein comparable to selling blood and submitting to medical experiments for quick cash, his book is a similarly candid, casual film-by-film industry document of the nitty gritty American and international underground. And unlike Rodriguez's famous book (published in 1996), X Films is written by a director whose fuck-Hollywood attitude hasn't exactly curbed with time.I read the book in full in three days—it's super quick—and I was surprised by how humble and enlivened Cox's voice remains, and by how vividly he remembers all of his productions. The chapter dedicated to the punk sci-fi classic, Repo Man, Cox's debut studio feature that grows rawer over time like a nuclear sunburn, is my favorite. A few choice excerpts after the jump...
The original funding pitch for Repo Man:
...Repo Man will be a high-gloss, low budget feature film shot in and around Los Angeles... OTTO, a young karate-expert punker, becomes involved in an intrigue... 'There was never a draft where Otto was a karate-expert, so very possible this synopsis was being tailored to a particular action-oriented recipient: Roger Corman, or the producers of The Karate Kid.'
The reality of filmmaking sets in...
This wasn't the way we'd make films at UCLA. It felt as if the small, secretive ritual in which we'd partaken no longer existed: it had crudely morphed into some big, truck-heavy, industrial process. The secrets of the temple had been revealed to a gang of bruisers with beer bellies and baseball caps, who hung out with cops. That first morning, a large portion of me cried out, flee! Back to the desert! Back to the 16mm Bolex, to the cave! But I remained.
The reality of the world sets in...
...rich people only care about money and status, things that the artistic soul eschews. Luis Bunuel and Salvador Dali followed this strategy when they shamelessly befriended the Vicomte and Vicomtesse de Noailles to get the money for L'Age D'Or. ...Artists can easily turn into notorious sycophants in the company of the rich. It's best to avoid them, if possible.
Cox describes with wry humor how the set of Repo Man was sabotaged by Los Angelenos who despised the on-set presence of cops. These incidents proved to be nearly as problematic as dealing with co-star Harry Dean Stanton's cocksure ego...
My inevitable Harry Dean showdown came when we shot the scene when the repo men threaten their sworn enemies, the Rodriguez brothers, with baseball bats. ...when I asked Harry not to use the real bat, he was furious. Slamming the wooden bat down on the hood of the Falcon, he roared (and he has a stentorian voice for such a little guy) 'Harry Dean Stanton only uses REAL baseball bats!' ...I picked [the bat] up immediately. ...A foolish tug of war ensued.
The book is filled with hip anecdotes and famous run-ins. William Burroughs, Kenny Rogers, the Clash's Joe Strummer (Cox's Straight to Hell), Ed Harris (Cox's Walker, his most underrated film), and many others are served up with respectable dirt. However, did you know that Daniel Day-Lewis was neck-and-neck to portray Sid Vicious in Sid and Nancy? The deciding factor—a recurring theme—for Cox, was class...
Both Gary [Oldman] and Dan Lewis gave very good readings. Both physically resembled Vicious. Both brought something different to the part. ...Oldman was less credible as a lover, less debonair, but he knew where Sid was coming from. Gary, like Sid, had had the misfortune to grow up south of the river. So I was classist in my decision-making: instead of the Poet Laureate's son, I picked the Bermondsey boy."
In the digital age, it's easy to forget how much blood, sweat, tears, and dollars—down to the exact figures herein—go into making a film. The combination of Cox (currently working on Repo Man 2) and New York's incomparable independent publisher Soft Skull Press—check out the related doc Horns and Halos for a publishing industry mind-fuck—is a reminder that great minds are still at work and countering. Side note: If you like massive anxiety attacks, go watch Soft Skull's former HNIC Richard Nash speak at a conference as you battle a hangover.
/Film Rating: 9.0 out of 10Note: Soft Skull also sent us their excellent Hal Hartley: True Fiction Pictures and Possible Films and Naked Lens: Beat Cinema (possibly the best book on Beatnik cinema on the market).If you would like Hunter Stephenson to consider reviewing your cool stuff, he can be reached at h.attila[at]gmail.com or on Twitter. For another /Film staffer, contact orfilms[at]gmail.com.