New Mystery Team Trailer - /Film Is Giving Away Tickets To Special Comic-Con Screening!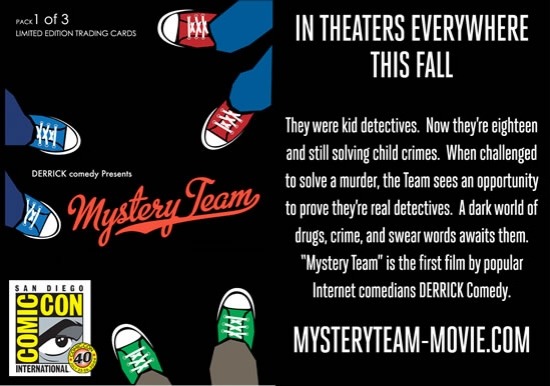 Roadside Attractions has released an official green band movie trailer for Derrick Comedy's Mystery Team , the comedy sensation of this year's Sundance Film Festival. Cinematical described it as "Encyclopedia Brown meets Napoleon Dynamite with a pinch of Ace Ventura" and CinemaBlend called it "the Rocky Horror Picture Show of mystery movies." Film School Rejects called it "perfect comedy for the internet generation." And we said it is " funnier and more original than 99% of the comedies Hollywood releases now-a-days." Watch the new trailer after the jump!
The film doesn't hit theaters until Fall 2009, but as you have probably heard, there is going to be a sneak preview screening in San Diego during Comic-Con. Roadside has given us 12 single tickets to give away to /Film readers who will be in attendance at the con.
The screening is going to take place on Thursday, July 23rd at 8:00pm at Horton Plaza. Please only enter the contest if you're going to be in San Diego and will be able to attend the screening. How do you enter? Send us an e-mail at slashfilm@gmail.com telling us why you should be invited to the special Mystery Team screening. Please include your full name and phone number. We will privately notify winners on Tuesday night by e-mail