Sean Bean Plays A Game Of Thrones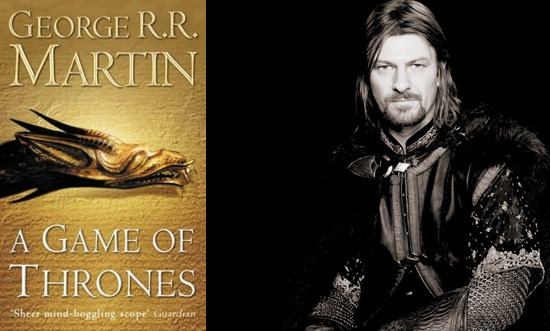 A Song of Ice and Fire, George R.R. Martin's fantasy series that begins with the novel A Game of Thrones, is being adapted into a series by HBO, and Sean Bean has just nabbed the lead role, according to THR. (This news was actually reported last week by the George R.R. Martin fansite Winter is Coming and I let it pass as too unsubstantiated. Oh, well.) Bean will play the honorable and upright Lord Eddard 'Ned' Stark, Warden of the North, who acts as advisor to King Robert I Baratheon, a role for which Mark Addy is in final talks.The Station Agent and The Visitor director Tom McCarthy is directing; David Benioff and D.B. Weiss wrote the screenplay which adapts Martin's text about the conflict between two sprawling royal (and semi-royal) families in a land reminiscent of medieval Europe, where seasons can last for decades, making the coming winter seem particularly dire and uncertain. The text is a massive knot of politics, intrigue and backstabbing, making the HBO series seem quite ambitious. (Benioff has said that the lame way to describe the series would be "The Sopranos in Middle Earth.") Peter Dinklage has been the primary known cast member for the last couple months.
Martin has a few enthusiastic words about these and a few other casting choices on his LiveJournal, in an entry which ends with "so far I couldn't be happier":
For the movie fans out there, Sean Bean needs no introduction. I mean, what the hell, he was Boromir and he was Sharpe, he was terrific in both roles, and in a hundred other parts besides. I can't imagine a better Ned. The deal took some doing, so my fingers have been crossed for a month now (and boy, that made it hard to type), but now it's done, and I'm thrilled.
For King Robert I Baratheon, we've got Mark Addy, a veteran British actor of stage and screen that many of you may remember from his fine turn in A KNIGHT'S TALE.
The roles of Joffrey Baratheon, the crown prince, and Viserys Targaryen, the beggar king, have also been filled... by Jack Gleeson and Harry Lloyd, respectively. Sorry, I haven't been able to find pictures of them on the internet yet, though I'm sure they are out there somewhere. I've seen readings by both Gleeson and Lloyd, and both should be terrific.
And last, but certainly not least, the role of the bastard Jon Snow will be played by a young actor named Kit Harington. You probably haven't heard of him yet... but you will, we're confident. David and Dan can't say enough about his talent and intensity.