Producers Of The Dark Knight And The International Reform Voltron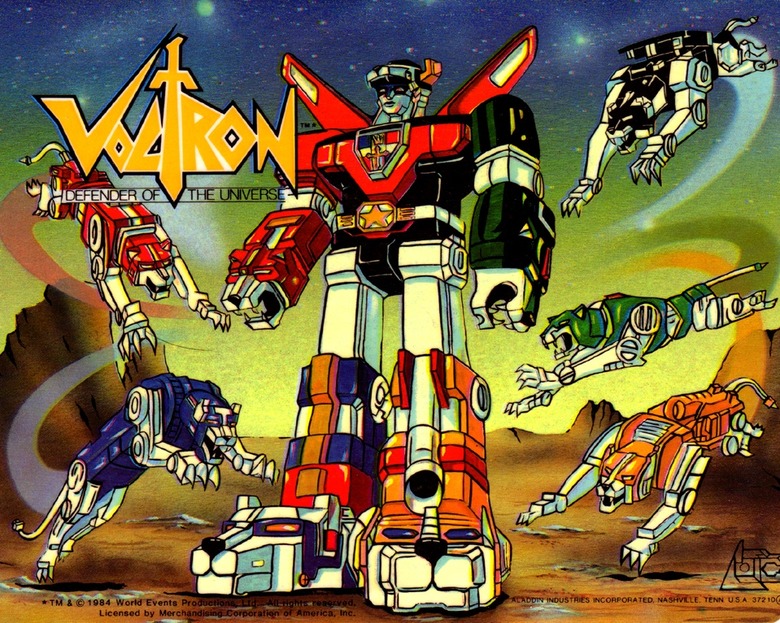 Atlas Entertainment is developing a live-action Voltron movie. Producers Charles Roven (The Dark Knight), Richard Suckle (The International) and Steve Alexander have acquired the rights to make a film based on the Japanese anime property after several years in development at various production companies.
The live-action project has been in development since 2004, and interest skyrocketed after the box office success of Michael Bay's Transformers. Mark Gordon had been developing the project, and geek screenwriter Justin Marks had written a screenplay which adapted the idea as an alien invasion film based on Earth. The project was set up at New Regency but last year was put into turnaround. Relativity Media came on board briefly (One Last Dance helmer Max Makowski was attached to direct), before Atlas acquired the rights.
While talking with Risky Biz, World Events' Ted Koplar, another producer on the project, compared it to Transformers, saying that "unlike other robotic action movies, 'Voltron' is the personification of the human spirit, a quality that will set this movie apart."
The project has not yet been set up at a studio, but considering that Atlas Entertainment has a overall deal with Warner Bros, its not hard to imagine it ending up there. Warner Bros is also developing another big robot film, Robotech. If both projects do end up at the same studio, it will be interesting to see which one gets pushed into production first (and what that might mean to the second project).
The Voltron concept could be cool if it isn't dumbed down and geared towards children (worse case scenario is something closer to the Power Rangers). People want to see big giant robots fighting aliens and destroying all that lay in their path. This could be that movie. Plus, unlike Transformers, there is a human element which is already interconnected to the story. I had not read MArks script, but it certainly sounded like good from the descriptions.
It's not clear if Marks script will be completely abandoned (my educated guess is yes), but it was described as "a post-apocalyptic tale set in New York City and Mexico" which follows "five ragtag survivors of an alien attack band together and end up piloting the five lion-shaped robots that combine and form the massive sword-wielding Voltron that helps battle Earth's invaders." LatinoReview called the script "a fucking masterpiece" and CinemaBlend called it "a well put together, well intentioned, incredibly faithful Voltron script using modern sensibilities."