First Official Photo: Jake Gyllenhaal In Prince Of Persia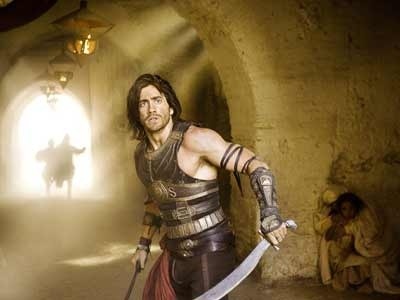 Entertainment Weekly's comic-con preview issue hits store shelves today, and features the above first official photo of Jake Gyllenhaal as Prince Dastan from Disney's adaptation of Prince of Persia: The Sands of Time. Paparazzi and leaked set photos had appeared online previously. And then there was that small bit of preview footage that aired in May.
Mike Newell's film, based on the popular video game, tells the story of an adventurous prince who teams up with a with Tamina (Gemma Arterton), a feisty and exotic princess, to prevent a villainous nobleman from possessing the Sands of Time, a gift from the gods that can reverse time. Prince of Persia: Sands of Time will hit theaters on May 28th 2010.