Clerks And Chasing Amy On Blu-Ray In November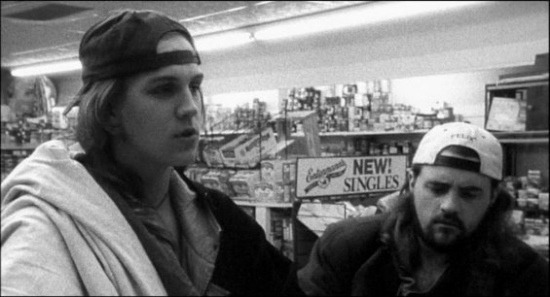 Kevin Smith has confirmed that two of his most popular and critically acclaimed films Clerks and Chasing Amy will be released on Blu-Ray in November 2009 with a few new surprises. Smith revealed the news on Twitter, where the filmmaker is nearing almost 1,000,000 followers. The Clerks release will be the same exact contents of the the tenth anniversary DVD release Clerks X, plus a never before released documentary that fans have waited over five years for. Details and trailer after the jump.
[flv:http://media2.slashfilm.com/slashfilm/trailers/teaparty.flv 400 300]
Oh What a Lovely Tea Party is a documentary which was filmed during the making of Jay and Silent Bob Strike Back by Smith's wife Jennifer Schwalbach Smith. It was originally intended to be a bonus feature on the Jay and Silent Bob Strike Back DVD, but it was deemed too long for the release. Too Long? The film has screened at Smith's Vulgarthon film festival, and was nearly three hours long. Smith had also intended to include it on the Clerks X DVD, but the inclusion was scrapped for similar reasons. But fans of Smith's films will finally get the doc with the Blu-Ray release of Clerks.The Chasing Amy Blu-ray will include an "awesome" new look-back documentary, as well as all the features from the original release. And Smith even posted a photo of a Kevin Smith 3 Movie Collection that Miramax Films will be releasing.