Spy Report: Inception Shooting At University College London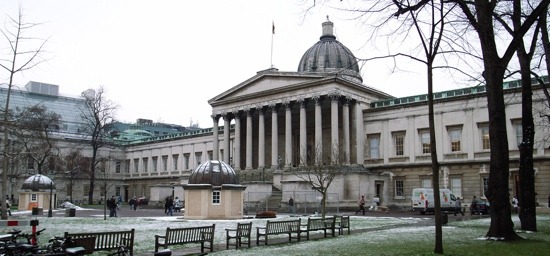 Christopher Nolan and crew have been apparently been spotted filming "Oliver's Arrow", the not-so-secret shooting title for his next feature film, Inception, in and around the University College London. A couple bits of new information about the film were revealed in a spy report on IMDB. Find out more after the jump.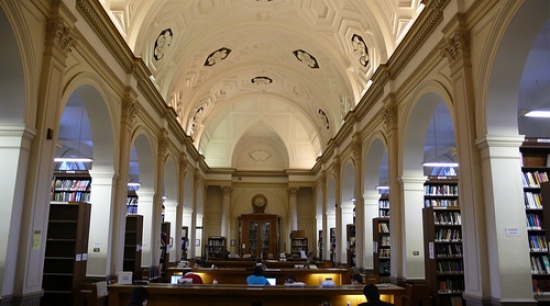 According to the report, Nolan and crew were shooting in UCL's Wilkins building to film a scene in the main library (photo above), which was retrofitted with signage transforming the location into the Bibliotheque of the "Ecole de Architecture" in France. Located in Paris, the Bibliotheque is the national library of France, a repository of all that is published in the country.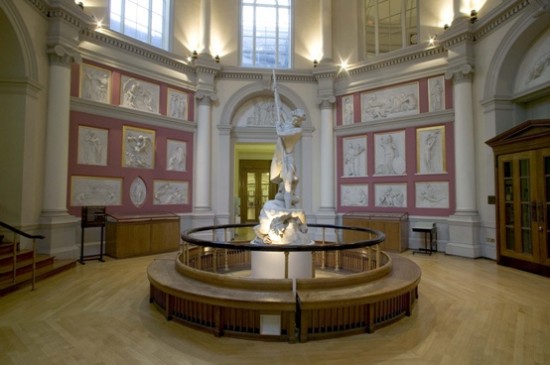 The scene being shot in the Flaxman Gallery  (photographed above) involved Michael Caine's character introducing a "CEO-type" (Leonardo di Caprio) to a graduate student named Ariadne (Ellen Page). In the meeting, Leo's character offers Ariadne a job. The trades have said that Page's character is essentially "a young college grad student and DiCaprio's sidekick," so I'm assuming this scene happens early on in the story.
Michael Caine looked like he was playing a similar character to the one he always plays lately, Ellen Page looked like a plucky young student, and Leo di Caprio just looked moody and "focussed" (toying with the toothpick-in-between-the-teeth look).
The spy report says that other scenes being shot on campus included shots in the lecture theatre, a reading a room and some of the library's corridors. And apparently it was only a one day shoot, so the resulting footage shouldn't make up a lot of screen time.
All we know about the story so far is that Inception is a contemporary science fiction action movie "set within the architecture of the mind." Marion Cotillard (La Vie en rose, Public Enemies) plays Caprio's character's wife, Joseph Gordon-Levitt and Tom Hardy (Bronson) are his working associates, and that Ken Watanabe is the film's villain, a man who is blackmailing Leonardo DiCaprio's character.
via: Nolan Fans