2009 Toronto International Film Festival Opening Night And Other Films Announced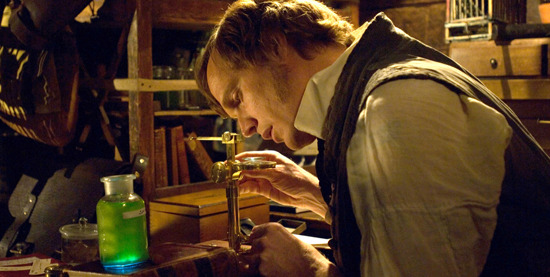 The Toronto International Film Festival has announced its choice for opening night film, as well as a host of other pictures that will play among the festival's 300-plus films. As expected, a healthy few Cannes veterans are in the mix as well as a number of other films we're excited to see. (Like Nicolas Winding Refn's Valhalla Rising, but not the Coen Bros. A Serious Man.)
Opening the fest is Jon Amiel's Creation, based on the life of Charles Darwin and starring real life husband and wife Paul Bettany and Jennifer Connelly as Darwin and his wife. (See our article on the trailer.) Based on the Randal Keynes biography of Darwin called Annie's Box, the fest says the film is "part ghost story, part psychological thriller, part heart-wrenching love story. Torn between his love for his deeply religious wife and his own growing belief in a world where God has no place, Darwin finds himself caught in a struggle between faith and reason, love and truth."
You can keep up with the film schedule here. The list of more films playing the fest, with descriptions as written by the festival, is after the break.
GALAS
Get LowAaron Schneider, USA World Premiere
Inspired by the true story of Felix "Bush" Breazeale, this stately frontier drama stars Robert Duvall as a backwoods eccentric who stages his own funeral—while still alive. Ten thousand people arrive to hear him speak and to learn why this local legend exiled himself 40 years ago to the foothills of Eastern Tennessee. Set in the early 1930s, Get Low is a story of mystery and discovery that speaks of timeless things. Can we know who we are? Should we judge anyone? Is there redemption for those of us lost in the dark catacombs of our past? Also starring Bill Murray, Sissy Spacek and Lucas Black.
The Invention of LyingRicky Gervais and Matthew Robinson, USA World Premiere
From Ricky Gervais, the award-winning creator and star of the original BBC series The Office and HBO's Extras, comes the new romantic comedy The Invention of Lying, which takes place in an alternate reality where lying—even the concept of a lie—does not even exist. Everyone—from politicians to advertisers to the man and woman on the street—speaks the truth and nothing but the truth with no thought of the consequences. But when a down-on-his-luck loser named Mark suddenly develops the ability to lie, he finds that dishonesty has its rewards. In a world where every word is assumed to be the absolute truth, Mark easily lies his way to fame and fortune. But lies have a way of spreading, and he begins to realize that things are getting out of control when some of his tallest tales are being taken as, well, gospel. With the entire world now hanging on his every word, there is only one thing Mark has not been able to lie his way into: the heart of the woman he loves.
Max ManusJoachim Ronning and Espen Sandberg, Norway/Denmark/Germany North American Premiere
The film is based on the true story of Norway's most colourful resistance fighter Max Manus, and follows him from the outbreak of World War II until the summer of peace in 1945. After fighting against the Russians during the Winter War in Finland, Max returns to a German-occupied Norway. He joins the active resistance movement, and becomes one of the most important members of the so-called "Oslo Gang", famous for their spectacular raids against German ships in Oslo harbour.
Precious: Based on the Novel "Push" by SapphireLee Daniels, USA Canadian Premiere
Lee Daniels's Precious: Based on the Novel "Push" by Sapphire is a vibrant, honest and resoundingly hopeful film about the human capacity to grow and overcome. Set in 1987 Harlem, it is the story of Claireece "Precious" Jones, an illiterate African-American teenager who is pregnant for the second time by her absent father and abused by a poisonously angry mother. Despite her experiences, Precious has a latent understanding that other possibilities exist for her, and jumps at the chance to enroll in an alternative school. There she encounters Ms. Rain, a teacher who will start her on a journey from pain and powerlessness to self-respect and determination. The film stars Mo'Nique, Paula Patton, Mariah Carey, Sherri Shepherd, Lenny Kravitz and introduces Gabourey Sidibe.
Special Presentations
The Boys Are BackScott Hicks, Australia/United Kingdom World Premiere
Based on the memoir by Simon Carr, Scott Hicks (Shine) directs The Boys Are Back, inspired by the poignant, comic and uplifting true story of a man who must suddenly raise his two sons alone. After the untimely passing of his second wife, the ill-prepared Joe (Clive Owen), who is dealing with his own loss, is confronted with the daily challenges of parenthood while coping with his young son Artie's expressions of grief. They are soon joined by Harry, Joe's teenage son from his first marriage, who brings his own personal "baggage" into the mix. Also starring Laura Fraser and Emma Booth.
Bright StarJane Campion, United Kingdom/Australia North American Premiere
A drama based on the secret love affair between 23-year-old English poet John Keats (Ben Whishaw) and the girl next door, Fanny Brawne (Abbie Cornish), an outspoken student of fashion. Intensely and helplessly absorbed in each other, they rode a wave of romantic obsession that deepened as their troubles mounted. Only Keats's illness and untimely death proved insurmountable.
City of Life and DeathLu Chuan, China International Premiere
From acclaimed director Lu Chuan comes a devastating and controversial epic film based on the most atrocious holocaust in Chinese history, the Nanjing Massacre. The story unfolds as the Japanese take over the city in 1937 and everyone is struggling to survive in a city where death is easier than life. Starring Liu Ye and Gao Yuanyuan.
CracksJordan Scott, Ireland World Premiere
In an austere and remote girls' boarding school, the most elite clique of girls are the illustrious members of the school's diving team. As they compete for the attention of their glamorous teacher (Eva Green), the arrival of a beautiful Spanish girl disrupts the delicate social balance. In an attempt to put differences aside, a secret midnight party takes place that will change their lives forever.
HadewijchBruno Dumont, France World Premiere
Hadewijch is a religious novice whose ecstatic, blind faith leads to her expulsion from a convent. Returning to her former life, Hadewijch reverts to being Celine, a Parisienne and daughter of a diplomat. However, her passion for God, rage and encounters with Khaled and Nassir soon lead her down a dangerous path.
The Informant!Steven Soderbergh, USA North American Premiere
Mark Whitacre (Matt Damon), a rising star at agri-industry giant Archer Daniels Midland (ADM), suddenly turns whistleblower. Exposing his company's multinational price-fixing conspiracy to the FBI, Whitacre imagines himself as a kind of de facto secret agent. Unfortunately for the FBI, their lead witness hasn't been quite forthcoming about helping himself to the corporate coffers. Whitacre's ever-changing account frustrates the agents and threatens the case against ADM as it becomes almost impossible to decipher what is real and what is the product of Whitacre's rambling imagination. Based on the true story of the highest-ranking corporate whistleblower in U.S. history.
Leaves of GrassTim Blake Nelson, USA World Premiere
Bill Kincaid, an Ivy League classics professor, returns to rural Oklahoma to bury his dangerously brilliant identical twin brother who had remained in their native state to grow hydroponic pot. Leaves of Grass is a fast-paced comic film that contrasts two distinct approaches to life. Featuring Edward Norton in the role of each twin.
London RiverRachid Bouchareb, United Kingdom/France/Algeria North American Premiere
This intimate drama tells the story of two people, a Muslim man and a Christian woman, who are immediately affected by the July 2005 London bombings. Both of them are drawn to the British capital when their children go missing on the day of the attacks. Putting aside their cultural differences, they will give each other the strength to continue the search for their children and maintain their faith.
Mao's Last DancerBruce Beresford, Australia/USA/China World Premiere
Adapted from his internationally best-selling memoir, the film tells the true story of Li Cunxin, a Chinese-trained ballet dancer. Plucked from his childhood village, subjected to years of vigorous training and threatened during the Cultural Revolution, Cunxin decides to leave China at great risk to himself and those he loves, for an uncertain future.
Moloch TropicalRaoul Peck, Haiti/France World Premiere
A democratically elected "President" and his closest collaborators are getting ready for a state celebration. But in the morning of the event, he wakes up to find the country inflamed and the streets in turmoil. Despite the situation, the President does not want to face reality and refuses to resign. Overwhelmed, he plunges into a deep mental confusion as the events unfold. Set in a castle in the clouds, Moloch Tropical is a Shakespearian, behind-the-scenes depiction of the end of power.
MotherBong Joon-ho, South Korea North American Premiere
A unique noir thriller that digs into the secrecy surrounding a terrible murder and the mystery of a mother's primal love for her son. The films of director Bong Joon-ho regularly, and brilliantly, break with convention, thanks to an imagination that is not confined to the accepted parameters of humour, suspense or horror – Mother is no exception.
OndineNeil Jordan, Ireland/USA World Premiere
A lyrical, modern fairy tale that tells the story of Syracuse (Colin Farrell), an Irish fisherman whose life is transformed when he catches a beautiful and mysterious woman (Alicja Bachleda) in his nets. His daughter Annie (Alison Barry) comes to believe that the woman is a magical creature, while Syracuse falls helplessly in love. However, like all fairy tales, enchantment and darkness go hand in hand.
PartirCatherine Corsini, France International Premiere
Suzanne (Kristin Scott Thomas) is a well-to-do married woman and mother in the south of France. Her idle bourgeois lifestyle gets her down and she decides to go back to work as a physiotherapist. Her husband agrees to fix-up a consulting room for her in their backyard. When Suzanne and the man (Sergi Lopez) hired to do the building meet, the mutual attraction is sudden and violent. Suzanne decides to give up everything and live this all-engulfing passion to the fullest.
Scheherazade Tell Me a StoryYousry Nasrallah, Egypt North American Premiere
Hebba is the host of a successful political talk show in present-day Cairo. Karim, her husband, is deputy editor-in-chief of a government-owned newspaper. When Party big shots imply his wife is meddling with opposition politics, Karim convinces her to start a series of talk shows around issues involving women. Hebba knows, of course, that women's issues are political. But she could not imagine to what extent, and the tension eventually leads to the break-up of her marriage.
Solitary ManBrian Koppelman and David Levien, USA World Premiere
Ben Kalmen (Michael Douglas) is feeling his age, but you wouldn't know it from the company he keeps. A former mogul with a chain of car dealerships, until legal troubles knocked him out of business, Ben now keeps a grip on the world through his relationships with women – many women. The cast also includes Susan Sarandon, Danny DeVito, Mary Louise Parker and Jenna Fischer.
Valhalla Rising
Nicolas Winding Refn, Denmark/United Kingdom World Premiere
It is 1000 AD. For years, One Eye, a mute warrior of supernatural strength, has been held prisoner by the Norse chieftain Barde. Aided by Are, a boy slave, One Eye slays his captor and together he and Are escape, beginning a journey into the heart of darkness. On their flight, One Eye and Are board a Viking vessel, but the ship is soon engulfed by an endless fog that clears only as the crew sights an unknown land. As the new world reveals its secrets and the Vikings confront their terrible and bloody fate, One Eye discovers his true self.
VengeanceJohnnie To, Hong Kong/France North American Premiere
A father comes to Hong Kong to avenge his daughter, whose family was murdered. Officially, he's a French chef. Twenty years ago, he was a killer. Vengeance is a moody, noir-ish tour-de-force, starring French pop icon Johnny Hallyday.
The Vintner's LuckNiki Caro, New Zealand/France World Premiere
Set in early 19th century France The Vintner's Luck tells the compelling tale of Sobran Jodeau, an ambitious young peasant winemaker and the three loves of his life—his beautiful and passionate wife Celeste, the proudly intellectual baroness Aurora de Valday and Xas, an angel who strikes up an unlikely friendship with Sobran. A fantastical creature with wings that smell of snow, Xas turns out to be an unconventional mentor. Under his guidance Sobran is forced to fathom the nature of love and belief and in the process, grapples with the sensual, the sacred and the profane—all in pursuit of the perfect vintage.