"Terrorist Leader" Feels Duped By Bruno, Isn't Actually A Terrorist?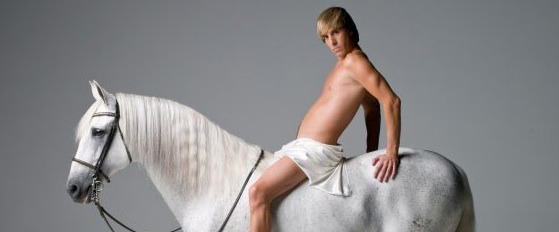 In Sacha Baron Cohen's new film Bruno, there is a scene where Cohen's flamboyant Austrian fashion television host character interviews Ayman Abu Aita, who is depicted as a leader of a terrorist group from the Al Aqsa Martyrs Brigades. Bruno approaches Aita in hopes of being kidnapped by a jihadist group in an effort to become famous in America.
Many of you may have seen Cohen's appearance on David Letterman, explaining the challenge of setting up and filming an interview with a probably dangerous terrorist (if you haven't seen it, check it out embedded after the jump). Well apparently Aita is angry, claiming that Cohen duped him into the interview (as he does with everyone in the movie) and is even considering legal action. Apparently Aita isn't a terrorist leader, and is no longer involved in terrorist activity.
According to WND, Aita served in the Al Aqsa Martyrs Brigades from 2000 until 2003, but has become "reformed" after a two year stint in Israeli prison. Currently Aita is a representative of Palestinian Authority President Mahmoud Abbas' Fatah party and a board member of the Holy Land Trust, a nongovernmental organization promoting Palestinian rights and commitment to nonviolence. Aita explained:
He said he is a German actor making documentaries watched by young people...He wanted to make a story to mobilize the young people to help us (Palestinians). ... I didn't have any impression he would use my interview in a bad way.
He also disputes Cohen's story in the Letterman interview, saying that he was unarmed (Palestinians are not allowed to bring weapons into Beit Jala), and that the location was not a secret location but a private section of a popular restaurant called Everest in the town of Beit Jala.