Under The Mountain International Movie Trailer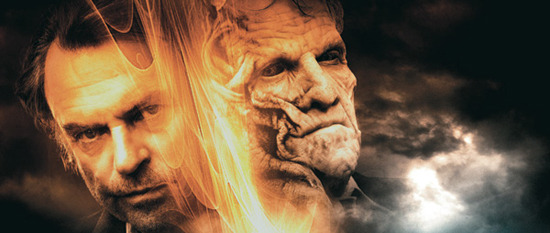 In 2006 New Zealand filmmaker Jonathan King wrote and directed a fun little horror/comedy called Black Sheep. King's been absent from the directorial chair for a while, but he's about to return with an adaptation of the Maurice Gee novel Under the Mountain. Starring Sam Neill and newcomers Tom Cameron and Sophie McBride, the film is about twins who encounter shape-shifting creatures who live under Aukland's extinct volcanos. Yahoo has debuted a trailer for the film, and a poster has appeared as well. See the goods, and a potentially spoilerish synopsis after the jump.
The story has the air of some of the 1970s Disney live-action pictures like Escape From Witch Mountain, as the Matheson twins (Cameron and McBride) encounter an ancient alien war. The destructive Wilberforces, named for the house through which they're discovered, are actually manifestations of symbiotic alien slug-like creatures. Long ago they destroyed a world that housed a kindly alien race, the last survivor of which appears to be the old man Mr. Jones (Neill). He leads the twins into battle against the awakened ancient evil. Or, as the official synopsis puts it:
When teenage twins Rachel and Theo Matheson investigate the creepy old house next door, they discover the Wilberforces – shape-shifting creatures that lurk beneath Auckland's ring of extinct volcanoes. Guided by the mysterious Mr Jones and with the help of their older cousin Ricky, the twins must rekindle the unique powers they once shared if they are to destroy this ancient evil – before it destroys them.Under the Mountain was previously adapted in 1981-2 as an eight-episode television series, which aired in the United States as part of Nickelodeon's series The Third Eye. Given the ingredients (twins, old man, Dr. Who-friendly slug aliens) this was certainly prime material for TV at the time. I'm curious to see how it works as a feature. See the new trailer below, and under that a clip (poor quality, I'm afraid) from the original adaptation. The poster is after the clips.