David A. Goodman Scripting Hong Kong Phooey Live-Action Film And A Remake Of Who Is Killing The Great Chefs Of Europe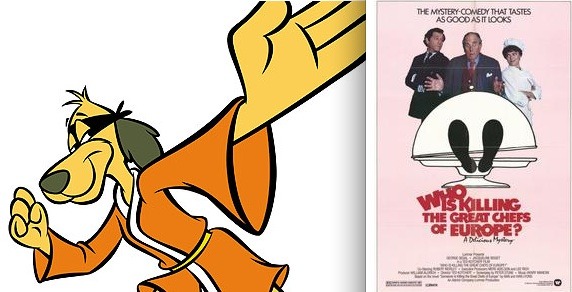 According to Variety, Family Guy producer and writer David A. Goodman has not only taken on the task of adapting Hong Kong Phooey for a big screen outing, he's also the man at the typewriter for Who Is Killing the Great Chefs of Vegas?
The most comforting element of Goodman's CV is that he has written for Futurama but, sadly, the rest of his rap sheet actually seems quite disconcerting to me, from The Golden Girls to Team Knight Rider. Even if Futurama proves he does have it in him, penning a Hong Kong Phooey movie for producer Brett Ratner will probably be enough to seal his fate in the eyes of many. Poor chap.
When it comes to casting this adaptation I've no idea who could possibly replace Scatman Crothers as the raspy voice of Penrod 'Penry' Pooch but I hope they sound even one half as fantastic. Crothers' voice was the absolute crux of the show's watchability, and without it we would have had something just about as condescending and tedious as Hannah Barbera's other badly animated, repetitively plotted and drably scripted Saturday morning chaff.
I wouldn't be at all surprised to see Kevin James as Sgt. Flint, and though Naomi Watts is probably past casting Rosemary the telephone operator now, both in credibility and age, she still came to mind most readily. Dream-casting for live action adaptations of cartoon series is a good time waster though, so I expect to see your thoughts in the comments below.
The Phooey film is being directed by Alex Zamm and, for the sake of your eyes, I won't reproduce his resume from IMDB. Don't click over. Don't do it.
I know you did. Seems he has his own Futurama, in the form of Upright Citizens Brigade but the rest of them... wow.
Goodman's other project is the long-in-development remake of Ted Kotcheff's greatly undervalued Who is Killing the Great Chefs of Europe?, set to relocate the action to Vegas. The original is at once a very funny and engaging mystery, not unlike Theatre of Blood or Murder By Death. The murders of the various chefs are staged in a way that they recall their respective signature dishes, so for example the lobster chef is drowned and the 'pressed duck' chef gets squished.
Completely deserving of a full-on DVD release, Chefs has instead been added just this week to Warner's manufacture-on-demand Warner Archive Collection.