Ryan Reynolds Is The Green Lantern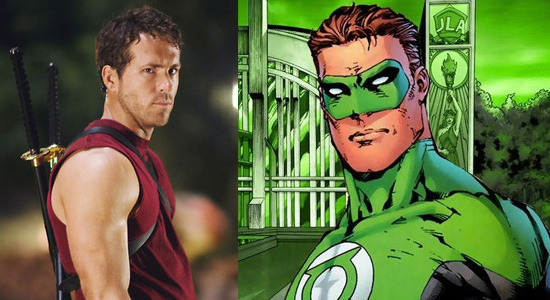 Yesterday it was reported that Justin Timberlake was in contention to play The Green Lantern. JT had shot a screen test for the film, as had the other three contenders Bradley Cooper, Jared Leto, and Ryan Reynolds. But at the end of the day on Friday, Reynolds was chosen over the other finalists to play the role of Hal Jordan aka The Green Lantern.
The Hollywood Reporter adds that the deal isn't yet finalized, but Reynolds in the final choice (they just need to agree on money and specifics). The studio "had holding options on the three actors, but, except for Reynolds, those expired Monday. Reynolds' option would have expired end of day Friday." Producer Donald De Line, director Martin  Campbell and the studio each had different favorites which made it difficult to agree on any one choice.
The film's budget isn't finalized but Warner Bros is hoping to begin shooting in January, hoping to have the films in theaters for the previously announced June 17th 2011 release date. Last we heard, Warners was planning to shoot the film at Fox Studios Australia in Sydney (to take advantage of tax rebates), with a budget of around $150 million.
Casino Royale director Martin Campbell is set to helm the project based on a screenplay by Greg Berlanti (Everwood, Eli Stone), Marc Guggenheim (Law & Order, Eli Stone) and Michael Green (Smallville, Heroes). The Green Lantern character was created by writer Bill Finger and artist Martin Nodell in All-American Comics #16, published in July 1940. The Green Lantern possesses a power ring that gives him control over the physical world as long as the wielder has sufficient willpower and strength to wield it.
What do you think of the choice of Ryan Reynolds? He certainly looks the part and has the right physique for the role. He's very likable and charismatic actor who has been stuck in a bunch of bad films, but I definitely like the choice — especially over Justin Timberlake. But I'm wondering how this may effect Marvel/Fox's preliminary plans to have him play Deadpool in a stand-alone film.
source: Variety