2009 Comic-Con: Thursday Schedule Updated, Friday Events Announced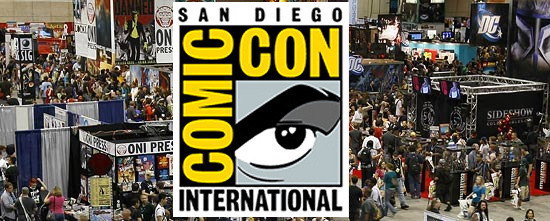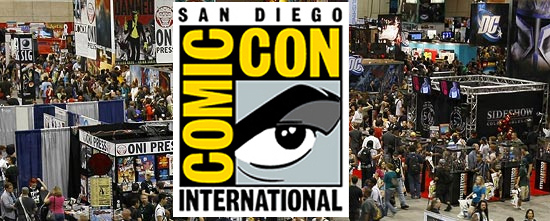 San Diego Comic-Con International has made a few changes to the Thursday schedule, and announced the events for Friday. It seems like the frontloaded Thursday, but there are some interesting events on Friday like the Visonaries discussion with Peter Jackson and James Cameron, a live taping of the Totally Rad Show, as well as District 9. Check out the full list on comic-con.org or just the television/movie panels after the jump. Updates in Bright Red.
Wednesday, July 22 – Preview Night6:00-9:00 Special Sneak Peek Pilot Screenings
Comic-Con and Warner Bros. Television proudly present exclusive pilot premiere screenings of some of the most buzzed-about new TV series of the 2009/2010 season: Human Target, V, and The Vampire Diaries, as well as an exclusive preview trailer for additional upcoming shows.
Human Target Based upon the popular DC Comics title and starring Mark Valley (Fringe), Chi McBride (Pushing Daisies), and Jackie Earle Haley (Watchmen), the highly anticipated Human Target is an action-packed thrill ride about a mysterious private contractor who will stop at nothing, even if it literally means becoming a human target, to keep his clients alive. Executive produced by McG (Terminator Salvation), Jonathan Steinberg (Jericho), Brad Kern (Lois & Clark: The New Adventures of Superman), Kevin Hooks (Prison Break), and Peter Johnson (Supernatural), the series is from Bonanza Productions Inc. in association with Wonderland Sound and Vision, DC Comics and Warner Bros. Television. Human Target will air Wednesdays at 9:00 PM ET/PT on FOX, beginning in January.
v: Already one of the most talked-about new shows of the upcoming season, V is a thrilling reimagining of the groundbreaking miniseries, starring Elizabeth Mitchell (Lost), Morris Chestnut (Boyz n the Hood), Joel Gretsch (The 4400), Lourdes Benedicto (24), Logan Huffman (America), and Laura Vandervoort (Smallville), with Morena Baccarin (Firefly) and Scott Wolf (Party of Five). Scott Peters (The 4400), Jace Hall (The Jace Hall Show), Steve Pearlman (Related) and Jeffrey Bell (Angel) are the executive producers for HDFilms in association with Warner Bros. Television. V will premiere midseason on ABC.
The Vampire Diaries: Writer/producer Kevin Williamson (the Scream movies) is back with The Vampire Diaries, an edgy and romantic new drama in which two vampire brothers?one good, one evil?are at war for the soul of one girl. Based on the best-selling book series of the same name by L.J. Smith, the show stars Nina Dobrev (Degrassi: The Next Generation), Paul Wesley (Everwood), Ian Somerhalder (Lost), Steven R. McQueen (Everwood), Katerina Graham (17 Again), Sara Canning (Smallville), Candice Accola (Supernatural), Zach Roerig (Friday Night Lights), Kayla Ewell (Entourage), and Michael Trevino (The Riches). Williamson, Leslie Morgenstein (Gossip Girl), and Bob Levy (Gossip Girl) are the executive producers for Bonanza Productions Inc., Outerbanks Entertainment, and Alloy Entertainment in association with Warner Bros. Television and CBS Television Studios. The Vampire Diaries will air Thursdays at 8:00 PM ET/PT this fall on The CW, premiering September 10.
Ballroom 20Thursday, July 2310:15-11:15 Summit Entertainment: Astro Boy
A superhero origin story set in a futuristic world, Astro Boy is an all-new CG-animated feature film based on the classic manga about a young robot with incredible powers and his adventure-filled journey in search of his identity and destiny. Director David Bowers, producer Maryanne Grager, and stars Freddie Highmore (Astro) and Kristen Bell (Cora) debut footage exclusive to Comic-Con 2009 and answer your questions about bringing this beloved hero to the big screen. Room 6BCF
10:30-11:30 TheOneRing.net: The Hobbit
With Middle-earth returning to the big screen in December 2011, TheOneRing.net will take you behind the scenes of the latest news, announcements, and rumors pertaining to the Peter Jackson and Guillermo del Toro production of The Hobbit. Chris Pirrotta, Larry Curtis, Cliff Broadway, and others from TheOneRing.net crew offer this early look at making The Hobbit happen! Room 7AB
11:00-12:30 Disney: 3D Panel
Walt Disney Pictures presents key filmmakers, select cast members and previously unseen footage from its upcoming slate, including Disney?s A Christmas Carol, Alice In Wonderland and Tron. Special guests include Robert Zemeckis, Tim Burton, Sean Bailey, Steve Lisberger, and moderator Patton Oswalt. Hall H
12:30-1:30 Richard Hatch: Battlestar Retrospective
Moderated by actor/author Richard Hatch (Tom Zarek, Capt Apollo, author: So Say We All), with Bear McCreary (Battlestar, Eureka, Caprica composer), Michael Tayler (Battlestar, Caprica, Star Trek writer/producer), Kevin Grazier (Battlestar, Eureka, science consultant) and special guests, this panel provides a review, discussion and Q&A of Battlestar's past four seasons and dramatic ending. Includes the new BG 30th trailer. Room 6A
12:30-1:30 Dante's Inferno
Jonathan Knight (executive producer, EA), Ash Huang (art director), Brandon Auman (writer), Christos Gage (writer), and Diego Latorre (artist) talk about the adaptation of this literary classic into pop culture. They will discuss how they translated the various aspects of The Divine Comedy into a video game, an animated feature, and a comic series, where they were faithful and where they invented, and how each of the mediums differs. Also get a peak at EA's game in development, and also watch the world premiere trailer for the animated feature Dante's Inferno co-produced by EA and Starz Media. Room 8
12:45-1:30 3D Showcase: Cloudy With a Chance of Meatballs, The Hole, The Final DestinationGet a first look at 3 brand new films in stunning 3D! First up, it's Columbia Pictures and Sony Animation's Cloudy With a Chance of Meatballs, inspired by the classic children's book, the film focuses on a town where food begins to fall from the sky like rain. See an extended 3D clip from this eagerly awaited animated film! Next up, legendary director Joe Dante (Gremlins 1 & 2, Innerspace, Explorers, The Howling) makes his return to the genre he knows best with the 3D thriller The Hole. Three kids come face to face with their darkest fears after they unlock a bottomless hole in the basement that makes their nightmares come to life. Join Dante?along with actress Haley Bennett (The Haunting of Molly Hartley)?as he discusses his return to thrillers, working in 3D, and The Hole. And finally, it's The Final Destination, the new film in the popular series from Warner Bros. See an exclusive clip in 3D, from the upcoming film.
Hall H
1:00-2:00 Spotlight on Kevin Eastman
TMNJ co-creator Kevin Eastman not only reflects on his Teenage Mutant Ninja Turtle years (with a preview his Comic-Con exclusive 25th Anniversary hardcover collection of favorite TMNT stories!), but also shares sneak peeks and behind-the-scenes teasers or trailers for his upcoming animated film projects?War of The Worlds: Goliath! and Underwhere?and introduces the new Tor Books Novel line Heavy Metal Pulp and the in-development Biz and Buzz animated series. Last but not least, Kevin will give you an update on the new David Fincher/James Cameron?produced Heavy Metal film! Room 5AB
1:45-2:45 Summit Entertainment
Summit Entertainment presents a sneak peek of exclusive footage of some of its upcoming major film releases!
Astro boy: A classic superhero origin story set in a futuristic world, Astro Boy is an all-new CG-animated feature film about a young robot with incredible powers and his adventure-filled journey in search of his identity and destiny. Join Freddie Highmore and Kristen Bell as they premiere the final trailer for Astro Boy before it's in theaters.
Sorority Row: When five sorority girls inadvertently cause the murder of one of their sisters in a prank gone wrong, they agree to keep the matter to themselves and never speak of it again, so they can get on with their lives. This proves easier said than done, when after graduation a mysterious killer goes after the five of them and anyone who knows their secret. Join the cast of Sorority Row as they debut footage from the film exclusive to Comic-Con 2009.
The Twilight Saga: New Moon: Summit Entertainment is proud to present the panel for The Twilight Saga: New Moon, the highly anticipated sequel to last year's box office smash Twilight. Surprise members of the cast will answer your questions about the second film in the series and debut never-before-seen footage from the new film.
Hall H2:00-3:00 Masters of the Web
For the third year in a row the most popular genre and movie websites are coming together to discuss how new media have affected moviemaking, what it takes to run a popular site, and much more in a panel discussion and Q&A session. Participants include Robert Sanchez (IESB.net), Ryan Rotten (Shocktilyoudrop.com), Mike Sampson (Joblo.com), Jeremy Smith (Aintitcoolnews.com), Brad Miska (Bloody-Disgusting.com), Drew McWeeny (Hitfix.com), Devin Faraci (CHUD.com), Paul Christensen (Movieweb.com), Wilson Morales (Blackfilm.com/AOL Black Voices), Vic Holtreman (Screenrant.com), and George Roush (Latinoreview.com). Director Kevin Munroe (TMNT, Dead of Night) moderates, with Brandon Routh and Sam Huntington on hand to preview an exclusive sneak peek of their new film Dead of Night, based on the Dylan Dog comic books. Room 32AB
2:30-3:30 DVD/Blu-ray Producers 2009
Now in Glorious High-Definition!? Bill Hunt, Adam Jahnke, and Todd Doogan (of The Digital Bits.com), talk about the latest DVD and Blu-ray developments with some of the leading special-edition producers in Hollywood! Panelists include Robert Meyer Burnett (The Hills Run Red, Free Enterprise: The Wrath of Shatner), Laura Gross (Coraline, 9), Charles de Lauzirika (Transformers: Revenge of the Fallen, Ridley Scott's Robin Hood), David Naylor (Fringe, Bad Lieutenant), and Cliff Stephenson (Crank 2: High Voltage, Gamer). You can expect inside talk, a Q&A, and a sneak peek at great upcoming discs! Room 7AB
3:00-4:15 20th Century Fox and James Cameron present Avatar
In this first public screening of footage in 3D from his much-anticipated action/adventure/fantasy, James Cameron, producer Jon Landau, and cast members take you to a spectacular new world beyond imagination. Conceived 14 years ago and over four years in the making, Avatar breaks new ground in delivering a fully immersive, emotional story and reinvents the movie-going experience. Hall H
3:30-4:30 J. Michael Straczynski: Professional Writing
Ideas are a dime a dozen. Executing those ideas (instead of assassinating them) is what separates pro from wannabe. But only you know what steps you need to take to get there, so if you show up for this talk, bring questions to ask J. Michael Straczynski, who has created a massively successful cross-platform writing career in movies, television, comics, and print. Room 7AB
3:45-4:45 Entertainment Weekly: Wonder Women: Female Power Icons in Pop Culture
EW will moderate a conversation with Sigourney Weaver (Avatar), Elizabeth Mitchell (Lost), Kristen Bell (Veronica Mars), and other stars about the actresses who have redefined the rules and the female characters that have shattered the glass ceiling for all women. Basically: a discussion with women who kick ass. Ballroom 20
4:30-5:15 Terry Gilliam's The Imaginarium of Dr Parnassus
Celebrating the 40th Anniversary of both Comic-Con and Monty Python, we welcome the sole American Python, the great animator and director Terry Gilliam (Time Bandits, Brazil, 12 Monkeys) to introduce you to his new film starring Christopher Plummer, Johnny Depp, Heath Ledger, Colin Farrell, Jude Law, Verne Troyer, Tom Waits, and Lily Cole. Dr. Parnassus is a fabulous anachronism, touring the streets of modern-day London in a horse-drawn carnival wagon accompanied by his beautiful daughter, devoted dwarf, and neophyte barker. On stage Parnassus plays a holy man whose Imaginarium can realize the innermost fantasies of all who dare to enter. Backstage, he is a drunkard, a gambler who centuries ago lost a wager with the Devil and must now pony up with his daughter once she turns sixteen. Tomorrow. Yet, there may still be hope for the Doctor and Valentina in the person of Tony, a well-dressed amnesic they rescue from a perilous fate and invite into their world of unrelenting magic and possibility. Hall H
5:15-5:45 Overture Pictures: Pandorum
Don't fear the end of the world. Fear what happens next. From the producers of the Resident Evil film franchise comes a terrifying thriller in which two crewmembers wake up on an abandoned spacecraft with no idea who they are, how long they've been asleep, or what their mission is. The two soon discover they're actually not alone?and the reality of their situation is more horrifying than they could have imagined. Appearing in person to give you a taste of Pandorum are stars Ben Foster (X-Men: The Last Stand, 3:10 to Yuma, 30 Days of Night), Cung Le (The Ultimate Fighter), and Antje Traue. Pandorum is in theaters September 18. Hall H
5:45-6:30 Kick-Ass
World premiere footage from Kick-Ass, based on Mark Millar's bestselling comic, is presented by director Matthew Vaughn (Stardust, Layercake). Joining him on the panel are Nicolas Cage, Christopher Mintz-Plasse (Superbad), and comic co-creator John Romita Jr., among others, including a surprise guest. You don't want to miss the chance to be the first to experience this gritty, brash, and funny actioner. Hall H
6:30-7:00 Focus Features: Thirst
Focus Features and Comic-Con present a rare U.S. appearance by acclaimed Korean filmmaker Park Chan-wook, whose "scandalous vampire melodrama" Thirst just won the Prix du Jury (Jury Prize) at the 2009 Cannes International Film Festival. Sang-hyun (played by top Korean star Song Kang-ho, of The Host) is a priest who cherishes life; so much so, that he selflessly volunteers for a secret vaccine development project meant to eradicate a deadly virus. But the virus takes the priest, and a blood transfusion is urgently ordered for him. The blood he receives is infected, so he lives?but now exists as a vampire. Sang-hyun soon plunges into a world of sensual pleasures, finding himself on intimate terms with the Seven Deadly Sins. Park will show clips from the movie? which opens in select cities on July 31?and discuss his career. Hall H
6:45-7:45 Robotech Industry Panel
Tommy Yune, director of Robotech: The Shadow Chronicles, and Steve Yun, writer of Robotech: The Shadow Chronicles, discuss upcoming Robotech releases in the wake of the announcement of the live-action feature film. Room 6A
7:00-8:00 Comedy Central's Drawn Together Movie Roundtable
Join co-creators Matt Silverstein and Dave Jeser and stars Foxxy Love, Cree Summer (Transformers: Animated) and Wooldoor Sockbat/The Jew Producer, James Arnold Taylor (Star Wars: The Clone Wars), as they discuss The Drawn Together Movie and host a roundtable discussion on the politics of religion in the workplace and where to get a decent sandwich. Room 6BCF
8:00-10:00 Dr. Horrible's Sing-along Blog
The California Browncoats host a screening of the original three acts, followed immediately by Commentary! The Musical. See why Joss Whedon's (Dollhouse, Buffy the Vampire Slayer) first foray into webisodic "television" was the talk of the town with critics and fans alike in 2008. Be prepared for a night of singing and surprises hosted by the fans who know what you like best. Dr. Horrible stars Neil Patrick Harris (How I Met Your Mother), Nathan Fillion (Castle, Firefly), and Felicia Day (The Guild) and is written by Joss Whedon, Jed Whedon (Dollhouse), Zack Whedon (Fringe), and Maurissa Tancharoen (Dollhouse). Room 6A
8:00-9:30 Green Lantern: First Flight World Premiere
Warner Home Video, Warner Premiere, DC Comics and Warner Bros. Animation proudly present the World Premiere of Green Lantern: First Flight, the fifth DC Universe animated original PG-13 movie. Green Lantern: First Flight finds Hal Jordan recruited to join the Green Lantern Corps and placed under the supervision of respected senior Lantern Sinestro. The earthling soon discovers his mentor is actually the central figure in a secret conspiracy that threatens the philosophies, traditions and hierarchy of the entire Green Lantern Corps. Hal must quickly hone his newfound powers and combat the treasonous Lanterns within the ranks to maintain order in the universe. Christopher Meloni (Law & Order: Special Victims Unit) leads the cast as the voice of Hal Jordan aka Green Lantern. The cast includes Emmy Award nominee Victor Garber (Milk, Titanic), Tricia Helfer (Battlestar Galactica), Michael Madsen (Reservoir Dogs), Juliet Landau (Buffy the Vampire Slayer), and John Larroquette (Night Court). Produced by animation legend Bruce Timm, Green Lantern: First Flight is directed by Lauren Montgomery (Wonder Woman) and scripted by four-time Emmy Award?winning writer Alan Burnett (The Batman). Warner Home Video will release Green Lantern: First Flight on Blu-ray Hi-Def and DVD on July 28, 2009. Ballroom 20
9:30-12:00 Halloween Comes Early: Trick 'r Treat Screening
Be among the first to see writer/director Michael Dougherty's (Superman Returns, X2) creepy, darkly comic celebration of the scariest night of the year. Trick 'r Treat takes the Creepshow/Tales from the Crypt approach to nefarious new depths with four interwoven tales set on Halloween night: a high school principal who moonlights as a vicious serial killer; a young virgin whose quest for that special someone takes a gruesome turn; a group of teens who carry out a cruel prank with disastrous consequences; and a cantankerous old man who battles a mischievous trick-or-treating demon. Prior to the screening, Ain't It Cool News mogul Harry Knowles will moderate a panel featuring Michael Dougherty and members of the cast, including Anna Paquin (True Blood, X-Men), Tahmoh Penikett (Battlestar Galactica, Dollhouse), and Brian Cox (The Bourne Identity, X2). A collection of creepy stories that mixes fun with fear, candy with poison, and laughter with screams, the critically acclaimed Trick 'r Treat will be released on Blu-ray Hi-Def and DVD and On Demand by Warner Home Video in October. Ballroom 20
Friday, July 2410:00-12:30 Warner Bros.
Join WB for a look at their much anticipated slate of upcoming genre films, including Where The Wild Things Are, The Book of Eli, A Nightmare on Elm Street, The Box, Jonah Hex, and Sherlock Holmes. Hall H
10:15-11:15 Farscape 10th Anniversary Panel
Brian Henson (executive producer/ director), Rockne O'Bannon (creator/writer), Ben Browder (John Crichton) and Claudia Black (Aeryn Sun) reunite to celebrate the beginning of this landmark series, share exciting news, and answer questions Room 6BCF
10:30-11:30 Coraline
Visionary director and screenwriter Henry Selick (The Nightmare Before Christmas) and Newbery Medal-winning author Neil Gaiman discuss the making of the LAIKA/Focus Features 2009 breakout animated hit film Coraline. In celebration of Universal Studio's Blu-ray Hi-Def and DVD release of the critically acclaimed stop-motion film, Selick and Gaiman will be joined by lead animator and LAIKA CEO/president Travis Knight, producer Bill Mechanic (CEO of Pandemonium and producer of Dark Water and The New World), character fabrication supervisor Georgina Hayns (Corpse Bride), and voice talent Keith David (Crash). Panelists will offer an in-depth, behind-the-scenes glimpse at how this astonishing and suspenseful adventure?the first stop-motion animated feature originally produced in stereoscopic 3D?was painstakingly brought to life. The panel wis moderated by IGN movies/DVD editor-in-chief Eric Moro. Room 6A
12:45-2:15 Disney: Animation Panel
Walt Disney Pictures, Disney?Pixar and Walt Disney Animation Studios present a director panel with previously unseen footage from its upcoming animated slate, including Toy Story & Toy Story 2 ? Double Feature, Beauty And The Beast, Toy Story 3, Prep & Landing, The Princess and the Frog and Ponyo. Special guests include Lee Unkrich, Kirk Wise, Ron Clements, John Musker, and Hayao Miyazaki. John Lasseter hosts the panel, with Patton Oswalt moderating. Hall H
1:00-2:00 Star Wars Day: Behind the Scenes: The Making of Star Wars: The Old Republic
Jake Neri (producer, LucasArts) speaks with Hall Hood (senior writer, BioWare), Alexander Freed (managing editor, BioWare), Dallas Dickinson (senior content producer, BioWare), and Jeff Dobson (art director, BioWare), about the making of the new massively multiplayer online role-playing PC game Star Wars: The Old Republic. Join the team to get new behind-the-scenes information about the game! Room 7AB
1:30-2:30 G4: Attack of the Show
TV's first and only live daily show dedicated to the "digital generation"breaking the hottest web videos, latest gadgets, blogs and videogames. Every day AOTS takes its audience to the virtual water cooler, where you can then tell your friends you saw it on AOTS first! Kevin Pereira, Olivia Munn, Alison Haislip, Blair Butler and AOTS producers bring you the closest thing to being on a LIVE Attack of the Show! Take part in one of the largest group Tweets to ever hit the Twittersphere, join in on the AOTS Orchestra for a moving rendition of the Attack theme, bear witness to a Comic-Con exclusive AOTS comedy short, and have a chance to win one-of-a-kind props from the show and end it with a nerd rave the likes of which have never been seen this side of M.I.T.! Plus you'll get a chance to grill the hosts and exec producers to find out the dirty secrets behind your favorite AOTS stunts, from Kevin and Olivia in fat suits to the MegaDare Hot Sauce challenge to to Olivia's infamous "Pie-Jump." Room 5AB
1:45-2:45 Robert Rodriguez
Join famed director Robert Rodriguez (Spy Kids) for a first look at his upcoming family film Shorts, followed by Q&A. Room 6DE
2:30-3:30 Focus Features: 9
Focus Features and Comic-Con present an exclusive look inside director Shane Acker's animated fantasy epic 9, the feature-length expansion of his short film of the same name. Directors Tim Burton and Timur Bekmambetov are among the feature version's producers. The action-packed adventure?opening nationwide 9/9/09?takes place after our world fell to pieces, when a group of "stitchpunk" creations must summon individual strengths well beyond their own proportions. While showcasing a stunning steampunk-styled visual brilliance, 9 dynamically explores the will to live, the power of community, and how one soul can change the world. Join Shane Acker, Tim Burton, Timur Bekmambetov, and actors Elijah Wood and Jennifer Connelly LIVE for this panel presentation! Hall H
3:45-5:00 Sony Pictures Entertainment: Legion and District 9
Sony Pictures Entertainment and Screen Gems introduce two great new movie projects exclusively to Comic-Con attendees!
Legion: When the last angel falls, the fight for mankind begins. Having lost faith in the human race, a legion of angels descend to Earth to bring about the Apocalypse. Humanity's only hope lies in a group of strangers trapped in a desert diner and the Archangel Michael himself (Paul Bettany). Appearing on stage: Paul Bettany (A Beautiful Mind, The DaVinci Code), Adrianne Palicki (Friday Night Lights, Supernatural), Tyrese Gibson (Transformers, Death Race), Doug Jones (Silver Surfer in Fantastic Four: Rise of the Silver Surfer and Abe Sapien in Hellboy), and director Scott Stewart (helming his first feature film after working on VFX for Sin City, Harry Potter and The Goblet of Fire, and Iron Man, among many others). From Screen Gems.
District 9: Peter Jackson makes his eagerly and long-awaited first visit to Comic-Con to introduce you to the world of District 9, which focuses on a world in which extraterrestrials have become refugees in South Africa. Thirty years ago, aliens made first contact with Earth. Humans waited for the hostile attack or the giant advances in technology. Neither came. Instead, the aliens were refugees, the last survivors of their home world. The creatures were set up in a makeshift home in South Africa's District 9 as the world's nations argued over what to do with them?as well as their powerful technology and advanced weaponry that can only be activated by Alien DNA. Please join Peter Jackson as he gives fans a first look at scenes from District 9 and takes your questions along with director Neill Blomkamp and star Sharlto Copley. From Sony Pictures Entertainment
Hall H4:15-5:15 Teenage Mutant Ninja Turtles
This look at the whole spectrum of the Teenage Mutant Ninja Turtles (from comics to toys to TV to movies to video games) celebrates the 25th anniversary of the world-famous brand. Moderator Gary Richardson (CEO, Mirage Studios) discusses the evolution of the Turtles with those people instrumental in the characters' incredible success. Panelists include Kevin Eastman (co-creator of TMNT), Lloyd Goldfine (supervising producer, 4Kids Productions), Steve Barron (director of the original TMNT movie), Karl Aaronian (senior VP of marketing, Giochi Preziosi U.S.A.), Matt Leunig (associate producer, Ubisoft), and Galen Walker (producer of new TMNT movie slated for 2011). Room 6DE
Categories: Action Figures, Toys and Collectibles | Animation | Comic Books | Games | Kids | Movies | Television
4:30-5:30 Marvel Animation
The new age of Marvel animation is here! Marvel's president of animation Eric Rollman and general manager of Nicktoons Network Keith Dawkins are joined by the creative minds behind the new hit series Wolverine and the X-Men, and Iron Man: Armored Adventures. Head writers Greg Johnson (WatX), and Chris Yost (IMAA), supervising producer Craig Kyle (WatX, IMAA), voice director Jamie Simone (WatX), and voice of Wolverine Steve Blum discuss each series and what the future holds. Then stay tuned for a first look at Marvel Anime from acclaimed Japanese animation studio Madhouse, featuring Madhouse president Masao Maruyama (Gotham Knight, Tokyo Godfathers), and writer Warren Ellis (The Authority, Astonishing X-Men). Also expect sneak peeks at the upcoming next Marvel Animated Feature from Lionsgate. You don't want to miss this panel! Room 6BCF
4:30-5:30 Production Designers
These craftspeople create the physical look for a movie or TV program, be it Star Wars or a talk show. Without the designer, the actors would be performing in empty space. Here a group of these artists at the top of their game talk about the challenges and pleasures of their craft, and answer audience questions. Panelists include Stuart Blatt (Dollhouse), Scott Chambliss (Star Wars), Nathan Crowley (The Dark Knight), and Alex McDowell (Watchmen). Moderating the panel is John Muto (Terminator 2 3D). Room 30AB
5:15-6:15 Lucasfilm: Star Wars Spectacular
Get all the latest news from the Star Wars universe?including some of Lucasfilm's most tightly guarded secrets?in an all-new show format! Special guest hosts G4's Olivia Munn and Kevin Pereira grill a galaxy of guests from The Clone Wars and beyond, including supervising director Dave Filoni, plus voice talent from the show and more! See a live table-read of an exclusive new Clone Wars script?leading directly into the series' second season! Find out about the worldwide Star Wars Concert Tour, the latest Star Wars games from LucasArts, upcoming DVD (and Blu-ray!) releases and more! And become a part of Star Wars history with your own Saga stories and movie memories! It's an all-new, interactive Star Wars Spectacular! Hall H
5:45-7:15 DC Universe Animated Super Powers: Green Lantern: First Flight and Superman/Batman: Public Enemies
Get the inside scoop on the next two action-packed entries in the popular series of DC Universe animated original PG-13 films, Green Lantern: First Flight and Superman/Batman: Public Enemies. Hal Jordan's first full-length adventure, Green Lantern: First Flight, brings together executive producer Bruce Timm (Superman Doomsday), casting/dialogue director Andrea Romano (DC Universe films), director Lauren Montgomery (Wonder Woman), writer Alan Burnett (The Batman), and voice talent Christopher Meloni (Law & Order: SVU) and Juliet Landau (Buffy the Vampire Slayer) to discuss and show film clips from the all-new film set for release on July 28. Then, Timm and Romano will be joined by supervising producer Michael Goguen (Justice League: The New Frontier), director Sam Liu (The Batman), and writer Stan Berkowitz (Justice League: The New Frontier), for the first-ever footage and public discussion of Superman/Batman: Public Enemies. Kevin Conroy, the undisputed benchmark voice of Batman, joins the panel for his first Comic-Con appearance in six years! Based on the popular Jeff Loeb/Ed McGuinness comic series/graphic novel, Superman/Batman: Public Enemies finds U.S. President Lex Luthor using the oncoming trajectory of a kryptonite asteroid to frame Superman and declare a $1 billion bounty on the heads of the Man of Steel and his "partner in crime," Batman. Superheroes and supervillains alike launch a relentless pursuit of Superman and Batman, who must unite?and recruit super help?to stave off the action-packed onslaught, stop the asteroid, and uncover Luthor's devious plot to take command of far more than North America. Superman/Batman: Public Enemies will be distributed by Warner Home Video in fall 2009. The movie reunites the lead voices from the landmark Superman: The Animated Series and Batman: The Animated Series?Conroy, Tim Daly (Private Practice) and Clancy Brown (The Shawshank Redemption) reprise their roles as Batman, Superman and Lex Luthor, respectively. Other members of the cast are expected to join the panel, as well. DC Comics senior VP of creative affairs Gregory Noveck moderates. Room 6BCF
6:00-7:00 Comics to Film with Michael Uslan
Godfather of the modern comic book film Michael Uslan (Batman, Constantine, Batman Begins, The Dark Knight) celebrates the 20th anniversary of his landmark movie Batman (1989) by recounting what it took to make it happen and how the industry has changed since then, advising newcomers how to make their comic book movie dreams come true. Q&A and surprise announcements will cap off the hour. Moderated by Tony Panaccio. Room 7AB
6:00-7:00 Goon, This Is Your Life!
It's the Goon's 10th Anniversary, and creator Eric Powell reminisces about the life of the lovable thug with special surprise guests. Come discuss the Goon's sordid past and his future in the picture shows! That's right, some folks from Blur Studio will be on hand to talk about the animated Goon film! Room 8
6:30-7:30 Entertainment Weekly: The Visionaries
A discussion with iconic filmmakers James Cameron (Avatar) and Peter Jackson (District 9) on the Future of Film. EW moderates an in-depth conversation with these two cinematic giants about the art of film narrative and how technology and global culture will alter the art of on-screen storytelling in the next 20 years. Hall H
7:15-8:15 RiffTrax Live
Michael J. Nelson, Kevin Murphy and Bill Corbett RiffTrax.com, Mystery Science Theater 3000) perform a live, hilarious riff to a classic short! The panel is hosted by Veronica Belmont (host of Tekzilla on Revision3 and Qore on the PlayStation Network). Join the gang for fun, laughs, and the latest news from RiffTrax.com, the site where MST3K-style humor meets mainstream movies, TV shows, and vintage shorts! At RiffTrax.com they don't make movies, they make them funny! Room 6DE
7:15-9:15 The Totally Rad Show Live!
Hosts Alex Albrecht (Diggnation), Dan Trachtenberg, and Jeff Cannata bring their Webby and Podcast Award-winning geek culture show back to Comic-Con for a live performance. Join the guys for an explosion of movie, video game, TV, and comic book news and reviews, and see what makes this Revision3 show such an Internet phenomenon. Room 7AB
7:30-8:45 Stan Helsing
Clips, interviews and Q&A with filmmaker Bo Zenga (Scary Movie) and stars Leslie Nielsen (Naked Gun), Kenan Thompson (Saturday Night Live), Diora Baird (The Texas Chainsaw Massacre: The Beginning), Steve Howey (Reba), and Desi Lydic (The Real Wedding Crashers). Anchor Bay's Stan Helsing horror spoof features parodies of the six greatest movie monsters of all time: Freddy/Nightmare on Elm Street, Jason/Friday the 13th, Leatherface/The Texas Chainsaw Massacre, Pinhead/Hellraiser, Chucky/Childs Play, and Michael Myers/Halloween. Room 6BCF
8:30-10:00 Star Wars Fan Movie Awards
The Star Wars Fan Movie Award Ceremony at Comic-Con International is always entertaining, and often studded with surprises. Each year the top prize, the George Lucas Selects Award, is chosen by Star Wars writer/director George Lucas, and finalists wait with anticipation to learn who will win industry and audience recognition and the coveted Star Wars-themed trophies. The Movie Challenge, sponsored by Lucasfilm and Atom.com, is in its eighth year. Don't miss the most entertaining Star Wars fan-made movies out there! Ballroom 20
9:00-11:30 Angel of Death Premiere Screening and Q&A Session
Comic book superstar Ed Brubaker (Captain America), actress and stuntwoman Zo? Bell (Death Proof), actors Doug Jones (Quarantine), and Ted Raimi (Spider-Man 3), director Paul Etheredge (Buried Alive), and producer John Norris appear for a panel and Q&A session, followed by an exclusive screening of the thrilling uncut feature-length version of the film marking the DVD release of the groundbreaking digital online series! Room 6A
9:30-10:30 The Blood Factory
This screening and Q&A with The Blood Factory creators features Danny DeVito (actor/director/producer), Tracey Walter (Batman, City Slickers), John Albo (screenwriter), Nick Bonamy (production designer), and Tkay Garcia (website creative director). Learn how they bring tales of horror and menace to life. All Comic-Con attendees are invited to participate. This will be a haunting experience?chilling?not easily forgotten. Room 7AB
10:00-12:00 Spike and Mike Double Feature
Spike of Spike and Mike announces a whole new dimension of his Animation Film Festival. Spike is bringing a rebooted festival to Comic-Con this year. This is not your 20th Century Festival but a whole New Generation Animation. Getting back to the roots of the original Spike and Mike's Animation Festival, this show offers sophisticated humor, innovative and brilliant films including award-winning films, and new outstanding student shorts. But don't think that you party animals will be left out?after the highbrow part of the show it goes straight into lowbrow territory with some of the Sickest and Twistedest films yet. New Generation Animation begins at 10:00, followed by Sick & Twisted starting around 11:15. Room 6BCF