Mel Gibson To Star In The Beaver?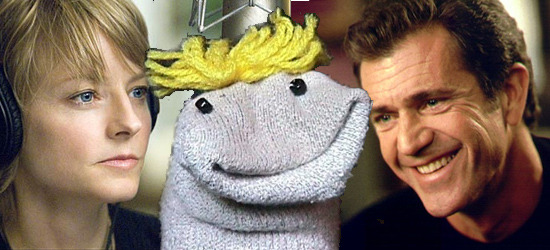 Remember The Beaver? First-time writer Kyle Killen's spec screenplay created all sorts of buzz around Hollywood, ended up on the 2008 Black List (a list of the hottest unproduced screenplays of the year), and gained the interest of Steve Carell and director Jay Roach. /Film's own Brendon Connelly called the screenplay "one of the few very best screenplays" he has "ever read."
But after Steve moved on to Date Night and Roach moved on to Dinner for Schmucks, the producers moved on to Jim Carrey, who signed on the condition that they find a suitable director. Not sure what happened since, but Jodie Foster (who directed Little Man Tate and Home of the Holidays), who was one of the contenders at the time, has officially come on board the project. Carrey is gone. In his place... Mel Gibson?
That's right. Gibson has signed on to star in the film after Foster apparently brought him the project. The two co-starred together in the 1994 film Maverick.
Gibson will play Walter, a troubled father, husband and CEO of a stalling toy company, who finds a glove puppet named The Beaver, which he begins to wear without pause, and adopts as a kind of avatar through which he carries out all of his communication. Apparently most of the dialogue in the story comes through the Beaver, and be delivered in what Killen describes as a "crisp English accent". I can't really imagine Mel Gibson pulling off this role.  Foster will be doing dual duties, starring in the film as Walter's wife.
The producers are pushing for a September start on location in New York City, but financing for the $18-19 million film has yet to be finalized.
source: Variety