2009 Comic-Con Wednesday/Thursday Schedule Announced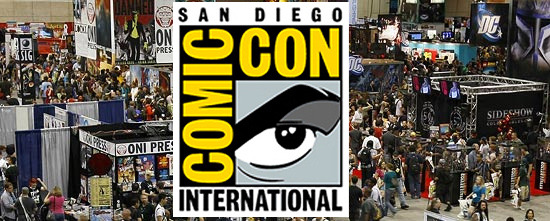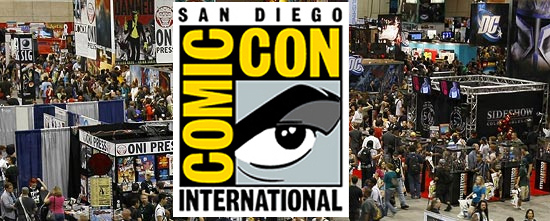 Update: Click here for the updated schedule. Times below may have changed.San Diego Comic-Con International has announced the programing line-up for Wednesday (preview night) and Thursday for the 2009 convention. You can check out the full schedule on comic-con.org, or I've compiled a condensed version after the jump which sticks to the tv/movie related activities.Wednesday, July 22 – Preview Night6:00-9:00 Special Sneak Peek Pilot Screenings
Comic-Con and Warner Bros. Television proudly present exclusive pilot premiere screenings of some of the most buzzed-about new TV series of the 2009/2010 season: Human Target, V, and The Vampire Diaries, as well as an exclusive preview trailer for additional upcoming shows.
Human Target Based upon the popular DC Comics title and starring Mark Valley (Fringe), Chi McBride (Pushing Daisies), and Jackie Earle Haley (Watchmen), the highly anticipated Human Target is an action-packed thrill ride about a mysterious private contractor who will stop at nothing, even if it literally means becoming a human target, to keep his clients alive. Executive produced by McG (Terminator Salvation), Jonathan Steinberg (Jericho), Brad Kern (Lois & Clark: The New Adventures of Superman), Kevin Hooks (Prison Break), and Peter Johnson (Supernatural), the series is from Bonanza Productions Inc. in association with Wonderland Sound and Vision, DC Comics and Warner Bros. Television. Human Target will air Wednesdays at 9:00 PM ET/PT on FOX, beginning in January.
v: Already one of the most talked-about new shows of the upcoming season, V is a thrilling reimagining of the groundbreaking miniseries, starring Elizabeth Mitchell (Lost), Morris Chestnut (Boyz n the Hood), Joel Gretsch (The 4400), Lourdes Benedicto (24), Logan Huffman (America), and Laura Vandervoort (Smallville), with Morena Baccarin (Firefly) and Scott Wolf (Party of Five). Scott Peters (The 4400), Jace Hall (The Jace Hall Show), Steve Pearlman (Related) and Jeffrey Bell (Angel) are the executive producers for HDFilms in association with Warner Bros. Television. V will premiere midseason on ABC.
The Vampire Diaries: Writer/producer Kevin Williamson (the Scream movies) is back with The Vampire Diaries, an edgy and romantic new drama in which two vampire brothers?one good, one evil?are at war for the soul of one girl. Based on the best-selling book series of the same name by L.J. Smith, the show stars Nina Dobrev (Degrassi: The Next Generation), Paul Wesley (Everwood), Ian Somerhalder (Lost), Steven R. McQueen (Everwood), Katerina Graham (17 Again), Sara Canning (Smallville), Candice Accola (Supernatural), Zach Roerig (Friday Night Lights), Kayla Ewell (Entourage), and Michael Trevino (The Riches). Williamson, Leslie Morgenstein (Gossip Girl), and Bob Levy (Gossip Girl) are the executive producers for Bonanza Productions Inc., Outerbanks Entertainment, and Alloy Entertainment in association with Warner Bros. Television and CBS Television Studios. The Vampire Diaries will air Thursdays at 8:00 PM ET/PT this fall on The CW, premiering September 10.
Ballroom 20Thursday, July 2310:15-11:15 Summit Entertainment: Astro Boy
A superhero origin story set in a futuristic world, Astro Boy is an all-new CG-animated feature film based on the classic manga about a young robot with incredible powers and his adventure-filled journey in search of his identity and destiny. Director David Bowers, producer Maryanne Grager, and stars Freddie Highmore (Astro) and Kristen Bell (Cora) debut footage exclusive to Comic-Con 2009 and answer your questions about bringing this beloved hero to the big screen. Room 6BCF
10:30-11:30 TheOneRing.net: The Hobbit
With Middle-earth returning to the big screen in December 2011, TheOneRing.net will take you behind the scenes of the latest news, announcements, and rumors pertaining to the Peter Jackson and Guillermo del Toro production of The Hobbit. Chris Pirrotta, Larry Curtis, Cliff Broadway, and others from TheOneRing.net crew offer this early look at making The Hobbit happen! Room 7AB
11:00-12:30 Disney: 3D Panel
Walt Disney Pictures presents key filmmakers, select cast members and previously unseen footage from its upcoming slate, including Disney?s A Christmas Carol, Alice In Wonderland and Tron. Special guests include Robert Zemeckis, Tim Burton, Sean Bailey, Steve Lisberger, and moderator Patton Oswalt. Hall H
12:30-1:30 Richard Hatch: Battlestar Retrospective
Moderated by actor/author Richard Hatch (Tom Zarek, Capt Apollo, author: So Say We All), with Bear McCreary (Battlestar, Eureka, Caprica composer), Michael Tayler (Battlestar, Caprica, Star Trek writer/producer), Kevin Grazier (Battlestar, Eureka, science consultant) and special guests, this panel provides a review, discussion and Q&A of Battlestar's past four seasons and dramatic ending. Includes the new BG 30th trailer. Room 6A
12:30-1:30 Dante's Inferno
Jonathan Knight (executive producer, EA), Ash Huang (art director), Brandon Auman (writer), Christos Gage (writer), and Diego Latorre (artist) talk about the adaptation of this literary classic into pop culture. They will discuss how they translated the various aspects of The Divine Comedy into a video game, an animated feature, and a comic series, where they were faithful and where they invented, and how each of the mediums differs. Also get a peak at EA's game in development, and also watch the world premiere trailer for the animated feature Dante's Inferno co-produced by EA and Starz Media. Room 8
12:45-2:00 20th Century Fox and James Cameron present Avatar
In this first public screening of footage in 3D from his much-anticipated action/adventure/fantasy, James Cameron, producer Jon Landau, and cast members take you to a spectacular new world beyond imagination. Conceived 14 years ago and over four years in the making, Avatar breaks new ground in delivering a fully immersive, emotional story and reinvents the movie-going experience. Hall H
1:00-2:00 Spotlight on Kevin Eastman
TMNJ co-creator Kevin Eastman not only reflects on his Teenage Mutant Ninja Turtle years (with a preview his Comic-Con exclusive 25th Anniversary hardcover collection of favorite TMNT stories!), but also shares sneak peeks and behind-the-scenes teasers or trailers for his upcoming animated film projects?War of The Worlds: Goliath! and Underwhere?and introduces the new Tor Books Novel line Heavy Metal Pulp and the in-development Biz and Buzz animated series. Last but not least, Kevin will give you an update on the new David Fincher/James Cameron?produced Heavy Metal film! Room 5AB
2:00-3:00 Sony Pictures Animation: Cloudy with a Chance of Meatballs
In 2009, Columbia Pictures' and Sony Pictures Animation's Cloudy with a Chance of Meatballs will be the most delicious event since macaroni met cheese. Inspired by the classic children's book, the film focuses on a town where food begins to fall from the sky like rain. Bill Hader (Saturday Night Live, Night at the Museum: Battle of the Smithsonian) is the voice of Flint Lockwood, a young inventor who dreams of creating something that will improve everyone's life. Anna Faris (The House Bunny) takes on the role of Sam Sparks, a weathergirl covering the phenomenon who hides her intelligence behind a perky exterior. James Caan plays Tim Lockwood, Flint's technophobic father. SNL's Andy Samberg plays Brent, the town bully who has plagued Flint since childhood. Bruce Campbell plays Mayor Shelbourne, who figures out that Flint's invention can put the town, and more importantly himself, on the map, and Mr. T plays the by-the-rules town cop, Earl Devereaux. Bobb'e J. Thompson (Role Models) is Carl Devereaux, Earl's son. Appearing in person: Anna Faris, Bill Hader, Andy Samberg, Bobb'e J. Thompson, and directors Chris Miller and Phil Lord. Room 6BCF
2:15-3:15 Summit Entertainment
Summit Entertainment presents a sneak peek of exclusive footage of some of its upcoming major film releases!
Astro boy: A classic superhero origin story set in a futuristic world, Astro Boy is an all-new CG-animated feature film about a young robot with incredible powers and his adventure-filled journey in search of his identity and destiny. Join Freddie Highmore and Kristen Bell as they premiere the final trailer for Astro Boy before it's in theaters.
Sorority Row: When five sorority girls inadvertently cause the murder of one of their sisters in a prank gone wrong, they agree to keep the matter to themselves and never speak of it again, so they can get on with their lives. This proves easier said than done, when after graduation a mysterious killer goes after the five of them and anyone who knows their secret. Join the cast of Sorority Row as they debut footage from the film exclusive to Comic-Con 2009.
The Twilight Saga: New Moon: Summit Entertainment is proud to present the panel for The Twilight Saga: New Moon, the highly anticipated sequel to last year's box office smash Twilight. Surprise members of the cast will answer your questions about the second film in the series and debut never-before-seen footage from the new film.
Hall H2:30-3:30 DVD/Blu-ray Producers 2009
Now in Glorious High-Definition!? Bill Hunt, Adam Jahnke, and Todd Doogan (of The Digital Bits.com), talk about the latest DVD and Blu-ray developments with some of the leading special-edition producers in Hollywood! Panelists include Robert Meyer Burnett (The Hills Run Red, Free Enterprise: The Wrath of Shatner), Laura Gross (Coraline, 9), Charles de Lauzirika (Transformers: Revenge of the Fallen, Ridley Scott's Robin Hood), David Naylor (Fringe, Bad Lieutenant), and Cliff Stephenson (Crank 2: High Voltage, Gamer). You can expect inside talk, a Q&A, and a sneak peek at great upcoming discs! Room 7AB
3:00-4:00 Masters of the Web
For the third year in a row the most popular genre and movie websites are coming together to discuss how new media have affected moviemaking, what it takes to run a popular site, and much more in a panel discussion and Q&A session. Participants include Robert Sanchez (IESB.net), Ryan Rotten (Shocktilyoudrop.com), Mike Sampson (Joblo.com), Jeremy Smith (Aintitcoolnews.com), Brad Miska (Bloody-Disgusting.com), Drew McWeeny (Hitfix.com), Devin Faraci (CHUD.com), Paul Christensen (Movieweb.com), Wilson Morales (Blackfilm.com/AOL Black Voices), Vic Holtreman (Screenrant.com), and George Roush (Latinoreview.com). Director Kevin Munroe (TMNT, Dead of Night) moderates, with Brandon Routh and Sam Huntington on hand to preview an exclusive sneak peek of their new film Dead of Night, based on the Dylan Dog comic books. Room 32AB
3:30-4:30 J. Michael Straczynski: Professional Writing
Ideas are a dime a dozen. Executing those ideas (instead of assassinating them) is what separates pro from wannabe. But only you know what steps you need to take to get there, so if you show up for this talk, bring questions to ask J. Michael Straczynski, who has created a massively successful cross-platform writing career in movies, television, comics, and print. Room 7AB
3:30-4:30 Joe Dante: The Hole
Legendary director Joe Dante (Gremlins 1 & 2, Innerspace, Explorers, The Howling) makes his return to the genre he knows best with the 3D thriller The Hole. Three kids come face to face with their darkest fears after they unlock a bottomless hole in the basement that makes their nightmares come to life. Join Dante?along with actress Haley Bennett (The Haunting of Molly Hartley)?as he discusses his return to thrillers, working in 3D, and The Hole. Hall H
3:45-4:45 Entertainment Weekly: Wonder Women: Female Power Icons in Pop Culture
EW will moderate a conversation with Sigourney Weaver (Avatar), Elizabeth Mitchell (Lost), Kristen Bell (Veronica Mars), and other stars about the actresses who have redefined the rules and the female characters that have shattered the glass ceiling for all women. Basically: a discussion with women who kick ass. Ballroom 20
4:45-5:15 Terry Gilliam's The Imaginarium of Dr Parnassus
Celebrating the 40th Anniversary of both Comic-Con and Monty Python, we welcome the sole American Python, the great animator and director Terry Gilliam (Time Bandits, Brazil, 12 Monkeys) to introduce you to his new film starring Christopher Plummer, Johnny Depp, Heath Ledger, Colin Farrell, Jude Law, Verne Troyer, Tom Waits, and Lily Cole. Dr. Parnassus is a fabulous anachronism, touring the streets of modern-day London in a horse-drawn carnival wagon accompanied by his beautiful daughter, devoted dwarf, and neophyte barker. On stage Parnassus plays a holy man whose Imaginarium can realize the innermost fantasies of all who dare to enter. Backstage, he is a drunkard, a gambler who centuries ago lost a wager with the Devil and must now pony up with his daughter once she turns sixteen. Tomorrow. Yet, there may still be hope for the Doctor and Valentina in the person of Tony, a well-dressed amnesic they rescue from a perilous fate and invite into their world of unrelenting magic and possibility. Hall H
5:15-5:45 Overture Pictures: Pandorum
Don't fear the end of the world. Fear what happens next. From the producers of the Resident Evil film franchise comes a terrifying thriller in which two crewmembers wake up on an abandoned spacecraft with no idea who they are, how long they've been asleep, or what their mission is. The two soon discover they're actually not alone?and the reality of their situation is more horrifying than they could have imagined. Appearing in person to give you a taste of Pandorum are stars Ben Foster (X-Men: The Last Stand, 3:10 to Yuma, 30 Days of Night), Cung Le (The Ultimate Fighter), and Antje Traue. Pandorum is in theaters September 18. Hall H
5:45-6:45 Kick-Ass
World premiere footage from Kick-Ass, based on Mark Millar's bestselling comic, is presented by director Matthew Vaughn (Stardust, Layercake). Joining him on the panel are Nicolas Cage, Christopher Mintz-Plasse (Superbad), and comic co-creator John Romita Jr., among others, including a surprise guest. You don't want to miss the chance to be the first to experience this gritty, brash, and funny actioner. Hall H
6:30-7:00 Focus Features: Thirst
Focus Features and Comic-Con present a rare U.S. appearance by acclaimed Korean filmmaker Park Chan-wook, whose "scandalous vampire melodrama" Thirst just won the Prix du Jury (Jury Prize) at the 2009 Cannes International Film Festival. Sang-hyun (played by top Korean star Song Kang-ho, of The Host) is a priest who cherishes life; so much so, that he selflessly volunteers for a secret vaccine development project meant to eradicate a deadly virus. But the virus takes the priest, and a blood transfusion is urgently ordered for him. The blood he receives is infected, so he lives?but now exists as a vampire. Sang-hyun soon plunges into a world of sensual pleasures, finding himself on intimate terms with the Seven Deadly Sins. Park will show clips from the movie? which opens in select cities on July 31?and discuss his career. Hall H
6:45-7:45 Robotech Industry Panel
Tommy Yune, director of Robotech: The Shadow Chronicles, and Steve Yun, writer of Robotech: The Shadow Chronicles, discuss upcoming Robotech releases in the wake of the announcement of the live-action feature film. Room 6A
7:00-8:00 Comedy Central's Drawn Together Movie Roundtable
Join co-creators Matt Silverstein and Dave Jeser and stars Foxxy Love, Cree Summer (Transformers: Animated) and Wooldoor Sockbat/The Jew Producer, James Arnold Taylor (Star Wars: The Clone Wars), as they discuss The Drawn Together Movie and host a roundtable discussion on the politics of religion in the workplace and where to get a decent sandwich. Room 6BCF
8:00-10:00 Dr. Horrible's Sing-along Blog
The California Browncoats host a screening of the original three acts, followed immediately by Commentary! The Musical. See why Joss Whedon's (Dollhouse, Buffy the Vampire Slayer) first foray into webisodic "television" was the talk of the town with critics and fans alike in 2008. Be prepared for a night of singing and surprises hosted by the fans who know what you like best. Dr. Horrible stars Neil Patrick Harris (How I Met Your Mother), Nathan Fillion (Castle, Firefly), and Felicia Day (The Guild) and is written by Joss Whedon, Jed Whedon (Dollhouse), Zack Whedon (Fringe), and Maurissa Tancharoen (Dollhouse). Room 6A
8:00-9:30 Green Lantern: First Flight World Premiere
Warner Home Video, Warner Premiere, DC Comics and Warner Bros. Animation proudly present the World Premiere of Green Lantern: First Flight, the fifth DC Universe animated original PG-13 movie. Green Lantern: First Flight finds Hal Jordan recruited to join the Green Lantern Corps and placed under the supervision of respected senior Lantern Sinestro. The earthling soon discovers his mentor is actually the central figure in a secret conspiracy that threatens the philosophies, traditions and hierarchy of the entire Green Lantern Corps. Hal must quickly hone his newfound powers and combat the treasonous Lanterns within the ranks to maintain order in the universe. Christopher Meloni (Law & Order: Special Victims Unit) leads the cast as the voice of Hal Jordan aka Green Lantern. The cast includes Emmy Award nominee Victor Garber (Milk, Titanic), Tricia Helfer (Battlestar Galactica), Michael Madsen (Reservoir Dogs), Juliet Landau (Buffy the Vampire Slayer), and John Larroquette (Night Court). Produced by animation legend Bruce Timm, Green Lantern: First Flight is directed by Lauren Montgomery (Wonder Woman) and scripted by four-time Emmy Award?winning writer Alan Burnett (The Batman). Warner Home Video will release Green Lantern: First Flight on Blu-ray Hi-Def and DVD on July 28, 2009. Ballroom 20
9:30-12:00 Halloween Comes Early: Trick 'r Treat Screening
Be among the first to see writer/director Michael Dougherty's (Superman Returns, X2) creepy, darkly comic celebration of the scariest night of the year. Trick 'r Treat takes the Creepshow/Tales from the Crypt approach to nefarious new depths with four interwoven tales set on Halloween night: a high school principal who moonlights as a vicious serial killer; a young virgin whose quest for that special someone takes a gruesome turn; a group of teens who carry out a cruel prank with disastrous consequences; and a cantankerous old man who battles a mischievous trick-or-treating demon. Prior to the screening, Ain't It Cool News mogul Harry Knowles will moderate a panel featuring Michael Dougherty and members of the cast, including Anna Paquin (True Blood, X-Men), Tahmoh Penikett (Battlestar Galactica, Dollhouse), and Brian Cox (The Bourne Identity, X2). A collection of creepy stories that mixes fun with fear, candy with poison, and laughter with screams, the critically acclaimed Trick 'r Treat will be released on Blu-ray Hi-Def and DVD and On Demand by Warner Home Video in October. Ballroom 20