Cemetery Junction Movie Teaser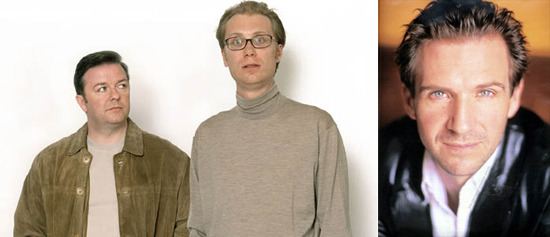 If you don't think Ralph Fiennes can be funny, you probably haven't seen In Bruges. And if you haven't seen In Bruges four or five times to enjoy just how much fun Fiennes can be, you should probably watch it again. Meanwhile, there's this lovely new trailer for the Ricky Gervais and Stephen Merchant film Cemetery Junction, in which Fiennes co-stars. The teaser makes fun of Fiennes' serious nature, suggesting that Gervais and Merchant also haven't seen In Bruges. But we know they're just acting. See the clip after the jump.
Gervais and Merchant co-wrote and are co-directing this story of three insurance men in the 1970s. Sadly, this teaser doesn't actually give us any indication of what the movie will be like; it's funny because Gervais, Merchant and Fiennes kill it. Rather than rewriting the synopsis, I'll just paste in the official one:
CEMETERY JUNCTION Tells the funny, touching and universal story of being trapped in a small town and dreaming of escape. In 1970s England, three blue-collar friends spend their days joking, drinking, fighting and chasing girls. Freddie (Christian Cooke) wants to leave their working-class world but cool, charismatic Bruce (Tom Hughes) and lovable loser Snork (Jack Doolan) are happy with life the way it is. When Freddie gets a new job as a door-to-door salesman and bumps into his old school sweetheart Julie (Felicity Jones), the gang are forced to make choices that will change their lives for ever.
Ralph Fiennes (The Reader, Schindlers List), RICKY GERVAIS (The Invention of Lying, Ghost Town), Emily Watson (Synecdoche, New York, Breaking the Waves) and MATTHEW GOODE (Watchmen, Brideshead Revisited) feature alongside stars-of-the-future Christian Cooke, Felicity Jones, Tom Hughes and Jack Doolan.
The film started shooting a month ago, so hopefully we'll see some footage by late summer, but in the meantime enjoy the teaser below. The film is set for a 2010 release.