Photos From Drew Barrymore's Whip It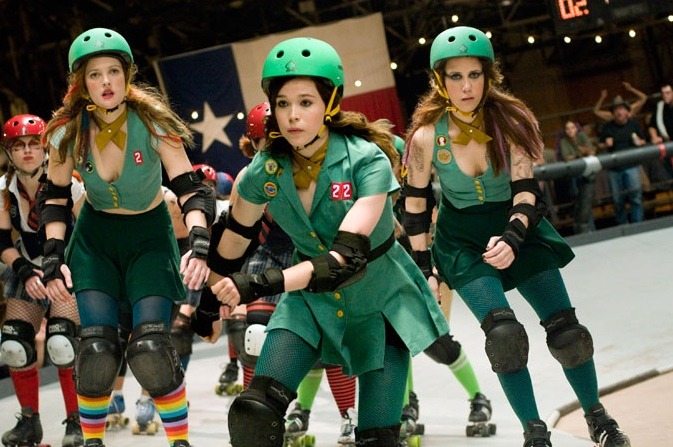 Fox Searchlight has released the first photos from Drew Barrymore's directorial debut Whip It in today's issue of USA Today. Based on the book Derby Girl by Shauna Cross, the film stars Ellen Page as Bliss Cavendar, "an indie-rock loving misfit" who finds a way of dealing with her small-town misery after she discovers a roller derby league in nearby Austin Texas. More photos after the jump.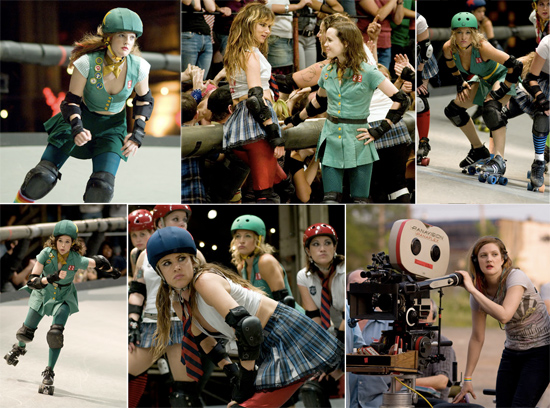 As you can see in the photo above, Page's team is cleverly named the Hurl Scouts. Page skates under the name Babe Ruthless, Kristen Wiig plays Maggie Mayhem, and Drew Barrymore's character is named Smashley Simpson. I love the names of the derby members and teams. Its like old school pro wrestling.
Zoe Bell (skate name: Bloody Holly) and Eve play for the Hurl Scout's rivals, the schoolgirl-themed Holy Rollers, which is led by Juliette Lewis (skate name: Iron Maven). Maven knows that Bliss is only 17, not old enough to skate in the derby, and apparently her character wrestles with the idea of revealing that information.
Rounding out the cast is Marcia Gay Harden who plays Bliss' disapproving mother and Jimmy Fallon who is a cheesy hungover announcer named Hot Tub Johnny. Head on over to USA Today to see the photos above and more in higher resolution. Whip it will hit theaters on October 9th 2009.