Michael Moore's Capitalism: A Love Story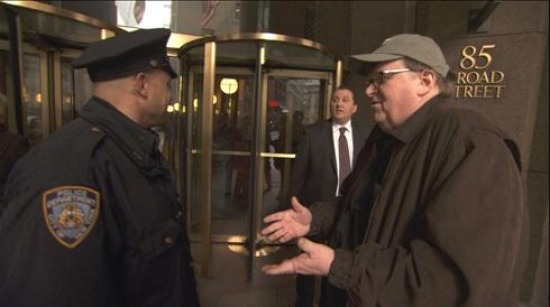 Documentary filmmaker Michael Moore has finally announced the title of his new film, Capitalism: A Love Story. I have to admit, I like it a lot more than the previously proposed "Save The CEOs", which came from the clever and nontraditional teaser trailer Moore released in June. Others had speculated that the doc would be titled "Bailout," which I also liked. But Capitalism: A Love Story hits the perfect note. In the announcement, Moore calls the film "the perfect date movie." Moore recently joked that people could call the film "A Michael Moore Comedy About the End of the World as We Know It."
It's got it all — lust, passion, romance and 14,000 jobs being eliminated every day. It's a forbidden love, one that dare not speak its name. Heck, let's just say it: It's capitalism.
Overture Films will release Capitalism: A Love Story on October 2nd 2009, a year and a day after the United States Senate voted to approve the $700 billion bailout. It is also the same week that Moore's feature debut Roger & Me made its U.S. Premiere 20 years ago. And this new film comes full circle, with Moore returning to the issue that began his career: "the disastrous impact that corporate dominance and out-of-control profit motives have on the lives of Americans and citizens of the world. But this time the culprit is much bigger than General Motors, and the crime scene far wider than Flint, Michigan."
The film will "explore the root causes of the global economic meltdown and take a comical look at the corporate and political shenanigans that culminated in what Moore has described as "the biggest robbery in the history of this country" – the massive transfer of U.S. taxpayer money to private financial institutions."
Moore has made three of the top six highest-grossing documentaries of all time, but I'm wondering if people will come out for his latest in these bad economic times.
source: Variety