Cameron Diaz In Talks For Green Hornet; Gary 'Seabiscuit' Ross Rewrites Spider-Man 4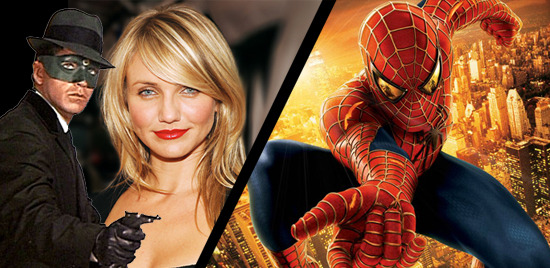 Some small superhero news today. First up is a weird bit of casting. According to EW, Cameron Diaz has been offered the female lead role in WB's Green Hornet, where she'd be opposite Seth Rogen, working for director Michel Gondry. That's a weird offer...maybe a couple years after The Mask it would have made sense, or even around the Charlie's Angels era. But Diaz has fallen into the romcom zone, and it's more difficult to see it working now. Nothing against Diaz; it just seems like a weird fit. But then, we know very very little about this film. Maybe Rogen, co-writer Evan Goldberg and Gondry have come up with something no one expects, where she makes more sense.
And then there's some Spider-Man 4 news. Hit the jump for more.
Gary Ross, the director behind Seabiscuit and Pleasantville, both of which starred Tobey Maguire, has been hired to rewrite Spidey 4, says Variety. The script, which we can also expect to have heavy input from Sam and Ivan Raimi, was originally written by James Vanderbuilt, who previously wrote The Rundown and Zodiac. (Which, when stacked next to one another, form a weird, smart Voltron of an action movie in my mind.) Then David Lindsay-Abaire did a rewrite, and it's now being handed to Ross, who has a good relationship with Sony. (He's hopefully writing and directing a Lance Armstrong biopic for the studio.)
This is another one where we really don't know very much. There's the supposition that Morbius the Vampire will factor in, and hopefully The Lizard as well. Then producer Todd Black said that the film would feature a villain who is 'a big part of New York', which means...what, exactly? The most appropriate would be Kingpin, but he's out thanks to Fox. Meanwhile, we probably won't have to suffer through a marriage subplot for Peter Parker and and Mary-Jane. Or, at least I hope not.