Interview With Emma Stone On The Set Of Zombieland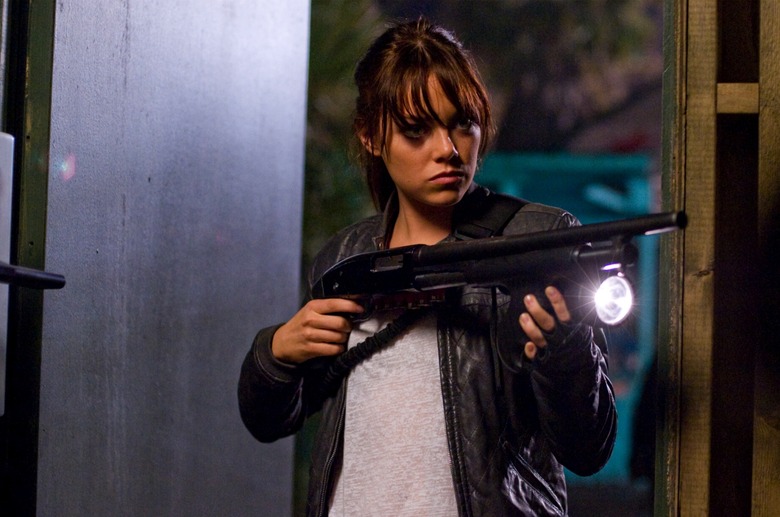 Back in March, Columbia Pictures invited /Film and a few select other online sites to the set of Zombieland, short film and commercial director Ruben Fleischer's feature film debut — a zombie buddy comedy roadtrip adventure film. We posted a video blog set visit report on Tuesday morning and will be following with a series of roundtable interviews we conducted on set over the course of our visit.
Below is an interview with Emma Stone, who most of you will know from Superbad. In Zombieland she plays Wichita, who is traveling through "Zombieland" with her little sister played by Abigail Breslin.
Emma Stone:  Hello everybody!Q:  Hello.  Since we're just coming into this and we've heard a little bit about your character, but can you talk a little bit about who you play in the filmStone:  I play...can we say names?  Wichita is my character's name being that she is originally from Wichita and that's how our characters go by, and she's a woman [Laughter], I think, on the road.  I don't know how much I can and cannot say.  I'm a little nervous. I've never had one of these secret movies before.Q:  Can we learn how you meet the other two characters?Stone:  Columbus and Tallahassee?  No, right? Obviously, we're on the run across the country from everyone who's turned into flesh-eating zombies.  We're traveling along and we're benefiting from some things that they can offer us.  Can I say what kind of things? Weapons, cars, ammunition.Q:  So you're with Abigail, though.Stone:  I am with Abigail.Q:  What's your relationship with her character?Stone:  She's a girl I'm traveling with.  Can I just say it, Michael?  For the love of God, we're sisters.  She is my little sister.  We're traveling.  It's like Paper Moon.  Are we sisters?  Are we not sisters?  Is she just an orphan?  So yeah, we are sisters.Q:  You've done a lot of comedies before. You've done nothing like this genre.  Did you ever think you were going to make anything with zombies and what's the experience like now?Stone:  Amazing.  It's really incredible.  I'm shockingly terrible at action movies.  I tore my muscle three days in just running, and then I was limping around everywhere.  Reese had to push through it because I was limping like a zombie.  [Laughter]  I'm dead serious.  We're running from zombies, and I'm limping in the same fashion that they limp.  It was just awful.  I just had to try and rally, and I don't know that I did it that well.  It's been really fun and really different to learn to shoot guns and to try and look tough.  I've never really played a woman before.  I've only really played girls.  This is very much a woman.  It's interesting.  It's really cool.  It's been a huge challenge more so than I thought it would be.Q:  Do we see a lot of your character before you meet Woody and Jesse?Stone:  Not too much, no.Q:  So basically your story starts when you meet them.Stone:  Ish.
[Laughter]
Stone:  Who knows?Q:  We'll have to see the movie when it comes out.Stone:  Right, right.
[Laughter]
Q:  You've got another admission!Stone:  That's what we're working toward:  ticket sales!
[Laughter]
Q:  I see you guys are shooting under the Genesis camera, and that seems to move a little bit quicker.Stone:  I really like Genesis.  I believe we shot Superbad on Genesis which was my first movie experience.  It's funny because I think that so much has switched to digital now, and I think it was like my fifth movie when they said, "This is film," and I had never shot on film before, I realized.  Genesis is incredible.  I love it.  If that was your question, I completely interrupted you.Q:  Absolutely.  Obviously when you're shooting on film, there are a lot more lights and it moves a lot slower.  Takes go pretty quick.  As an actor, do you enjoy that where you're just repeating take after take very quick?Stone:  Completely.  It's nice that you don't have to cut even when they need to reset a light or they need to make minor adjustments.  You don't need to cut.  You can just keep rolling, and even that helps the process.  I enjoy shooting on digital, especially Genesis.  It's so much quicker.  At the beginning, I didn't even know it could go slow, and film takes a bit.Q:  You're familiar with the term "scream queen" right?Stone:  Screen queen?Q:  Scream queen.Stone:  Scream queen?Q:  Once you're the female lead in a horror film, nothing's ever the same.Stone:  Yeah.  I don't scream.Q:  Okay, you're a non-scream queen.Stone:  Yes.  Anti-scream queen.Q:  But no, seriously, once you're in a horror film, you have an entirely new fan base.  You have an entirely new rabid fan base.  I want to find out if you're prepared for that.Stone:  This is a zombie film.  Does it count as a horror film?Q:  Absolutely.  It counts doubly.Stone:  Really?  If it's a comedy as well?Q:  Yeah cause that's the kind of movie people watch and watch and watch and watch and watch.Stone:  Oh my.Q:  Some of the most famous horror movies ever are actually horror comedies.Stone:  Like what?Q:  American Wolf in London.Stone:  Oh yeah?Q:  They're the ones that get rewatched.Stone:  Yeah, that makes sense because they're the best of both worlds.Q:  Like Jamie Lee Curtis, like a pantheon now that you're in a horror movie.Stone:  Wow, yeah, well, my...I never really thought about it.  Thank you.Q:  We're the web people, so...Stone:  That's exciting.  That will be interesting.Q:  So you don't do any screaming.Stone:  I do not scream.  I do some shooting, some hyperventilating, but no screaming.  I credit that to my octave range.  I'm literally incapable of screaming, so I guess I was the right choice in that sense, but not in the running or shooting sense.  Apparently, I just tear my muscles and am ridiculous.Q:  Is there zombie action?Stone:  Yeah, there's some intense zombie scenes.  It gets bloody.Q:  Can you tell us about them?Stone:  Can I Michael?Michael:  Yes, you can.Stone:  Like an example of one zombie scene and myself?Q:  Yes.Stone:  There's one I'm very excited about that we have yet to shoot that doesn't sound that exciting, so forgive me.  There's a moment where I'm doing something and I just love the way this is written because this is my character in a nut shell.  I'm just doing something, and I sense a zombie approach me over my shoulder, and it [the script] says, "Wichita turns," and almost without looking, nonchalantly shoots him square in the face and goes back to what she's doing.  It's kind of like "Boom!" and his head blows off.  I'm excited to shoot that one, but that's a really simple one.  No attack, it's just...Q:  Does that sum up your character, though?Stone:  A bit.  She's so used to this, and they're so ineffective at this point by zombies approaching that it's nonchalant in the way she's killing them.Q:  How has this experience been compared to Superbad.  It seems a little more low-key.  Do you feel that way?Stone:  You know, Ruben is so cool and so low-key all around as a guy and so excited to be making this.  The vibe is a little similar in that sense.  It's not a chore.  It doesn't feel like it's a chore to be making this.  We're all having lots of fun.  We're all very excited to be here, and it's a small cast which Superbad was as well.  So I guess it's similar in that regard.  There was a lot less bleeding at lunch in Superbad.  [Laughter]   Literally, that has been my biggest adjustment is trying to eat with the zombies around.  I was walking yesterday and there was this guy bleeding from the head and he's kind of moping around or whatever.  I was like only on this job do I look at this guy and go, "Oh, I gotta get going to my trailer."  I barely regard it.  This man is bleeding from every pore.Q:  There's a lot more locations rather than sound stage all the time.Stone:  Yeah, yeah.  A lot of Superbad was on location, but there was a lot less to do for my character in Superbad than there was in this one.  This has been wild.Q:  You're working with Woody, and we watched him improvise this morning already.  Have you had some scenes with him where he's broken from the script and done things on his own?Stone:  You know, I think we did our first scene together yesterday.  It was yesterday.  Yeah, he came up with some really funny [stuff].  He's so witty.  Witty Woody.  [Laughter]  You can quote me.  He was hilarious.  He came up with some really funny stuff yesterday, but I'm looking forward to more in the future because we filmed the scene where our characters meet for the first time yesterday.Q:  So when did you start filming on this, your character?  When did you arrive on set?Stone:  At the beginning, but we shot the ending first.  So that was the first two weeks in [10:55?], three weeks.  We just began here last week.Q:  Can you talk about what you've been able to do outside of filming like in Atlanta or the surrounding area, like what you've taken in, if anything?Michel:  She's not allowed to talk about that.
[Laughter]
Stone:  That's top secret information.  I haven't really done a crazy amount.  I went to Atlantic Station.  I saw Watchmen.  I haven't really done much in Atlanta.  I went home last week because I had five days off, so I haven't really gotten to do too, too much, but I want to go to the Fox Theater.  We were staying at the hotel where Gone with the Wind had its reception which was all very exciting.  So you've heard all the buzz and smelled all the fresh paint.  It's like, who knew there was so much massive construction going on at that hotel.Q:  The point of contention on the web is what people think about Watchmen.  Although this interview will run very far down the road, what did you think of Watchmen?Stone:  I thought it was great.  I really, really like Zack Snyder.  He's a very cool director.Q:  Which leads me to my follow up question.Stone:  Oh, here we go!Q:  You've been cast, as far as I can tell, in something coming up that Zack might be doing.Stone:  Yeah.Q:  So could you talk about what drew you to that project?Stone:  That project is still a very new situation.  We're still in talks, I should say.Q:  Contracts have not been signed?Michael:  You know, it's really too early for her to discuss this, and that really has nothing to do with this.Stone:  It's just kind of a brand new thing, but he's amazing.  I will say that.  He is really, really incredible as a director.  That's really an exciting prospect; a really, really exciting project itself.Q:  Since Abby is not here for us to talk to, could you talk about how she's adjusting to all this action because it's kind of new to her also.Stone:  I keep saying to her because she has this jar where if you curse, you have to put a quarter in the jar, and I keep telling her she's a bad-ass, and then going back and saying she's a bad-bum so I don't have to do the quarter.  She's a bad-ass.  She really is.  The girl can shoot a gun like no one's business.  She loves it.  She's like ready to be in action movies for the rest of her life.  She's awesome and totally just jumped right into it.  I was at the shooting range.  We had to learn in LA how to shoot, so Ruben and Abby and her mom and myself were at the shooting range, and it was Abby's first time shooting and I'd already shot.  It was like, it's going to be so cute to watch this twelve year old shoot.  She picks up this shot gun and everybody's like, "Go Abby!  It's gonna be great," and she's like, "Oh, I'm so nervous.  Am I going to do it right?" and she shoots and she's like, "YES!" Boom! Boom!  She was incredible immediately, and her mom goes, "I don't know whether to be excited or terrified."  She's so good at shooting.Q:  Does she actually carry a gun in the movie?Stone:  Oh yes.  She shoots.Michael:  She does more than carry it.Stone:  She does more than carry it.  She uses it.  She's pretty awesome.Q:  The ending of the film takes place in the amusement park.  You guys shot there for three weeks. What was the extent of your stunts?  What was the experience like shooting there?Stone:  That was probably the largest scene stunt-wise, obviously from the length of time it took to shoot.  It was a big ending.  That was probably the majority of the stunt work for my character, at least.  It was so cool to be at an amusement park at night for three weeks.  It was like a kid fantasy come to life except there were zombies everywhere, like hundreds of zombies.Q:  It depends on the kid.Stone:  Yeah, it depends on the kid, exactly.  That was really cool.  I don't know how much stunt-wise I can explain what happens there, but I will say there are a lot of zombies and there are a lot of guns.The Unit Publicist:  We're actually going to show them a few little pieces.Stone:  Can I see?The Unit Publicist: Do you have the password?Stone: I want to watch it with you guys.  That'd be awesome.  We can be "watchmen!"
[Laughter]
Q:  And on that note...Stone:  What a terrible pun!  Alright, cool.  Thank you guys!