This Week In DVD & Blu-Ray: Knowing, Push, And The Unborn
We may receive a commission on purchases made from links.
This Week in DVD & Blu-ray is a column that compiles all the latest info regarding new DVD and Blu-ray releases, sales, and exclusive deals from stores including Target, Best Buy and Fry's.
Please don't take the commentary on the movies and TV shows too seriously, as they're meant not to be reviews but rather previews that include the general thoughts and ramblings of a twice-committed DVD addict. The categories represent solely the author's intentions towards the films at hand, and are in no way meant to be a reflection on what he thinks other people should rent or buy. So if he ends up putting a movie you like in the "Skip it" section without having seen it, please keep in mind that the time you could spend leaving a spiteful but ultimately futile comment could instead be used for more pleasant things in life. Like buying DVDs.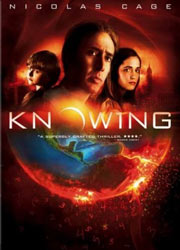 KNOWING
For my money, an interesting failure will always hold more value than a bland success. That's why I'm recommending Knowing; not because it's a good movie (it's not), but because it's ambitious, compelling, and occasionally thought-provoking, even if it never forms a fully satisfying, cohesive whole. A lot has been made out of the film's religious themes, with debates arising over whether the film is actually a veiled propaganda piece in favor of Christianity, or alternatively, if it's promoting science over religion. I believe neither of those is accurate; instead, the film is presenting its own hypothetical theory about the origins of our existence, combining elements of modern scientific theories and biblical symbolism as a way of showing that it is possible for both sides of the debate to coexist. The "disaster movie" premise is merely a base, used as a means to communicate and expand on these themes. Naturally, this irritated many viewers, since people don't like paying for one thing and then getting something else entirely. It also doesn't help that the film fails to explore those themes in the most coherent of ways. Regardless, I found myself elated to discover that the film was at least attempting to be something much more than your standard "disaster movie" fare. It still hits those beats, granted, but it's everything else the film has to offer that's kept me talking about it. Unfortunately, this also includes Nicolas Cage's hammy acting, which does a damn good job of holding the movie back and making sure it remains firmly in B-movie territory.
Blu-ray? Yes.Notable Extras: DVD & Blu-ray – Audio commentary with director Alex Proyas, and two featurettes ("Knowing All: The Making of a Futuristic Thriller", "Visions of the Apocalypse").
BEST DVD PRICE
Target
Best Buy
Fry's
$15.99
Amazon – $15.99
BEST BLU-RAY PRICE
Target
Best Buy
Fry's
$25.99
$24.99
$23.77
Amazon – $23.99
EXCLUSIVE DEAL:What? Free $6 Gift Card with purchase of both Knowing and Push (DVD or Blu-ray).Where? Best Buy.EXCLUSIVE DEAL:What? Free $10 Target GiftCard with purchase of both Knowing and Push on Blu-ray.Where? Target.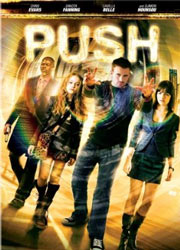 PUSH
Speaking of the difference between an interesting failure and a bland success, here we have an example of something that's worse than either of those: a bland failure. I was hoping that with the combined efforts of the director of the underrated Lucky Number Slevin, Paul McGuigan, and actor Chris Evans (also underrated), they would have something compelling and unique to offer the superhero genre. These hopes were misguided, it seems. This film bored the hell out of me. Clearly held back by its relatively low budget, Push doesn't have the resources to deliver any truly spectacular action set pieces. Now, this wouldn't necessarily be that big of a drawback if its story was any good... It's not. When the film isn't busy having its characters drone on endlessly about needing to prevent the "future" from happening and how they're going to put a stop to the evil government organization known as Division, it spends scene after scene introducing new rules and limitations on the unnecessarily elaborate assortment of special abilities on display. Not all is bad: the gritty style and beautiful cinematography play nicely against the Hong Kong setting, and despite the low budget, the film does provide a couple of somewhat satisfying telekinetic showdowns. But these aren't enough to make sitting through the film's near two-hour runtime any less of an arduous task.
Blu-ray? Yes.Notable Extras: DVD & Blu-ray – Audio commentary with director Paul McGuigan, Chris Evans and Dakota Fanning, deleted scenes, and a "The Science Behind the Fiction" featurette.
BEST DVD PRICE
Target
Best Buy
Fry's
$16.99
$17.77
Amazon – $17.99
BEST BLU-RAY PRICE
Target
Best Buy
Fry's
$25.99
$23.77
Amazon – $23.99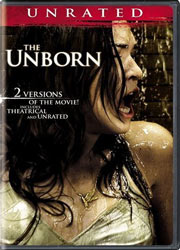 THE UNBORN
Everything worthwhile that there is to say about The Unborn can be summarized in this review I wrote back when it hit theaters (WARNING: Not Safe for Women). Sadly though, the studios opted to not take my advice and use "There were a lot of potato bugs." as a pull-quote for the DVD. This is upsetting, but potentially forgivable, given that this DVD provides the–wait for it–UNRATED version of the film, which is an honor that not nearly enough films (particularly those of the horror variety) get these days. There's only a one-minute difference between the two, mind you, but if that minor edit means an extra 60 seconds of Odette Yustman's you-know-what, I may just have to check out the Blu-ray in order to experience it in all its HD glory.
Blu-ray? Yes.Notable Extras: DVD & Blu-ray – Deleted scenes.
BEST DVD PRICE
Target
Best Buy
Fry's
$19.99
$17.99
$16.77
Amazon – $19.99
BEST BLU-RAY PRICE
Target
Best Buy
Fry's
$25.99
$26.99
Amazon – $27.99
Other noteworthy DVD (and Blu-ray) releases this week...
Night Train [DVD / Blu-ray] – Third Watch (Season 2) – Mystery Science Theater 3000 (XV) – Reno 911! (Season 6) – Peanuts: 1960's Collection
Other noteworthy Blu-ray-specific releases this week...Grumpy Old Men – The Deep

NOTE: Some deals may be in-store only.

$14.99 – Weeds (Season 1 – 4)$18.99 – Enoutrage (Season 1 – 5), Mad Men (Season 1), Da Ali G Show (Da Compleet Seereez), Veronica Mars (Season 1 – 3), Dexter (Season 1 – 2), Chuck (Season 1), Supernatural (Season 1 – 3), Smallville (Season 1 – 7), Nip/Tuck (Season 1 – 5)