The TJ Hooker Movie Is Moving Forward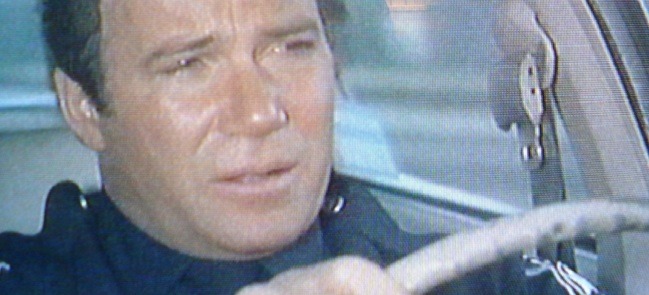 Stay with this story for the frightening clue that the TJ Hooker movie is actually going to star William Shatner. It's worth it for the shudder factor.
Variety have named Chuck Russell as the director out in the lead for the TJ Hooker gig. The screenplay is being written by Brent Maddock and SS Wilson, who previously took up pens for Tremors, Short Circuit and Ghost Dad. While the 80s TV series was a straight up cop action drama, his movie is being pegged as a comedy, perhaps inevitably.
The plot details available from Variety are vague but perhaps very telling, revealing that the story "focuses on the relationship between the title character and his father". There was no father in the original set-up, so I think I can sniff out the gimmick here. This new TJ Hooker will be, I guess, 'the next generation'. My hunch is that Shatner will return as Thomas Jefferson Hooker, with a younger, comedic actor cast in the role of TJ Jr. This will, effectively, prevent the film from being a remake adaptation and turn it into a sequel instead. I'd say there's also a chance that they'll finally end up solving (or re-solving?) the murder of TJ Hooker Sr.'s partner.
I expect that in the filmmaker's dreams they'd wind up with Ben Stiller as Hooker mk2, though Seann William Scott seems like a more reasonable bet. Perhaps they can get Michael Rappaport in to audition for a bad guy, at least. Of course, this is all supposition and True Romance jokes on my part, but I'm stacking shinies on Shatner's involvement. He certainly seems keen to remain in the orbit of his TV franchises and, over here at least, he's definitely still seen with a lot of sentimental nostalgia.
The last time Maddock and Wilson translated a TV drama into big screen comedy, we ended up with Wild Wild West. It doesn't bode well, does it?