2009 Frightfest Films Unveiled, New Images And Details

The line-up for this year's August Bank Holiday Film 4 Frightfest has been unveiled and it looks like a bumper crop for the gorehounds of London. After the break I'll post the full list of what's planned, point out my top five picks and share some new images from a couple of the most keenly anticipated horror pictures of the year. All that, and details on Andy Nyman's 100 Best Kills coming right up...
The full Frightfest calendar runs from Thursday 27th August to Monday 31st this year, and takes place in the wonderful Empire Leicester Square. Unlike previous years there's going to be two screens in operation. One will show the big premieres and the films more immediately obvious to have big, big audiences, while the 'Discovery' screen is going to show some riskier fare. Of course, this means that it will be impossible to see everything in the festival, for the first time in Frightfest history, but also that you'll have a bit of wiggle room to pick and choose if something in particular does not take your fancy.
Talking of not taking my fancy, the second Descent movie is going to be premiering. I didn't much like the first film so I'm not coming at this one with revved up expectations. Here are a couple of fresh stills: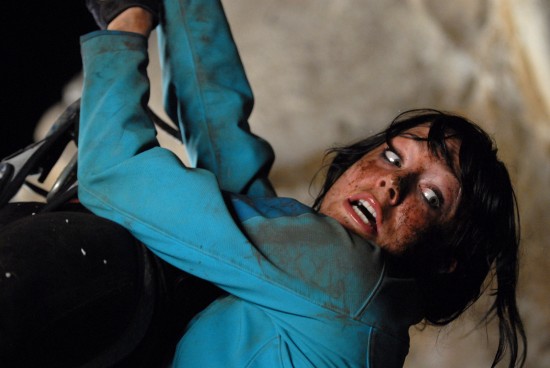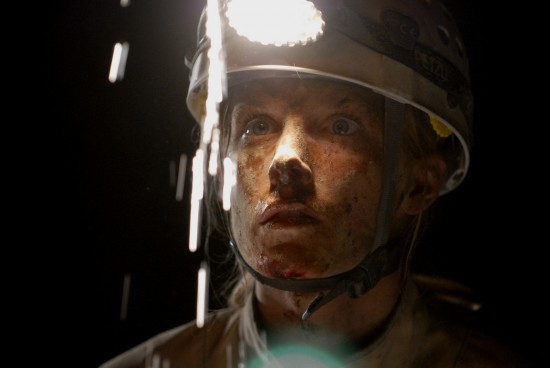 Before I launch into full-on timetable mode, here's my top five most anticipated pictures from this roster. I've not seen a single one of them, so I'm as excited for the festival as the rest of us.
5. Best Worst Movie. I mean, I'm just taking Hunter's word for it. Or perhaps, just to hedge my bets, Beware the Moon, the American Werewolf in London retrospective documentary. Frightfest are promising as many members of American Werewolf cast and crew in attendance as possible, as well as a screening of the film in a newly remastered version.
4. I Sell the Dead. From Glass Eye Pix, who've done me right again and again, and starring the eminently watchable Ron Perlman as the confidant of a grave robber on his way to the guillotine. Seems very heartfelt.
3. Pontypool. Directed by Bruce McDonald, the man with a catholic resume that shames even the Coens or Soderbergh for variety. And it's a zombie film, too, so that's good.
2. Trick'r Treat. Mike Dougherty's unfairly shelved Halloween picture finally reaches the big screen on my side of the pond. Much loved by audiences that have been lucky enough to catch it so far, this seems to be a very witty and clever twist on Halloween folklore and imagery.
1. Heartless. Phillip Ridley's first film since The Passion of Darkly Noon in 1996, and only his third alongside The Reflecting Skin. Jim Sturgess stars as a young man with a heart shaped birthmark across his face. After his mother is killed he begins a descent into a dark and dangerous world of violence and, as it would seem, evil demons. Added bonus: Sturgess is going to be performing songs live at the pre-film premiere party. Here are the available Heartless stills: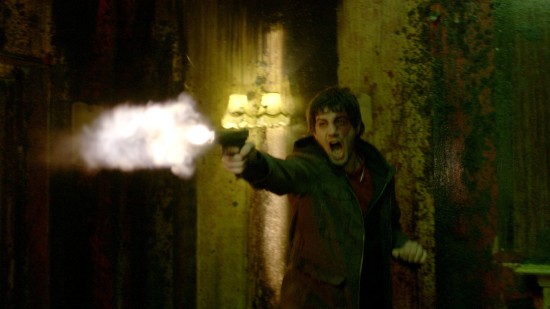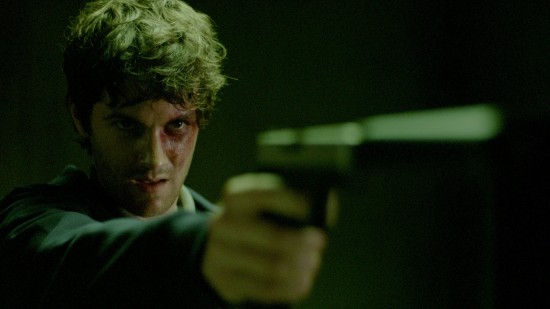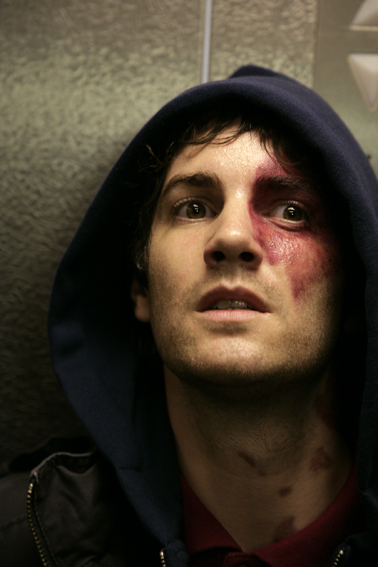 Not a film screening per se but one of the highlights for the hardcore is going to be Andy Nyman's 100 Best Deaths. Set for 11.15 on the Sunday night, this will be a package of some of the most extreme and unbelievable slaughterings in the entire horror genre crammed into one 2 hour package.
Nyman is probably now best known for his acting, having appeared in Severance and Charlie Brooker's reality TV zombie series Dead Set, but I first knew him as a magician and behind-the-scenes man for the mentalist supremo Derren Brown. It was obvious how much of a movie buff Nyman was from the many sneaky references to films woven through Brown's TV shows.
To assist Nyman with 100 Best Kills, Frightfest are having Tim League of Fantastic Fest cross the ocean. The auditorium is being specially licensed for alcohol consumption just for this event too, so I dare say I'm going to wind up the only sober one in a huge throng of splatter wolves howling at the silver screen.
I wish I could have put Dario Argento's Giallo on my most-anticipated list, but I'm being told to steady my expectations. Having said that, there won't be a better audience in the world to see it with than the Frightest one. We'll all be actively willing it to be a masterpiece. Here are the promo images, anyway: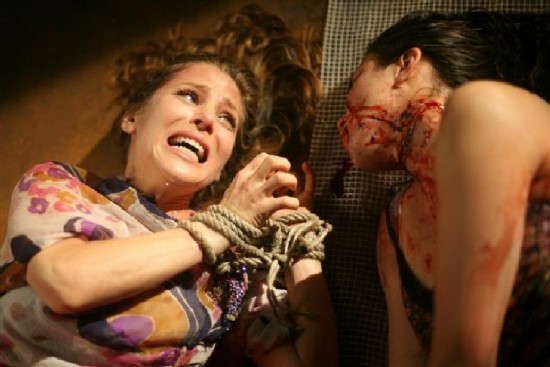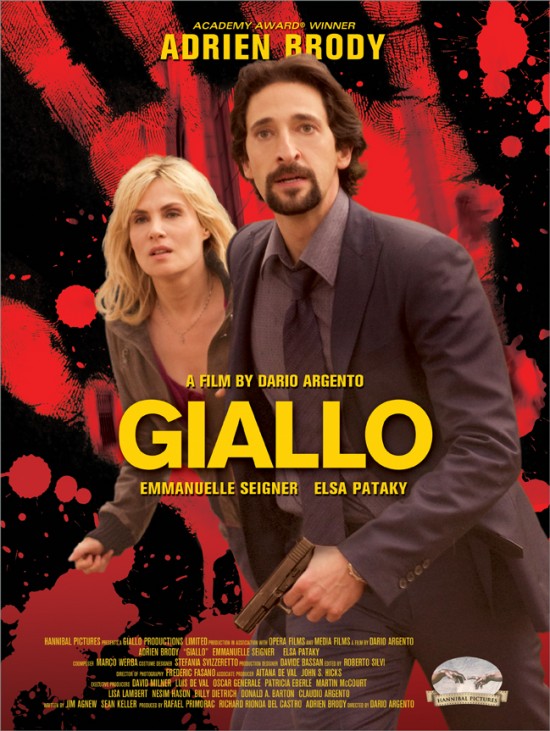 Here's the full calendar, hyperlinked to the official Frightfest page for each of the movies. We'll begin with the films scheduled for the main screen.
THURSDAY 27 AUGUST
18.30 Triangle (World Premiere) dir. Christopher Smith UK/Australia 2009
21.15 The Hills Run Red (UK Premiere) dir. Dave Parker USA 2009
23.15 Infestation (UK premiere) dir. Kyle Rankin USA 2009
FRIDAY 28 AUGUST
11.00 The Horseman dir. Steven Kastissios Australia 2008
13.45 Beware the Moon (World Premiere) dir. Paul Davis UK 2009
16.15 An American Werewolf in London dir. John Landis USA 1981
19.30 Shadow (World Premiere) dir. Federico Zampaglione Italy 2009
21.40 The Horde (Special Sneak Preview) dir. Yannick Dahan & Benjamin Rocher France 2009
00.00 Macabre (UK Premiere) dir. The MO Brothers Singapore 2009
SATURDAY 29 AUGUST
11.30 Smash Cut (UK Premiere) dir. Lee Demabre Canada 2009
13.45 Hierro (UK Premiere) dir. Gabe Ibanez Spain 2009
15.45 Millennium: The Girl With the Dragon Tattoo (UK Premiere) dir. Niels Arden Oplev Sweden 2009
19.00 Giallo (London Premiere) dir. Dario Argento USA/Italy 2009
21.00 Trick'r Treat (UK premiere) dir. Michael Dougherty USA 2008
23.15 Vampire Girl Vs. Frankenstein Girl (UK Premiere) dir. Yoshihiro Nishimura and Naoyuki Tomomatsu Japan 2009
SUNDAY 30 AUGUST
11.30 Dead Snow (UK Premiere) dir. Tommy Wirkola Norway 2009
13.45 The Human Centipede: First Sequence (World Premiere) dir. Tom Six Holland 2009
15.50 Coffin Rock (World Premiere) dir. Rupert Glasson Australia 2009
18.45 Night of the Demons (World Premiere) dir. Adam Gierasch USA 2009
21.00 Clive Barker's Dread (UK Premiere) dir. Anthony DiBlasi UK 2009
MONDAY 31 AUGUST
11.00 Zombie Women of Satan (World Premiere) dir. Warren Speed & Steve O'Brien UK 2009
13.15 The House of the Devil (UK Premiere) dir. Ti West USA 2009
15.30 Case 39 (UK Premiere) dir. Christian Alvart USA 2009
18.30 Heartless (World Premiere) dir. Philip Ridley UK 2009
21.15 The Descent: Part Two (World Premiere) dir. Jon Harris UK 2009
And now the Discovery Programme, the films that will be screening in the smaller Empire 4 screen. Some of them are doubled-up to give you more than one chance to breakaway from the pack and, as far as I can tell, some of them are well worth the gamble.
FRIDAY 28 AUGUST
12.00 Best Worst Movie (UK Premiere) dir. Michael Stephenson USA 2008
14.15 I Sell the Dead (London Premiere) dir. Glenn McQuaid USA 2008
16.15 I Think We're Alone Now dir. Sean Donnelly USA 2008
18.45 Colin (Preview Screening) dir. Marc Price UK 2008
21.00 Black (UK Premiere) dir. Pierre Laffargue France 2008
SATURDAY 29 AUGUST
12.00 The Horror of Writing Competition
13.45 Evil Things (World Premiere) dir. Dominic Perez USA 2009
16.15 Fragment (World Premiere) dir. Andrew Miles Australia 2009
18.45 It's Alive (UK Premiere) dir. Joseph Rusnak USA 2008
21.00 Pontypool (London Premiere) dir. Bruce McDonald Canada 2008
SUNDAY 30 AUGUST
12.00 Black (UK Premiere) dir. Pierre Laffargue France 2008
14.40. Pontypool (London Premiere) dir. Bruce McDonald Canada 2008
17.00 I Think We're Alone Now dir. Sean Donnelly USA, 2008
19.00 I Sell the Dead (London Premiere) dir. Glenn McQuaid USA 2008
21.00 Best Worst Movie (UK Premiere) dir. Michael Stephenson USA 2008
MONDAY 31 AUGUST
11.00 Colin (Preview Screening) dir. Marc Price UK 2008
14.15 It's Alive (UK Premiere) dir. Joseph Rusnak USA 2008
16.15 Fragment (World Premiere) dir. Andrew Miles Australia 2009
18.45 Evil Things (World Premiere) dir. Dominic Perez USA 2009