Jonah Hill Has Already Finished His Movie With The Duplass Brothers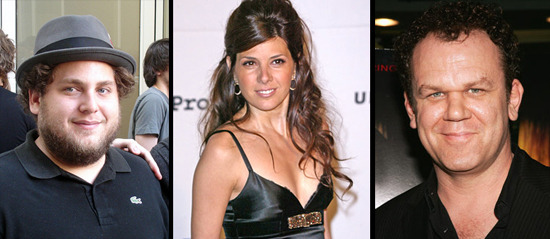 Jonah Hill evidently really digs the movies by Mumblecore auteurs Jay and Mark Duplass. Their film The Puffy Chair, about two brothers on a road trip to pick up a replica of an odd family heirloom, is one of his favorites. So the three did a movie together, and according to MTV the project just finished a six-week LA shoot. In the untitled film (formerly called Safety Men) Hill is the son of Marisa Tomei, who has just begun a relationship with John C. Reilly.
The film's tone is in the vein of The Puffy Chair and (to a lesser extent, since there's no horror angle) Baghead, meaning a mixture of drama and comedy with an emphasis on relationships and family. Mark Duplass explained to MTV that Tomei's character is totally out of Reilly's league (yeah, you think?) and that she's not really opening up to him. Then he finds out about Hill, the grown son she hadn't yet revealed. He calls what follows "a very bizarre, codependent relationship. It almost develops into some obtuse love triangle, as John and Jonah wrestle for the feelings of Marisa."
In their previous films the Brothers worked with relatively amateur actors, making this a notable step in a different direction. But from the sound of it, they're keeping the same very indie working methods, and Hill fit right in. "He is so one of us, I just can't even tell you," Duplass said. "He came in there and he was vulnerable and no ego and fucking hilarious and prepared things, and we're improvising, so the shit he's coming up with on the spot, I never could come up with on my own. He's humble. He's got it." You'd have to think that Reilly would also be perfect working in the improvisational super-indie mode, and probably Tomei as well, after The Wrestler.
Fox Searchlight has the film, and we'll likely see it sometime next year.