First Look: Dakota Fanning In The Runaways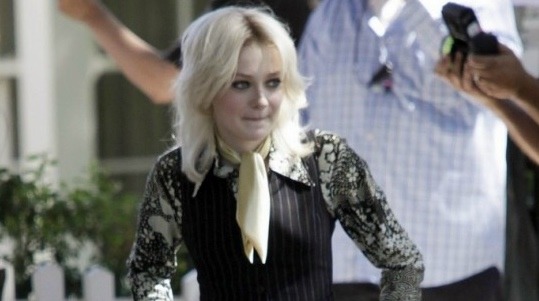 Right now, geeks are having difficulty formulating their conflicted emotions about pics of a 15-year-old Dakota Fanning on the set of The Runaways, the 2010 girl-punker biopic. At times like this, I think the guttural proclamation, "Um, that's racist like a robot!" will suffice. But yeah, Just Jared via Chud has posted a bevy of publicity-stunt pics of Fanning, as jail-bait lead-singer Cherie Currie, tangling around with Kristen Stewart, as leather-clad guitarist Joan Jett. Like a bearded Michael Musto, writer Devin Faraci predicts the movie could spark a fashion revolution amongst teen girls. I could see that happening. Maybe. I mean, the cover of Nylon magazine and exposure in Urban Outfitters is prob a lock. And Warped Tour would definitely be up for a lame "interactive" meet and greet. A new, recommended pic of Stewart, in a Stooges tee no less, after the jump...
After carrying much of the fantastic Adventureland, I'm curious to see if Stewart dives into the role or plays it surface-level. Per Russ's great coverage of the film's casting, Michael Shannon (the excellent Bug) as punk impresario Kim Fowley and Halloween's Scout Taylor-Compton(who loves emo dudes, judging by our H2 visit), as lead guitarist Lita Ford, would seem to endorse the former commitment. And at least it's not a fucking remake or a feature film about the thrilling story of Manic Panic.