Page 2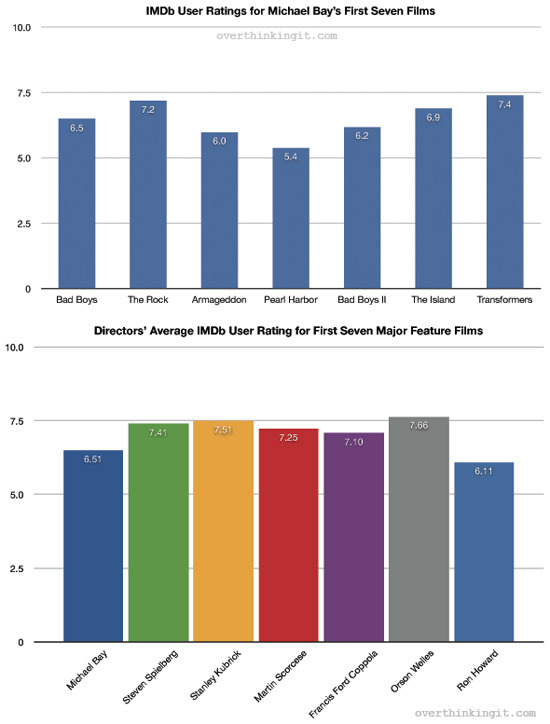 Page 2 is a compilation of stories and news tidbits, which for whatever reason, didn't make the front page of /Film. After the jump we've included 30 different items, fun images, videos, casting tidbits, articles of interest and more. It's like a mystery grab bag of movie web related goodness.
The two charts above come from OverthinkingIt's "Quantitative Comparative Analysis" of Michael Bay's career.

Boom Studios has released the covers (and variant covers) for the first two issues of the Monsters Inc comic book series. The first issue includes the following plot synopsis: "Sulley, Mike and Boo are back, and they are sure to generate plenty of chuckles for the Monsters, Inc. laugh factory! When acts of sabotage begin to damage Monsters, Inc equipment, all the evidence points to...Mike?! Can Mike convince Sulley to help him find the true culprit?" The second issue's description follows: "When Monsters, Inc. starts losing productivity, a new energy crisis could be in the offing for Monsteropolis! Mike and Sully soon discover that someone is scaring kids targeted for laugh energy...and frightened kids don't have much to laugh about! If Mike and Sully can't stop this menace, Monsters, Inc will be out of business!" [upcomingpixar]Collider has learned Stan Lee's cameo in Iron Man 2. Invisotext follows: Stan is dressed as Larry King asking Tony Stark when he's going to be on his show.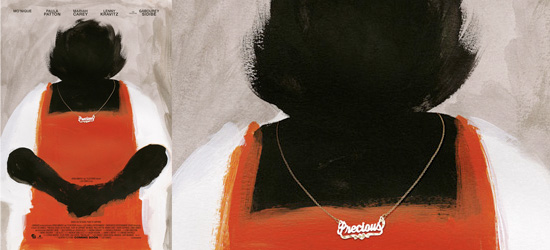 HitFix premiered the second poster for the Sundance Film Festival sensation Precious.
According to The Daily Beast, Johnny Depp disliked director Michael Mann's chaotic style of filmmaking on Public Enemies to the point that he ultimately refused to speak to the director. "Universal executive Dylan Clark (who has subsequently resigned to take another position) was forced to act as go-between. (All parties declined to comment.)"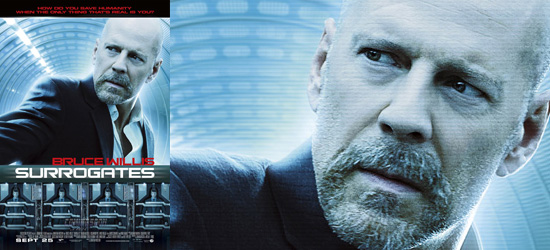 Disney has released a poster for the sci-fi comic book adaptation Surrogates. [comingsoon]
Charlie Day and Christina Applegate have been cast in Nanette Burstein's Going the Distance. [firstshowing]
[flv:http://media2.slashfilm.com/slashfilm/trailers/IMG_0820.flv 480 360]
Director Mark Romanek posted this short video of Spike Jonze working on Where The Wild Things Are visual effects in London.
Duncan Jones' Moon won the top prize at the Edinburgh International Film Festival Sunday. [reuters]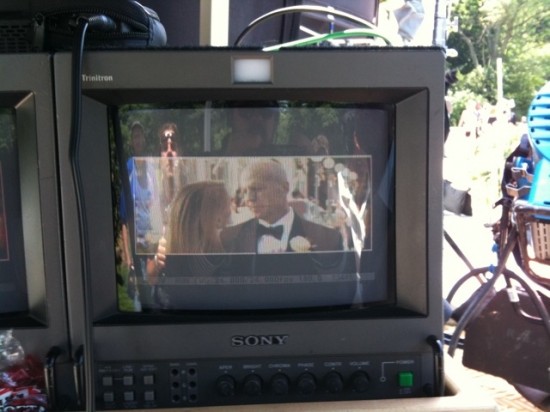 Kevin Smith tweeted a photo of Bruce Willis from the set of A Couple of Dicks.
And ComingSoon has the first photo of Michelle Trachtenberg on the set:
[No photo]
Alan Cumming has joined the cast of the Broadway production of Spider-Man Turn Off the Dark. Cumming will play Norman Osborn aka The Green Goblin. [thr]
Anchor Bay Entertainment will release Rob Zombie's 2-D animated comedy The Haunted World of El Superbeasto on DVD on September 22nd 2009. [bloody-d]
Did you see Sacha Baron Cohen as Bruno punk Conan O'Brien on The Tonight Show.
Nick Fury doesn't have any action scenes in Iron Man 2. Samuel L Jackson tells MTV: "Not this time, not yet. We still haven't moved Nick Fury into the bad-ass zone. He's still just kind of a talker."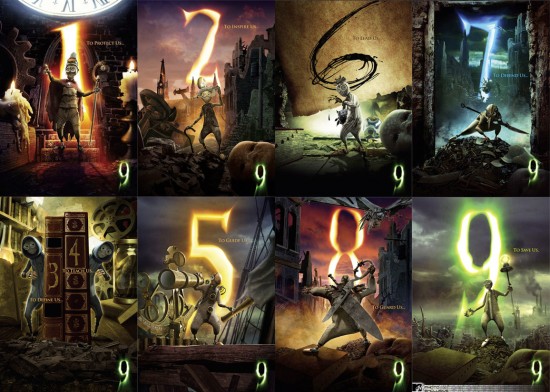 Have you seen all eight character posters for Shane Acker's animated film 9? [firstshowing]
A Paris appeals court fined filmmaker Luc Besson's movie company 100,000 euros (about $140,580) over the death of a cameraman who was hit by a car during a 1999 stunt shoot. [thr]
A movie trailer for the Arrested Development Documentary Project is now online. [filmjunk]
Rotten Tomatoes talks to Fred Durst about his five favorite movies.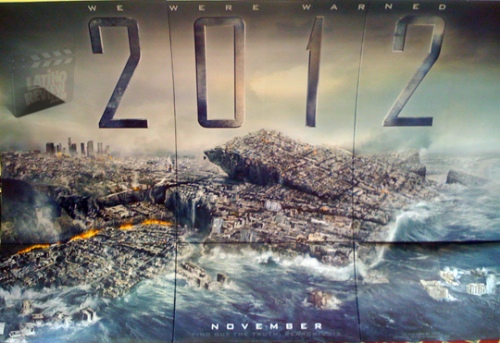 LatinoReview has a first look at an awesome theater standee for Roland Emmerich's 2012. I'm sure the standee for Emmerich's next disaster movie will just have a picture of the Earth blowing up.Eric Eisner, Gil Adler, and Shane McCarthy will produce Havana Nocturne , a story of gangsters in 1950's Cuba based on T.J. English's New York Times best-seller. [THR]
Stating the obvious, Ropes of Silicon again proves Critics have little-to-nothing to do with box office success.
MTV has premiered the trailer for Alvin and the Chipmunks: The Squeakuel.
Universal Studios Japan is slashing prices to counter the effects of the recession and swine flu, which have cut attendance drastically. [variety]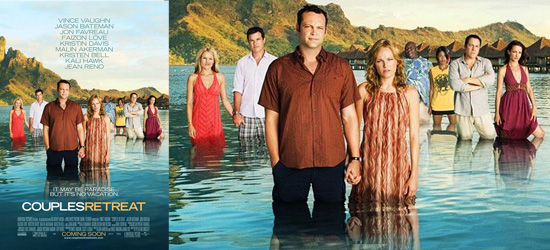 Universal has released a poster for Couple's Retreat. [impa]
The Twilight Saga: Eclipse is scheduled to begin production on August 17th and film thru October 31st at Vancouver Film Studios. [prodweekly]Pauly Shore is threatening to sue Sacha Baron Cohen over a line in Bruno. Apparently the tagline to Shore's 2007 film Adopted is "First there was Angelina, then there was Madonna, now there's Pauly!" and the movie Bruno features a similar line in Bruno's voiceover, "Angelina's got one, Madonna's got one, now Brüno's got one." [filmdrunk]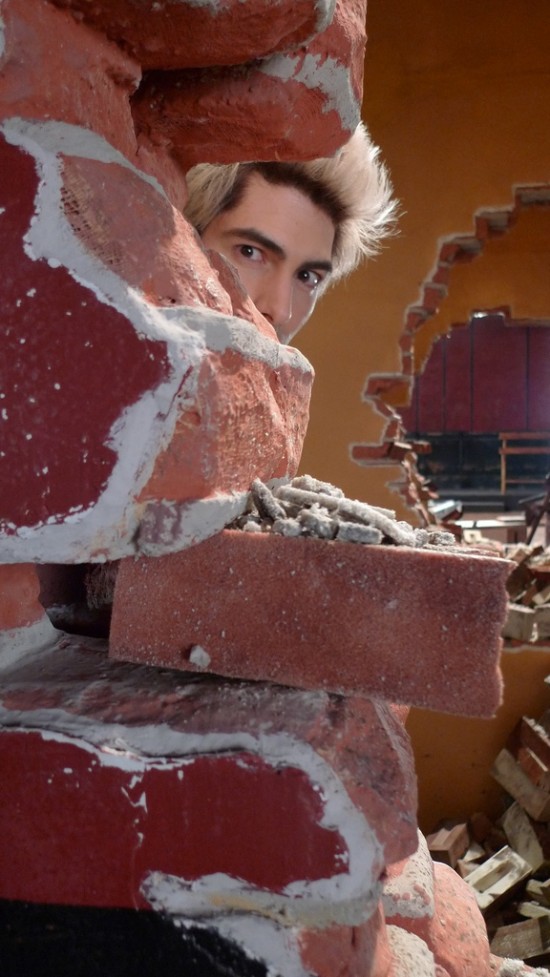 Edgar Wright has posted a new behind the scenes photo from Scott Pilgrim Vs. The World showing Brandon Routh as Todd Ingram, the third boyfriend of Ramona Flowers and bass player for Clash at Demonhead.
The writers of Lost have been awarded one extra episode for the final season of the sci-fi drama, brining the season's episode count to 18. [thr]
Doctor Parnassus cinematographer Nicola Pecorini tells Vanity Fair that Heath Ledger was hoping his performance as The Joker in The Dark Knight would be considered too far out there and that he'd get fired, allowing him to take a long paid vacation on his pay-or-play contract.