Maybe The Last Moneyball Update For A While: Soderbergh Is Off The Project, MLB Approval Still Pending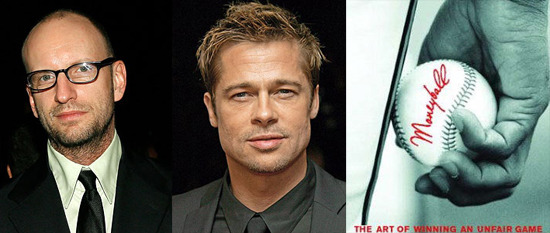 Time to back away from Moneyball for a while: the New York Times reports that Steven Soderbergh is totally off the project, only hours after the LA Times published an interview with Sony head Amy Pascal, who reiterated the studio's reasons for bailing on the project. And both the Times and Movieline talked to Major League Baseball (MLB), which has been in the process of negotiating with Sony to approve the use of official logos and team names. The whole convoluted story is after the jump.
OK, so the original report was that Amy Pascal had scrapped the project only days before filming because Soderbergh had turned in a new draft that was a 'radical departure' from the previous one by Steve Zaillian. The problem, though, wasn't that it was more crazy, but that it was too restrained. Zaillian's draft had been more dramatic, more movie-like, and Soderbergh's brought it back to reality. Perhaps too close to reality, as that's what Pascal responded to. (What are the chances that Soderbergh's draft went back to realism and the truth in order to ensure that MLB played along? Pretty good, though that might not be the only reason.)
As Patrick Goldstein said today in the LA Times:
The script, written by Oscar winner Steve Zaillian, was a baseball movie, but it was loaded with great comic moments and dazzling dialogue that captured the frenetic energy of Beane, a strikingly good-looking former phenom who washed out after a brief stint in the majors, only to resurface as a general manager who operated more like "Entourage's" Ari Gold than the buttoned-down insiders who normally run big-league teams...Soderbergh wouldn't talk to me about all this, but it seems clear that he became obsessed with authenticity, replacing many of Zaillian's inspired scripted set-pieces with actual interviews with the real people who were involved in the events. The Soderbergh aesthetic, according to one source close to the film, was simple: If it didn't happen in real life, it wasn't going to be in the movie.
Translation: almost $60m for that? Not a chance. And now the New York Times says that, as of yesterday, Soderbergh is off the project, leaving Sony searching for somone who'll direct the movie with star Brad Pitt, and keep it more along the lines of the earlier Zaillian draft. And therein lies the problem with moving forward. Zaillian took factual liberties, and the MLB doesn't like that. "Typically, on a film like this, we look at it for historical accuracy," MLB spokesman Matthew Bourne, told the NYT. "We're been in touch with Soderbergh and Sony, and they've been receptive to our requests." That's more or less what Bourne told Movieline, as well though he followed it with "we're not the reason for the hold-up."
That leaves Sony wanting one thing, for which it needs cooperation that isn't likely to come from MLB. Without that cooperation, there's no reason to go forward with the adaptation of a true story. Time to lay bets on whether Sony can get anyone to step in to replace Soderbergh, and if so what changes will be made to get MLB to give the nod.