Exclusive: Kick-Ass Footage To Premiere At Comic-Con; New Photo Revealed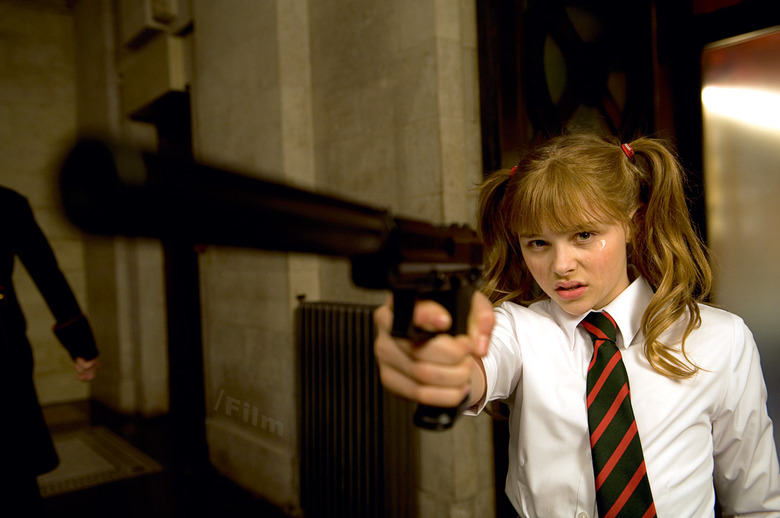 San Diego Comic-Con International will be announcing the full panel line up for this year's convention next week, but we're able to reveal that the first footage from Matthew Vaughn's big screen adaptation of Kick-Ass will premiere at the convention. The panel will take place on Thursday, July 23 towards the end of the day. Vaughn will be in attendance, along with some of the film's cast members (to be announced later). This is the biggest non-studio produced comic book movie of all time, and I can't wait to see some of the footage.
As a bit of a tease, Vaughn has provided us with this exclusive never-before-seen photo from Kick-Ass, which features Chloe Moretz as Mindy Macready aka the ruthless 11-year-old vigilante named Hit Girl.
Plot Synopsis (beware of possible comic book spoilers): Dave Lizewski is a kid growing up in a rundown suburb of America, he isn't a gamer, he isn't a jock, he isn't a mathlete, he's just a regular kid. When he is not hanging out at the local comic store with his friends Todd and Marty, he is fantasising about his school teacher and Katie Deauxma, the class hottie. The only thing that is unusual about Dave is that about a year ago his Mother died. But somehow through this blend of normality, teenage angst and irritation at being continually mugged, Dave makes the decision to become a superhero' KICK ASS! Dave's first foray into being a Superhero results in him being stabbed and run over. When Dave recovers he realises he can't walk away from being a hero, and when he successfully steps in on a mugging he brings himself to the attention of the US media and Frank D'Amico could this be the guy who knicked his coke? As Dave gets sucked into the dark world of vigilante crime fighting he gains a sidekick named 'Red Mist'.