Comic Con Updates: Avatar, Mystery Team, Repo, Pandorum, Extract And 9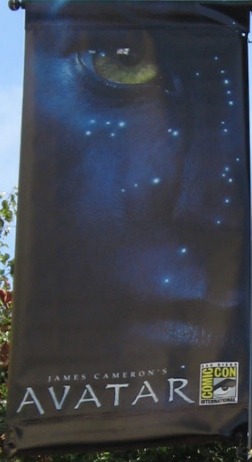 ComingSoon has posted a photo (right) of one of the banners on display outside the San Diego Convention Center, promoting James Cameron's Avatar. The image shows a close-up of one of the ten foot blue tribal alien creatures called Na'vi. Warner Bros' panel announcement included confirmation that Hall H will be set-up to screen 3D footage, which pretty much gaurentees that Fox will present footage from Avatar in 3D. I'm guessing that the same footage that premiered in Amsterdam at the cinema expo will be screened.
You've heard the buzz online, now see the movie! Derrick Comedy's Mystery Team will be presenting a special sneak preview screening (yes, the whole movie) on Thursday, July 23rd at 8pm at the Horton Plaza theaters. How can you attend the screening? Passes will be available at the Mystery Team booth on the show floor on either Wednesday night (preview night) or Thursday.
Tickets are now on sale for the Saturday night midnight screening of Darren Lynn Bousman's Repo! The Genetic Opera. Head on over to Fandango to purchase tickets. I've heard Bousman will be in attendance, and possibly some other cast members.
MTV has learned that Overture Films will be premiering a few select scenes from the sci-fi horror thriller Pandorum on July 23. The panel will include stars Ben Foster, Cung Le and Antje Traue (Cam Gigandet and Dennis Quaid will not be in attendance but Quaid has recorded a special taped greeting.Mike Judge will be presenting footage from his new film Extract on July 25. But those not attending Comic Con don't need to worry, MTV.com will be premiering the footage online at the same time as the panel. No word on if any cast members will be in attendance at the panel. [MTV]Update: Miramax has confirmed that Jason Bateman, Mila Kunis, & Kristen Wiig will also be on the panel, which takes place at 1pm in Hall H.FirstShowing is reporting that Shane Acker's 9 will have a special sneak preview screening. Not sure when and where, but I'm sure tickets will be available somewhere on the show floor.