The Informant Movie Trailer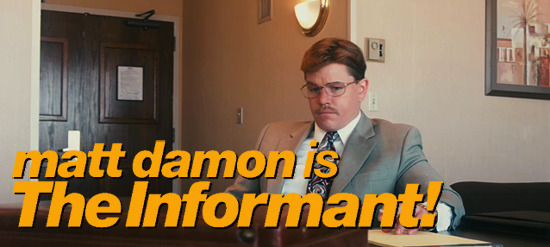 "From the director of Ocean's Eleven, Twelve and Thirteen" might tell you everything you need to know about the sales pitch for Steven Soderbergh's The Informant. Based on the true story of Mark Whitacre, played by Matt Damon, who blew the whistle on price-fixing policies at grain processing conglomerate Archer Daniels Midland, the film adapts the book of the same name by Kurt Eichenwald. But the trailer promises anything but a dry boardroom battle. Cut to 'Flight of the Valkyries' and pop song 'Would I Lie To You?' and featuring some great moments from co-stars Scott Bakula and Tony Hale, this looks like The Insider meets Top Secret. Watch the trailer after the jump.
In 1992, Whitacre confessed to an FBI agent (played by Bakula) that he and other company execs had fixed the price of lysine, a grain-based food additive. Soderbergh is evidently casting the story as a sharp, perhaps even mean corporate comedy in which Whitacre is bipolar, bumbling and delusional. Whitacre worked with the FBI for almost three years, was responsible for hundreds of hours of audio and video surveillance, and helped lock down what was at the time the largest price-fixing case in history. But he also stole $9m from ADM, and went to jail for a longer term than any of the execs he helped convict.
The Informant opens October 9, but there's a good chance it will show up in early September at the Toronto Film Festival. This is just the sort of non-commercial film that a studio like Warner Bros. loves to take to the fest. (See the TIFF debuts of Michael Clayton and The Assassination of Jesse James in '07 and RockNRolla and Appaloosa last year.) There are some other great bit players to look forward to in this one, too: Patton Oswalt, Joel McHale, Andrew Daly and Frank Welker are all on board.
See the trailer in acceptable definition below, or in high def at Apple.
[Dave's note: To hear an incredible rendition of Whitacre's story, check out the episode of "This American Life" called "The Fix Is In"]