Couples Retreat Movie Trailer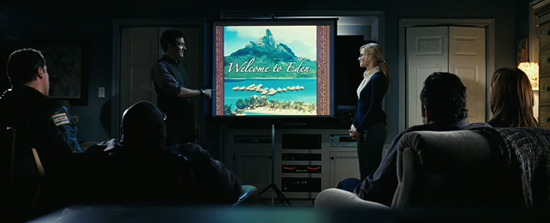 Look at the cast for Universal's upcoming Couples Retreat: Jon Favreau, Vince Vaughn, Jason Bateman, Malin Akerman, Faizon Love, Kristen Bell, Kristin Davis, Jean Reno, Peter Serafinowicz and Ken Joeong (currently extorting money from the trio of drunks in The Hangover). Now look at the first trailer, after the jump.
Couples Retreat sets up a simple premise: four couples, all friends, in various stages of success with their partnerships, go to an island paradise ("this looks like a screen saver!") to improve their relationships. That could be a recipe for tepid, watered-down 'adult' comedy, and some of the trailer suggests exactly that (homosexual yoga chuckles!) while other moments suggest that Peter Billingsly's movie keeps just enough of an edge while the actors go to town as part of a huge ensemble. Hopefully they're not all in the first half hour. And hey, Peter Serafinowicz!
I've embedded the trailer below (courtesy of FirstShowing) and you can see the clip in high definition at Apple.