Guy Pearce Joins Don't Be Afraid Of The Dark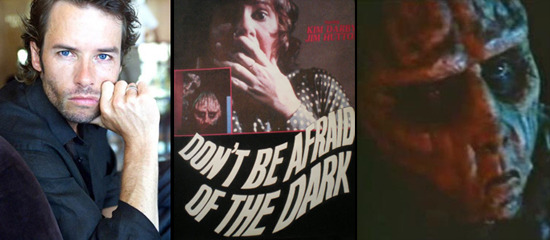 Guy Pearce has joined the Miramax remake of the classic 1973 television movie Don't Be Afraid of the Dark, scripted by Guillermo del Toro and directed by Troy Nixey. Bailee Madison has also signed on to play his daughter. They'll be joining Katie Holmes, who was cast a couple of months ago.
In the original telefilm, John Hutton and Kim Darby played Alex and Sally Farnham, who inherit a mansion from Sally's grandmother. Despite warnings to leave it alone, Sally unseals a small door next to a bricked-up fireplace, which releases small creatures which torment her. These little furry goblins with shriveled faces whisper to Sally and soon start taking an active physical role in tormenting her.
A few changes have been made to the script for this version. Pearce and Holmes are not married, and it is Pearce's daughter that unseals the trap holding back the film's creatures. She's initially drawn to the creatures (shades of Pan's Labyrinth) before they prove to be dangerous; the girlfriend played by Holmes may be the first to believe her tales of the goblins. I'm curious to see what implications that has for the story as a whole. In the original, Sally is often left alone by her workaholic husband, and her torment is lonely and almost paranoid, as it takes her some time to convince a friend that anything is actually happening.
Troy Nixey had a long career as a comic book artist; he drew Batman, Matt Wagner's Grendel and worked with Mike Mignola on several projects, including Jenny Finn, which Nixey co-created. A few years ago he self-funded an excellent 17-minute film called Latchkey's Lament, which blended live action, stop-motion and CGI. That did quite well at festivals, leading to his gig on Don't Be Afraid of the Dark.
The trailer for Latchkey's Lament is below, as is a Dutch trailer featuring footage from the original Don't Be Afraid of the Dark.
[via THR]